Business groups across the north and north-east had a mixed reaction to the news of a second independence referendum, coupled with the UK's plans to press ahead with Brexit.
Welcoming the move to press ahead with second referendum, Rob Aberdein, chairman of the pro-independence Business for Scotland group and a partner with law firm Aberdein Considine, said a so-called hard Brexit "would be extremely damaging" to the country.
He added: "We welcome that the negative implications of Brexit will be outlined, alongside the challenges and opportunities of independence.
"We assume that the UK PM will not agree to a differential deal for Scotland. So this will not be a rerun of the 2014 referendum.
"Brexit and the UK Government's refusal to respect the EU referendum result in Scotland means that the UK that Scottish voters narrowly voted to remain part of in 2014 no longer exists."
But not all business groups were concerned about the Scottish Government's plan to pursue legislation paving the way for a vote on independence.
Russell Borthwick, chief executive of Aberdeen and Grampian Chamber of Commerce, said the first minister's announcement "does not appear to change anything".
He added: "As far as we are concerned the situation remains the same and in the meantime we will focus on the main concerns of our members which, at the moment, include business rates, the imminent apprenticeship levy and the diversification of our local economy. Our priority remains creating the conditions in which businesses in the area will be able to thrive."
Julie Hesketh-Laird, acting chief executive of the Scotch Whisky Association (SWA), said it will work over the coming months to understand the industry's views on another independence referendum.
Andy Willox, FSB's Scottish policy convener, said their research prior to the EU referendum had shown "very little appetite amongst smaller firms for another independence referendum".
The larger business groups called for a quick end to heightened uncertainty.
The Scottish Chambers of Commerce (SCC) chief executive Liz Cameron said: "Scotland has been through two referendums and two major elections over the past three years, and there is no doubt that this period of continual uncertainty has had a material impact upon businesses in Scotland.
"These are real and present business issues that are affecting business decisions and investment.
"A further referendum on Scotland's independence would be no different and the more that can be done to mitigate the duration of this uncertainty for business, the better."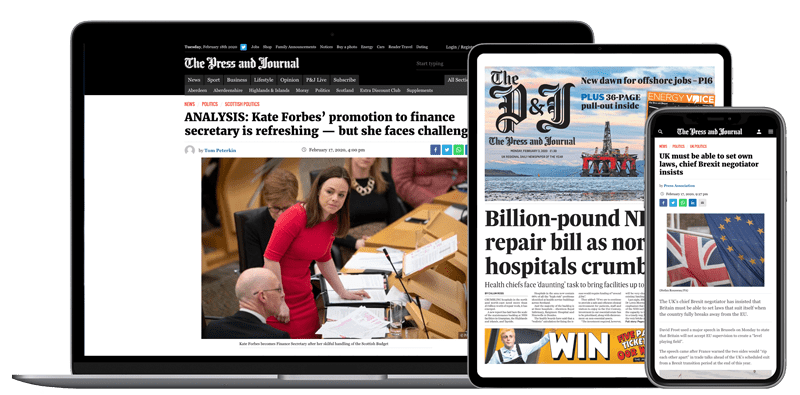 Help support quality local journalism … become a digital subscriber to The Press and Journal
For as little as £5.99 a month you can access all of our content, including Premium articles.
Subscribe