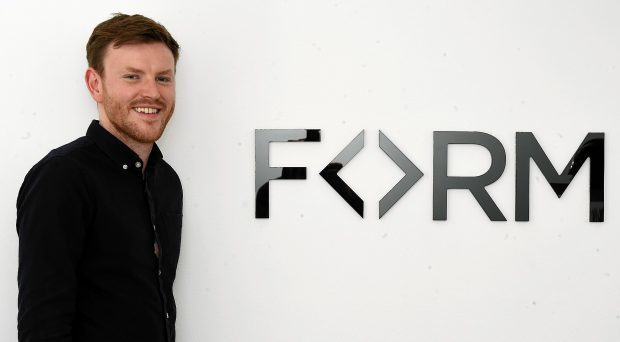 Each week, we ask small businesses key questions.
Here we speak to Cameron Fraser, co-founder and director of Aberdeen-based creative agency Form Digital
How and why did you start in business?
Having been working in the industry for around four years, both myself and my business partner, Kyle, wanted to launch our own creative agency.
We wanted to focus on the areas we were most passionate about, namely branding, web design and web development. We've always adopted a personal approach with our clients and this has led to a number of established relationships.
How did you get to where you are today?
I was lucky enough to be offered a job as a designer after completing a higher national diploma in visual communication at Aberdeen College.
I learned a lot there and gained skills that would go on to help me run my own business. I'm very grateful to my old boss and to the lecturers at the college who taught me so much.
Having just celebrated our third birthday, I can honestly say that starting a company was the best decision I've ever made.
Turning your passion into your job is incredibly rewarding. There have been a lot of late nights and missed social occasions, but we both love every minute.
Who helped you?
We are very lucky to have a great support network of family and friends. External support services, such as Business Gateway, were fantastic in the early stages of setting up the business.
Also, being a member of the Federation of Small Businesses has been extremely useful in our development.
Our clients too have played a significant role in our growth as their recommendations have been key to winning new contracts and opening doors to new opportunities.
What has been your biggest mistake?
I don't really believe in mistakes as I think every decision you make, whether it works out or not, is something you learn from and helps your business grow.
What is your greatest achievement?
We've taken a great deal of pleasure in watching the companies we work with develop and grow.
Watching our clients Cocoa Ooze secure Dragons' Den funding and Foodstory expanding its cafe earlier this month to further grow their businesses were particular highlights for us.
If you were in power in government, what would you change?
I would invest more in renewable-energy, education and healthcare – and also deport Piers Morgan.
What do you still hope to achieve?
This is a really exciting time for the company, as we have plans to grow the business within the next six months by building on existing relationships and taking on new and larger projects.
What do you do to relax?
When I get the opportunity, I like to get away with friends for the weekend. A walk or cycle along the River Feugh is a particular favourite.
What are you currently reading, listening to or glued to on the TV?
I am really enjoying (comedy drama) Master of None at the moment. It comes off the back of me listening to the podcast S Town and re-watching Black Mirror.
What do you waste your money on?
I wouldn't call it a waste of money but it's definitely travelling. There are just too many places I want to explore.
How would your friends describe you?
I would like to think they would say I am caring, driven and always willing to help, where I can.
What would your enemies say about you?
I hope I don't have any but they would probably have a pop at my Jimmy Hill chin.
What do you drive and dream of driving?
I currently drive my trusted Honda Civic. I am not much of a petrolhead but if I ever move to the country, I would love a Land Rover Defender.