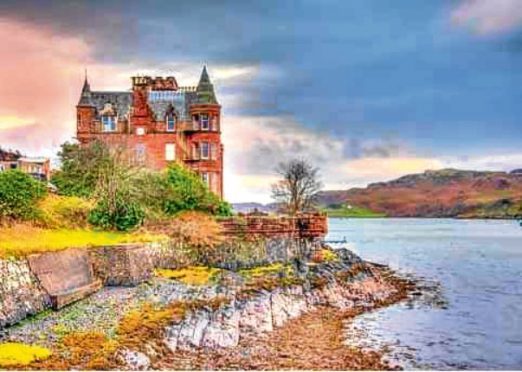 Luxury flats in a water-side mansion near Oban, converted by an Aberdeen architecture practice, have sold out within 48 hours of going on the market.
With prices ranging from £137,000 to £147,000, the eight flats in Grade B listed Kilbowie House attracted interest from potential buyers throughout the UK and overseas.
One couple drove 350 miles from Stone, in Staffordshire, setting out in the early hours of the morning, to guarantee they made it to the west coast town in time for the noon start of a sales launch at the property.
The pair were among those who succeeded in reserving a flat.
Yesterday Carl Warden,of Perth-based selling agent Bell Ingram said he was "surprised and delighted" by the success of the event.
A classic Scottish baronial L-plan mansion, situated on the coast, one-and-a-half miles from Oban, Kilbowie House was built in 1888 as a private home for the Dunn Pattison family.
More recently, it was used as a hostel for boys from the islands off the west coast attending school on the mainland and as offices for Argyll and Bute Council.
After being placed on the market last year, the property was bought by architects Michael Gilmour Associates, based in Aberdeen's Rubislaw Terrace, who set up Kilbowie Development Company to restore and convert it into one and two-bedroom flats.
The conversion has seen the building, which overlooks the Sound of Kerrera and sits in 0.6 acre grounds, retain many of its original features, including fireplaces, wood panelling and oak shutters and doors.
Mr Warden said the flats attracted considerable interest while the main conversion work was still being carried out, with a number of prospective buyers having to be turned away from the site after turning up there in the hope of viewing them.
The sale of the apartments was announced last month, with the estate agent insisting they could only be reserved by people attending the sales launch event.
Mr Warden said the event attracted interest from the Oban area, Edinburgh, Glasgow and further afield as well as agents representing some overseas clients.
He added: "We held the event between noon and 4pm on the Saturday and all bar one of the apartments were reserved on the day.
"The last one was confirmed by the Monday morning, so they were all reserved within 48 hours. We were absolutely delighted by the success of the sales launch.
"We were also surprised by the level of interest it generated, which has not been common since the credit crunch."
Jamie Gilmour, of Michael Gilmour Associates, also welcomed the success of the mansion's conversion.
"The sales event was very successful," Mr Gilmour said, adding: "We have been working on restoring and converting the building for quite a number of months, so we are very pleased."