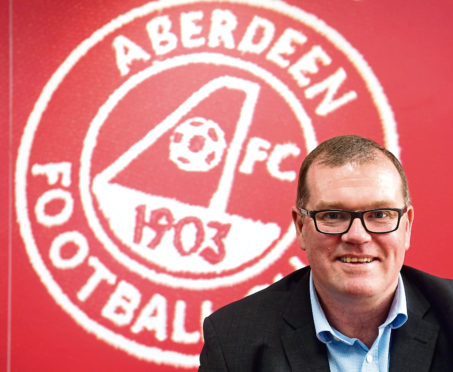 As shareholders voted unanimously to back Aberdeen Football Club's plan to re-register as a private limited company, what more is being done by the Dons to generate cash for the upcoming move to Kingsford?
A vote was taken at the club's EGM earlier this month and once the re-registration procedure is complete an additional £2 million of investment will be triggered for the first phase of the plans at the new stadium.
The Dons board say the change in status would facilitate investment by way of share subscription.
Club chairman Stewart Milne said: "Re-registration will mean that we will have raised all the funding for the community sports hub, football academy and training facilities, which is set to open in autumn this year.
"But, more importantly, we've paved the way for further investment in the future."
In addition more than 80 local businesses are reaping the benefits of an affinity initiative with Aberdeen Football Club.
Launched at the end of last year, By Official Appointment (BOA) brings together a family of businesses and loyal Aberdeen FC fans under a common banner to help generate more business and helping supporters receive the best possible products, offers and services.
Affinity programmes such as BOA are recognised across the business world as a proven and powerful marketing tool to generate new sales revenues.
AFC commercial director Rob Wicks said: "Aberdeen is a one club city with a hugely loyal fan base and it's great to see over 80 businesses tapping into that and receiving tangible benefits from a closer relationship with the Club.
"Through the BOA programme, participating businesses have gained profile and new business through the bespoke incentives and special offers which the club has marketed to its extensive fan base using its range of marketing and media channels."
Local businesses have a range of categories to choose from, each of which offers a variety of benefits including branding, networking, use of the club logo, preferential rates for advertising and complementary matchday tickets.
Partners pay an annual subscription fee to secure a club licence entitling them to By Official Appointment partnership status. Any business that doesn't specifically have a consumer offering can join as BOA Affiliates and also enjoy a range of benefits.
Among the companies signed up are Central Coaches, Malmaison, Gary Walker Wealth Management, Pro Player Plan, Aberdeen Framing, Jamieson & Carry, Fresh Mex, GD Pest Control, The Ashvale, Flexistore, Decidedly Dogs, The Foundry, Four Mile, Maggies Grill, Siberia, Skyline, Signed Memorabilia by Tony Scott, Aberdeen Whisky Shop, McWilliams Butcher, the Belmont Filmhouse, Mackies of Scotland, Fits the Scoop, H&R, Sea, Salt & Sole and Elegant Beauty.
"With more than 230 available categories, participation in the BOA programme enables local businesses to increase awareness, prestige and status, while growing market share coupled with creating loyalty and affinity among our supporters. And with more than 100,000 engaged fans, that is quite an incentive," added Mr Wicks.
Momentum is now building for the move to Kingsford with the first commercial contract for AFC's new community sports hub and football training facilities having been awarded.
BaxterStorey was recently announced as the catering partner for the new pavilion in a multi-year contract. The firm, the UK's largest independent food service provider, offers hospitality services across restaurants, café bars, deli operations and executive dining rooms for a broad range of clients.
With contracts at the training facilities for Manchester City and Spurs, the club says the firm will bring highly relevant experience to AFC.
Mr Wicks added: "We went through a rigorous tender process with three strong bids and the club is delighted to announce this new partnership with BaxterStorey.
"The opening of our new professional training centre and community hub is a significant development in our club's 116 year history and we look forward to working with a partner who matches our ambitions and aspirations to make this a first class facility.
"This state of the art facility will give our players the opportunity to train in a best in class environment, and their diet and nutrition play an important part in their training and fitness programmes."