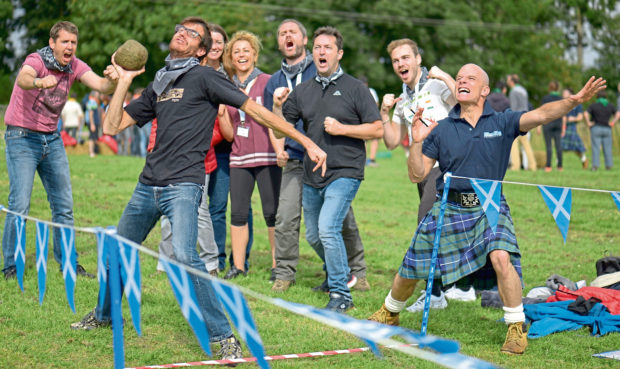 Today's tough business environment means companies are always looking for innovative ways to gain a competitive edge over rivals.
Advocates of team-building events say they can lead to a wide variety of benefits in the workplace, including improved productivity and communication, increased motivation and collaboration and more creativity.
Scottish firm BlueSky Experiences is one of Britain's top team-building and leadership companies, with 14 staff and more than 50 freelancers and contractors at its three offices.
Sport plays a prominent role in BlueSky's activities, with Highland Games among the most popular.
Participants can try their hand at everything from tossing the caber to haggis hurling, as well as a farmers' dash and hammer throwing.
BlueSky managing director James England said: "Our Highland Games are great fun and accessible to everyone.
"They make the perfect activity for a corporate fun event, as it gets the whole team to compete against each other in 'clans' and have a great time together."
BlueSky was founded in Perthshire in 2001 by James and his wife Suzie after they decided to branch out from their farm business.
The main site is at the couple's farm near Methven, while there is a second near Edinburgh and the third is in London.
BlueSky says it aims to inspire, build, develop and reward individuals and teams with an innovative mix of dynamic and thought-provoking programmes on offer.
The north-east is one of the company's biggest markets in Scotland for team-building and leadership events and programmes.
Clients in the Aberdeen area come from a variety of business sectors, including oil and gas, distilling, tourism, construction and legal.
Fast-growing BlueSky currently delivers around 1,000 events a year across the UK.
James highlighted that successful organisations look after their people, take them seriously and invest in their development with team-building days.
These events can help individuals and teams develop strong working relationships, effective communication, a common approach and ultimately building overall team and business resilience to deal with an ever-changing business environment.
He added: "Team-building days can also be an important way of showing a business's appreciation of a team's good work and by way of a 'thank you' for a job well done, helping keep morale and team spirit high."
The managing director explained that team-building activities can cover a multitude of different types of events.
These can range from fun days for employees to helping break down a silo mentality in the office; or helping individuals learn how to adapt their working style.
James said: "Team building can simply be an enjoyable away-day, simply having fun with your work colleagues – letting your hair down and with no business connected to it. However, this in itself is important for getting to know your team, building relationships, boosting team confidence and spirits.
"Team building can also mean that a team may wish to do all of the above, but also want to take some learning away from the event. In that case, the focus of the day and delivery of it is quite different. The focus will likely become 50% fun and 50% learning.
"This type of day will focus on how a client's workforce can become a higher-performing team and we will concentrate very much on communication and collaboration. The event will be tailor-made to fit with the required outcomes requested by the team."
The managing director said that, among his clients in the Aberdeen area, some have requirements which include supporting further development of inter-team communication and the sharing of knowledge helping break down silo mentality.
He added: "This could be to help improve communication between colleagues offshore and those onshore.
"We have activities which directly recreate this scenario of split teams, and what they learn helps participants when back at work."
James said that team-building events can also include a focus on the individual by using a psychometric tool and language called Insights Discovery, which has proved extremely popular in the Aberdeen area.
"We can help people understand the impact their style has on others, and then learn how to adapt their style to better connect and communicate and influence fellow workers.
"Increasingly, employers are studying the personalities and behaviours of individuals in the workplace to discover ways to maximise job performance and contribution to the organisation.
"Whether you need a little insight to increase personal effectiveness, team effectiveness or boost your sales effectiveness, understanding how employees behave, react and engage with others plays a key role in the development of workplace dynamics.The Insights Discovery programme is designed to help individuals and teams understand how their behaviours impact the way they interact and work with others."
The managing director said BlueSky has seen a significant upturn in its work in the north-east in the last couple of years as the region begins to recover from the impact of the recent oil industry downturn.
He added: "Our business has in excess of 1,500 contacts in the north-east who we have engaged with over the years.
"Aberdeen is absolutely a key area to support the growth of BlueSky Experiences corporate away-day, team-building and leadership development offering."
Happy customers of BlueSky's Games from across the north-east
A wide range of companies with strong north-east presences are clients of BlueSky Experiences.
They include Henry Boot Developments and Apollo Offshore Engineering, while BlueSky also has a long-standing relationship with the UK business unit of Premier Oil.
Employees from its six UK regional offices attended a Highland Games event in Inverurie this summer.
Regional project manager Nigel Munro said it was part of the first staff away-day in Scotland.
He added: "I had heard that corporate Highland Games events were good fun.
"After briefing BlueSky with a fairly tight timescale, it was quickly able to identify an excellent local venue in Thainstone House and suggest a Highland Games format they knew would work well for the Henry Boot Developments team.
"We worked with BlueSky to plan out the day and the team were highly-professional, experienced and the details of the day panned out without too much drama.
"The weather on the day wasn't kind, but managed to clear just in time for the games.
"Our English colleagues quickly became experts and were highly competitive at caber tossing, hammer and wellie throwing, as well as country dancing and hilarious attempts at playing the bagpipes. The day ended with team relay races and a tug of war.
"Even in the short time since, the cross-office connections have strengthened with the exchanging of ideas and progressing potential development opportunities."
APOLLO OFFSHORE ENGINEERING
Staff competed in Diamond Quest at Ardoe House Hotel in June.
Support assistant Carol Stewart said: "Each year we like to recognise our staff's continued hard work by holding an annual summer team-building day.
"With the challenge of finding a different activity each year, our social committee often have to think outside the box sometimes having to go to external providers which led us to contact BlueSky.
"Our staff competed in teams in a number of events, including archery, cryptic puzzles and physical challenges.
"All the activities were set up so everyone had a chance to take part and compete with teams having to collect as many tokens as possible before the top three teams battled it out in a 'winner takes all' challenge.
"All our staff had a great time with many newer members of staff enjoying having the opportunity to get to know colleagues who they had perhaps not worked with directly, as well as continuing to foster and enhance working and personal relationships."
The UK business unit of the energy company, which has offices in Aberdeen, has been working with BlueSky since 2013.
Mark Haddow, senior human resources adviser at Premier, said: "Initially working with a small group of HR personnel, we soon realised the potential and benefit of rolling out the Insights Discovery tool to the wider business unit from functional-based areas to our larger project and asset groups.
"Premier's UK HR team have also used BlueSky to explore areas such as developing resilience and emotional intelligence, and this has significantly improved our understanding of the impact we can have on our organisation's culture.
"BlueSky has also supported team-building sessions and the development of a leadership programme," he added.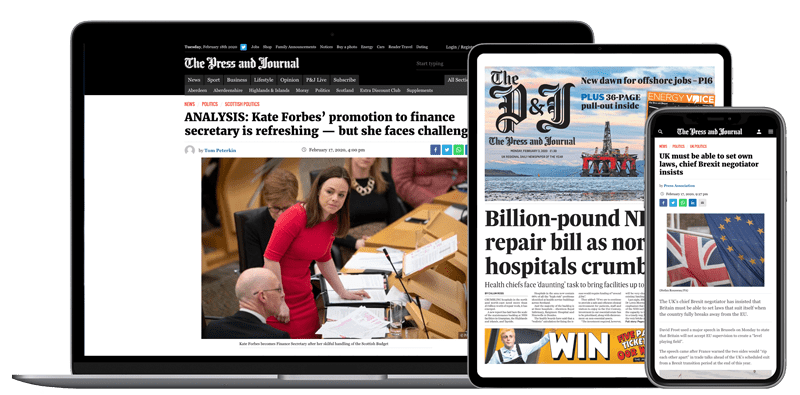 Help support quality local journalism … become a digital subscriber to The Press and Journal
For as little as £5.99 a month you can access all of our content, including Premium articles.
Subscribe