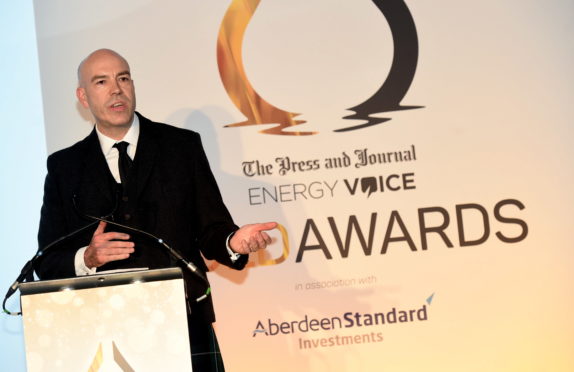 The fifth annual P&J Energy Voice Gold Awards, in association with Aberdeen Standard Investments, was held at the Chester Hotel in Aberdeen on Friday night honouring companies and individuals who have excelled in the north-east energy sector over the past year.
Presented by BBC business correspondent Ben Thompson, the evening was opened by Energy Voice's Ryan Stevenson who described the night as a "celebration of the twin pillars of innovation and entrepreneurship that typify the north-east energy industry".
The Health and Safety Award, presented by the Press and Journal's editor Alan McCabe, was won by Aberdeen-based oil services firm Stork.
Its regional director Jade Crotty said: "It's been really difficult the last few years and to turn it around and get everyone bought into what we're trying to do, and get recognised for it, is awesome."
Presented by Tim Mills of Energy Voice, the Renewables Award was scooped by the Swedish offshore wind developer Vattenfall, operator of the new 11-turbine European Offshore Wind Deployment Centre (EOWDC) in Aberdeen Bay.
Head of the EOWDC project Kevin Jones said: "For us it's been a long journey to build the wind farm and the support we've had from the local community, and the Aberdeen Renewable Energy Group (AREG) especially, has really been fantastic."
Wood were also highly commended in the renewables category.
Craig Morgan, 22, of Chevron North Sea, took home the coveted Apprentice Award, which was presented by Jenny MacDonald of award sponsor Skills Development Scotland.
He described winning as "one of the highlights of my life without a doubt".
The Above and Beyond Award, given to those who have excelled in the sector, saw CHC Helicopters lift all the silverware as Lee James was first highly commended before Mavis Anagboso was declared winner.
Ms Anagboso was unable to attend, but she was represented by Sue Fay, who said: "Mavis is devastated not to be here tonight, but this is a great reflection on the company."
Rever Offshore presented and sponsored the award.
Small Company of the Year was taken by Bridge of Don-based firm Load Monitoring Systems and was presented by head of Energy Voice Ryan Stevenson.
Asked what they believe has caused the company to be recognised in this way, managing director Kirk Anderson and sales director Millar Kennedy said "teamwork with a capital 'T' without a doubt" had been key.
Mr Anderson said: "We started this business in the toughest of times, in 2014. We've had some tough years, so if it hadn't been for the team we wouldn't be here now."
The Large Company of the Year Award was snapped up by North Sea operator TAQA, presented by Energy Voice editor Mark Lammey.
Donal Taylor, TAQA's European managing director, said: "TAQA has been in the North Sea now for 10 years as an operator. Then it was six guys, and now we've moved on thanks to a lot of investment and change and now we have over 1,000 people receiving a paycheck from us.
"We also invest in our people, we've got a great workforce, both young and old, and this is a good reflection of that."
DeltaTek took home the Balmoral-sponsored Innovation Award thanks to the quality of its time-saving, rig-ready technologies.
The award, presented by Balmoral's sales director Gary Yeoman, was collected by DeltaTek chief executive Tristam Horn, who said: "It's the simplicity of our technology which has spoken out to our customer base and the fact that it is simple and logical is why it has been so quickly adopted in the marketplace."
The Dr Mildred Dresselhaus Award, an accolade given to women making a positive impact in the energy sector, was won by Kerrie Murray of UK firm Pryme Group.
Rebecca Buchan, the Press and Journal's business editor, presented the award.
Ms Murray said modestly that all she'd ever done was "ask people to be the best they can be".
She added: "If you can help others then that means you'll have a great job and career and you'll get to see people succeed."
Industry stalwart Ian Phillips form the Oil and Gas Innovation Centre (OGIC) was awarded the Industry Leader prize, presented by Julie Roberts of Scottish Enterprise, who Mr Phillips had mentored in her own career.
He said: "I've been involved in the industry for many, many years and I've done quite a bit of mentoring with young people in the energy industry, so I'm thinking this award could have something to do with that."
The coveted Hall of Fame award, presented by Geoff Aberdein of Aberdeen Standard Investments, was awarded to Bill Edgar, chairman of Subsea UK, who was unable to attend the event but was described as a "real industry legend".
Here are the winners and highly commended in full:
Winner: Mavis Anagboso, CHC Helicopter
Highly commended: Lee James, CHC Helicopter
Winner: Craig Morgan, Chevron North Sea Limited
Dr Mildred Dresselhaus Award
Winner: Kerrie Murray, Pryme Group
Large company of the year
Winner: TAQA
Small company of the year
Winner: Load Monitoring Systems
Winner: Stork, A Flour Company
Winner: Vattenfall
Highly commended: Wood
Winner: DeltaTek Global
Winner: Ian Phillips, Oil and Gas Innovation Centre
Winner: William (Bill Edgar)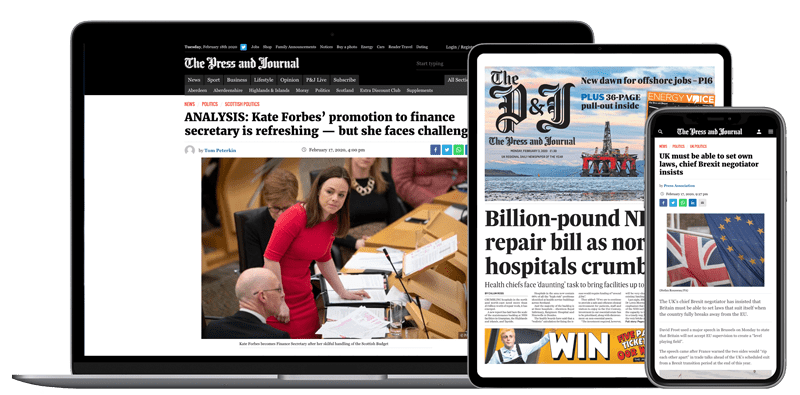 Help support quality local journalism … become a digital subscriber to The Press and Journal
For as little as £5.99 a month you can access all of our content, including Premium articles.
Subscribe