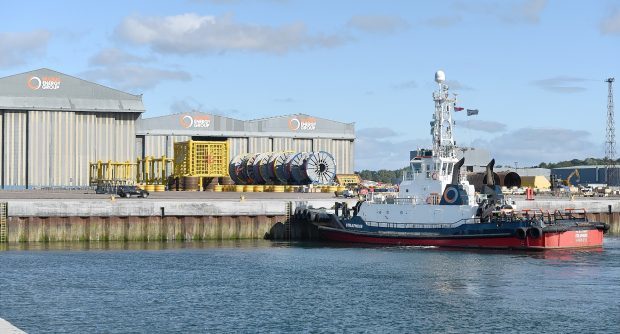 Nigg Energy Park has been identified as the best prepared of Scotland's east coast ports to create jobs from offshore wind contracts in a new industry report.
The Cromarty Firth facility's potential was highlighted in the findings of a strategic review,which also examined the capabilities of Invergordon, Aberdeen, Dundee, Montrose, Methil and Rosyth as well as ports on England's east coast.
Conducted by the Offshore Wind Industry Council (OWIC), the study focused on the capability of ports to carry out "staging" work,  storing and loading offshore wind farm components and carrying out pre-construction activities.  It also assessed their ability to manufacture large components in or near their sites.
It rated Nigg Energy Park, owned by the Inverness-based Global Energy Group, as meeting the requirements for all staging activities. The yard's potential, with further development, to house a staging and manufacturing "cluster," of two large wind farm projects per year, with enough land available to also accommodate three manufacturing activities, was also highlighted.
Earlier this year the Nigg yard won a multi-million pound contract to support construction of the Beatrice Offshore Windfarm.
Global Energy Group communications director, Alastair Kennedy, said: "We welcome the findings of the report which clearly highlight the importance of Nigg Energy Park and the Port of Nigg in the future development of the emerging renewables markets.
"With over £45m invested in upgraded facilities and additional deep water quayside space, we now have a world class facility here at Nigg. It has taken time, but we are beginning to see benefits of this investment materialise.
"Atlantis Resources are working on the construction of their first three wave and tidal turbines within one of our six fabrication shops, along with the recent announcement of our contract win for the Beatrice Offshore Wind project that will see 84 Siemens 7MW turbines deployed, generating up to 588MW of power, looking to commence in Spring 2018.
"These contract wins clearly demonstrate we have the wide ranging capability and facilities to support various forms of work required across the renewables industries and this is highlighted within the findings of the report."
Rated only on staging capability, the report concluded that nearby Invergordon, run by the Port of Cromarty Firth, does not have  enough available land to accommodate turbine staging activity. However, it noted it has already accommodated offshore renewable projects, including wind, and has invested £25m in the development of an additional 3.6ha site, with 154m of heavy lift quayside.
Aberdeen Harbour, along with Dundee and Montrose, was also rated as having too little land or quayside for staging activity.
Aberdeen Harbour Board chief executive Colin Parker said the report "accurately reflected" the lack of space currently available.
He added: "The report acknowledges the potential development at Nigg Bay however, quite correctly, could not put this forward as a solution until the project is sanctioned, and if not complete then at least under construction.
"Aberdeen Harbour Board believe that offshore wind developments will eventually become more prevalent in the deeper waters off Scotland and are encouraged by the recent announcements more locally such as the European Offshore Wind Deployment Centre off Balmedie and Statoil's Hywind Scotland Pilot Park near the Buchan Deep off Peterhead.
"The potential of supporting the construction and operation of offshore wind and other renewable energy projects in the future is just one of the many reasons behind the need to develop larger and deeper port facilities at Nigg Bay."
The OWIC say their findings of the review do not preclude any of the ports from winning offshore wind-related activity, which in some cases is already taking place.
The government say the "ambitious pipeline" of North Sea offshore wind projects will stimulate economic activity and lead to the creation of more supply chain companies throughout the UK.
Secretary of State for Business, Energy and Industrial Strategy, Greg Clark, said "The UK is the world leader in offshore wind and it's important that we make the most of the many jobs and business opportunities that arise from this growing industry.
"We're making £730m available for renewable electricity generation this parliament, sending a clear signal that the UK is open for business as we build a strong supply chain here."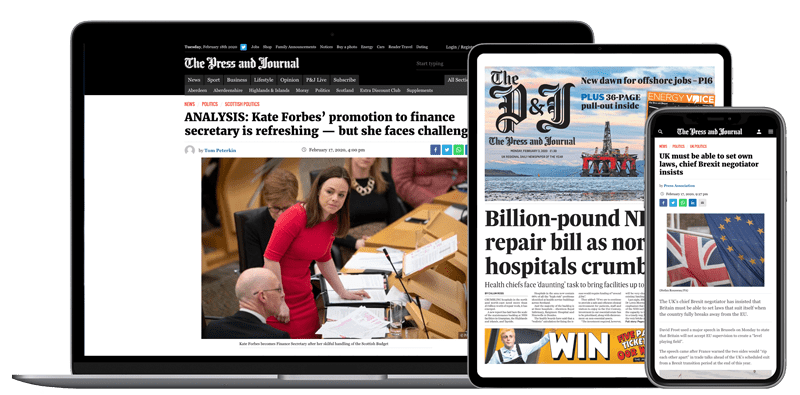 Help support quality local journalism … become a digital subscriber to The Press and Journal
For as little as £5.99 a month you can access all of our content, including Premium articles.
Subscribe