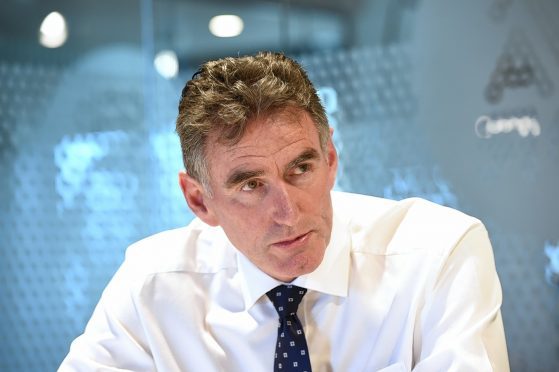 Royal Bank of Scotland (RBS) has been accused by the City watchdog of "systematic" failings at its Global Restructuring Group (GRG) which led to mistreatment of thousands of small business customers.
The Financial Conduct Authority (FCA) yesterday released key findings from a two-year review of the GRG, which examined 207 cases over a six-year period.
RBS confirmed it was setting aside £400million to compensate customers and launch a new complaints systems relating to "complex" fees and dealings with its debt restructuring  unit between 2008 and 2013.
The bank's announcement was dismissed by a former north hotelier, who claims he was forced into bankruptcy by the RBS as an "insult to the majority of businesses financially crippled or ruined" by the bank." Another Scottish  customer who said he lost his businesses at the hands of the GRG claimed the FCA report was a "whitewash."
The FCA was also forced to launch an investigation after "market sensitive" news of RBS compensation scheme was leaked on Monday evening, ahead of yesterday's planned announcement.
The watchdog's report stopped short of confirming allegations that RBS intentionally pushed businesses towards failure in the hope of picking up their assets on the cheap.
As many as 4,000 of 12,000 customers transferred to the GRG between 2008 and 2013 are believed to be eligible for compensation under the measures announce by the bank.
In a statement, RBS said: "As the bank has acknowledged, in some areas it could have done better for SME customers in GRG.
"Specifically, the bank could have managed the transition to GRG better and should have explained to customers any changes to the prices or complex fees it was charging.
"The bank accepts that it did not always communicate as well or as clearly as it should have done. The bank also did not always handle customer complaints well."
The £400million provision will be included in RBS' fourth-quarter results.
The bank's chief executive Ross McEwen said the figure could rise, depending on the level and outcome of related complaints.
Mr McEwan added:  "We have acknowledged for some time that mistakes were made.
"Some of our customers went through what was a traumatic and painful experience as a result of the crisis.
"I am very sorry that we did not provide the level of service and understanding we should have done."
Former Aberdeen businessman and Skye hotelier Nigel Henderson said the bank's mistreatment stretches further back than 2008.
He says he was driven into bankruptcy by an RBS restructuring unit that predated GRC, losing his house, boat and Potree hotel after switching banks in the late 1990s, despite multiple attempts to repay the money owned.
Mr Henderson said: "It is clear that RBS were acting in a cavalier manner long before 2008.
"Having seen the synopsis of the FCA report… one of the very interesting points is that on RBS' own admission they said a third of businesses that were put into GRG were heading for insolvency anyway.
"That means two thirds were viable businesses."
Stuart McCreadie, of Glasgow, who said he lost his music business after being referred to GRG, despite never having fallen into financial difficulty, said:  "The FCA report seems to be utter whitewash."
Janine Alexander, a partner in law firm Collyer Bristow's Banking and Financial Disputes group, said: "It is quite clear that this is by no means over.
"The compensation scheme as outlined today by RBS and sanctioned by the FCA does not go far enough in providing those that have suffered as a result of RBS's actions with a framework for compensation."
FCA chief executive Andrew Bailey told the Treasury Select Committee he was "disappointed" news of the scheme appeared on Monday evening, well ahead of the formal market announcement at 7am yesterday.
He said:  "It is more than disappointing, frankly.  We do regard this as market sensitive information."
The FCA is still in the process of reviewing the GRG.