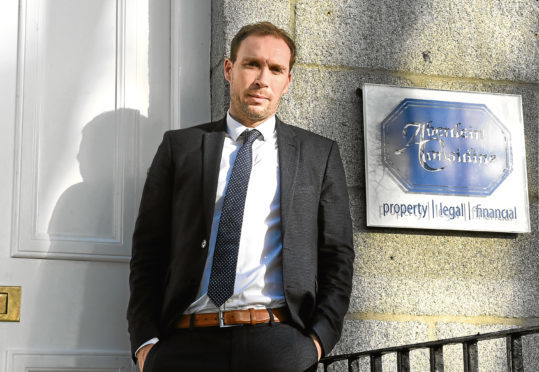 He made his name providing leadership on the pitch at Aberdeen FC but these days Russell Anderson is more interested in helping people sort out their finances.
Last year, the former Dons' captain "signed up" for Scottish law firm Aberdein Considine and he is now dishing out expert advice on retirement planning and investments.
A fans' favourite during two spells at Aberdeen FC, Anderson also spent time in English football at Sunderland and Derby County, as well as loan periods at Plymouth Argyll and Burnley.
In addition, he won 11 caps for Scotland at full international level between 2002 and 2008.
How many of the many thousands of people who watched him play knew he was spending much of his spare time studying to become a financial adviser?
Anderson squeezed in study time on the team bus, after training and during lengthy periods of rehabilitation following injury, with a view to having a different career after he hung up his boots for the last time.
That moment came in 2015 and after a spell as a business development executive at Pittodrie Stadium he made the switch to a full-time role at Aberdeen-based Aberdein Considine.
Meeting him for the first time was an eye-opener. Had I not known about his past as an exceptional but injury-prone footballer, I would never have guessed it.
He did not at all meet the stereotype but instead came across as an extremely clever financial professional, enjoying a very different kind of job from the one which earned him adulation and plaudits galore as a footballer.
I was interested to hear how he was coping with the transition from a job focused on 90 minutes of adrenaline-fuelled physical exertion to a largely office-bound role, with regular hours but also occasional evening appointments with clients. Very well it seems.
The 39-year-old, who now boasts a diploma in financial planning and has letters after his name to prove it, said: "I didn't think I would miss it (football), although I am now involved at Formartine, where my brother-in-law is player-manager, and I still get a buzz on Saturdays.
"It's a nice little reminder and also a good feeling at 4.45pm if we've won, but I don't sit here in the office pining for football."
There are pros and cons to all kinds of jobs, he said, adding life as a footballer had left a lot of time for the family – but not at weekends or on important holidays.
His spell in the commercial department at Pittodrie was a useful lifestyle adjustment which came as "a bit of a culture shock".
"It was a completely new proposition," the married father-of-two said, explaining the change had meant getting used to a very different work-life balance.
Fitness training that was once part and parcel of his day job is now voluntary, and fitted in around work and family commitments as he focuses on getting people's finances into good shape.
"Cases are starting to build up now, which is good," he said, adding: "The financial services part of Aberdein Considine is probably the area of the business which is the least well-known."
With a former Dons star at the heart of it these days, that is surely about to change.
The decision to forge a career outside football after his playing days were over, rather than follow the well-trodden path of management/coaching or media work, was hatched early on.
Growing up in Mannofield, Aberdeen, he always felt he should have something other than football to fall back on one day.
Aged 21, severe injury put him out of the game for a year and the birth of his first son, Jevan, around the same time made him think more about his future.
That is when the Dons' centre-back started training of a different kind to become a financial adviser.
He said: "I watched a lot of other players do their coaching badges but that was never something that really grabbed me.
"As a footballer you train hard but you do have quite a bit of free time. I decided to use some of mine to study something I could pick up or put down as and when training allowed."
The idea also stemmed, in part, from an interest in the financial advice he received as footballer.
"I started studying and quickly took to it," he said, adding that a further spell out of the game due to injury while he was at Sunderland left him with more time to fill.
Studies were often a welcome distraction from looming big games, helping the former Aberdeen Grammar School pupil keep the match nerves at bay.
By the time he returned to Aberdeen as captain in January 2012 he was a fully qualified financial adviser, having passed all his exams first time.
Realising he needed some on-the-job skills, he spoke to Peter Mutch, a chartered financial planner and corporate benefits director at Aberdein Considine.
That relationship led to 18-months' experience in the financial services industry as he wound down his playing career.
Anderson helped his hometown club to League Cup success in 2014 before retiring a year later to take up the business development role at Pittodrie.
My interview ended with me leaving Aberdein Considine's offices in Bon Accord Terrace impressed by his professionalism off the park, regardless of his many fine achievements on the pitch.
Russell Anderson launched his career with Aberdeen FC and broke through the ranks to make his senior debut in 1997.
He scored his first goal for the Dons in a 4-0 win against Hibernian in 2000.
During the 2005-06 season, the defender won the most man-of-the-match awards from BBC Radio Scotland show Sportsound.
He was rewarded for 10 years service with a testimonial match against Everton in 2006.
During his first spell at Pittodrie, Anderson made 320 appearances and scored 18 goals.
He was appointed club captain in 2003, a role he held for four years prior to departing in a £1million move to English side Sunderland.
Injuries curtailed his career south of the border, although he did enjoy spells at Plymouth Argyle and Burnley on loan before moving to Derby County.
He re-signed for Aberdeen in January 2012 and was reappointed as captain of the team soon after.
An inspirational figure both on and off the park, Anderson represented Scotland 11 times and was also a youth and under-21 international.
In 2013-14, he lifted the League Cup after the Dons beat Caley Thistle on penalties in the final at Celtic Park.
He made his 400th appearance for Aberdeen on the final day of the 2013-14 season, putting him into sixth place in the all-time appearance list.
On May 7, 2015, the long-serving Dons' captain announced his retirement after helping the club to its best league finish for more than two decades.
He played a total of 403 games spanning 15 years with the club's first team, serving as captain for nearly half that time.
In July last year, Aberdein Considine announced it had signed up Anderson as a financial adviser.