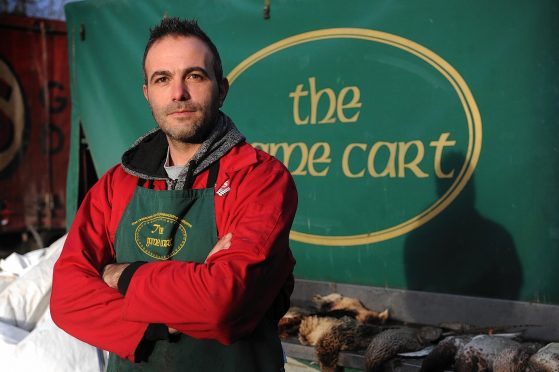 Scotland's rich game larder offers a wealth of tasty alternatives for anyone looking to deviate away from the tradition of roast turkey at Christmas time.
During the winter shooting season this makes the run-up to Christmas a busy period for Steven Wade who runs the Game Cart Plucking Service from his home at Woodmill Farm in Fife, processing game birds from the feather into convenient oven-ready packs.
Mr Wade launched the business alongside his wife, Clare, as pluckers and purveyors of fine Scottish game, more than 25 years ago now, to fill a gap in the rural marketplace – providing a valuable service to support not just the shooting and game industry but also farmers, estate owners and individual customers Scotland-wide.
He said: "We established The Game Cart back in 1992. We had taken a brace of pheasants to a friend who recoiled at the thought of plucking them, and I had the idea of offering people oven-ready birds instead. It was then that I discovered that technology had become available that was capable of alleviating much of the burden associated with plucking birds by hand."
The mechanisation of the process presented a unique seasonal opportunity for Mr Wade that he realised would mesh well with his agricultural contracting business, SAS, which provides a mobile seed cleaning service for the local farming industry.
"It was a not inconsiderable investment at that time, but the two businesses sit very well together on the agricultural and sporting calendars," he added.
Although the business began on a mobile basis, touring to shoots across Scotland, both volume and demand for processing rapidly expanded and the plucking process has since become based permanently at Woodmill in Fife.
The Game Cart now handles tens of thousands birds each year, of many a size or species which can arrive at Woodmill either dead or alive – from woodcock to wild geese, including pheasant, partridge, duck, grouse and pigeons, as well as chickens and turkeys at Christmas time.
The specialist service includes plucking, cleaning, wrapping and labelling, allowing customers to collect processed birds either fresh for the oven or ready to go straight into a freezer.
"We are happy to handle any quantity of game for any customer," Mr Wade said. "From a single bird or brace to several hundred game at any one time.
"Obviously December is one of our busiest times and we are kept busy working all the way up until Christmas time."
Smaller quantities of birds can be processed on a "while-you-wait" basis, taking Mr Wade and his team of Radu Maldovan and Donny Prodanov only a matter of minutes to turn around.
"Game is often overlooked as a great meat, but it's low in fat, high in protein and packed full of natural flavours," said Mr Wade.
"There's also something very wholesome about game – perhaps an emotional connection that appeals to the hunter-gatherer within – and living and eating off the land that really charms many people during the winter time."
He added: "That said, an increasing number of customers are also rearing their own turkeys with the festive period in mind too.
"There has certainly been a revival in the interest in small-scale rearing of both traditional and rare free-range birds, particularly the Norfolk Black and Kelly Bronze."
To meet the demand, the Game Cart also now offers a wet plucking machine, which is ideal for processing these larger birds without causing any bruising to the skin.
Mr Wade's entrepreneurial skills and passion for hunting, shooting and fishing also led him to turn his hobby of deer stalking into a further integrated venture based from the farm.
Woodmill Shootings offers UK and international customers deer stalking holidays with sole access to some 30,000 acres of highland and lowland stalking areas over Angus, Tayside, Perth and Fife, courtesy of team member and local stalking guide Johnny Readhead.
"We offer introductory courses, as well as stalking outings and holidays to shoot either Scottish roe or red deer, with accommodation, for between two to four people at any one time," he said.
"Rifle hunting is one of the fastest growing field sports within the UK and the demand shows no signs of abating. It's challenging and exciting."
The business culls around 250 red deer and a further 100 roe deer each year and all the carcases return for processing on the farm.
Here, Mr Wade markets small amounts of venison for sale online, to existing customers or by word of mouth. The remainder is utilised by his youngest son, Guy, who this summer launched a standalone catering business selling top quality venison burgers and sausages.
His catering unit, The Screaming Peacock Gourmet Burger Bar – which has been designed to stand out from the crowd – can be regularly spotted on the A91 between Gateside and Strathmiglo, at farmers markets and events, and is also available for private hire, covering functions or in-house training events.