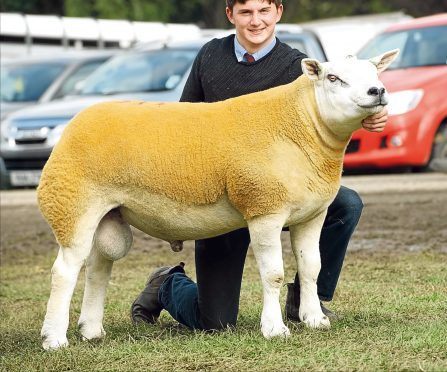 More than 5,000 rams exchanged hands with trade smashing the £3million barrier at the Kelso Ram Sales yesterday for the first time ever.
A total of 5,411 shearling rams and ram lambs sold to a total of £3,159,290 and an average price of £709.63.
Shearlings sold to average £733.02 for 3,976 sold, while ram lambs averaged £514.29 for 476 sold.
Texels commanded the majority of top prices on the day, selling to £23,000 for one from Karen and Allan Wight, Midlock, Crawford.
Making the big money was a shearling ram by a home-bred son of the 18,000gn Sportsmans Unbeatable, out of a ewe by Douganhill Monarch. A second prize winner at the Scottish Texel Club show in July, he sold in a three-way split, to John Elliot, Roxburgh Mains, Kelso, Jonathan Watson, Bowsden Moor, Berwick Upon Tweed, and Mike and Melanie Alford, Foxhill Farm, Blackborough, Cullompton, Devon.
The Wights also received £5,000, for a son of the 19,000gn Deveronvale Warrior, out of a ewe by Teiglum Thunder. He went to Brian McAllister, Parkgate Road, Kells, Ballymena.
The Campbell family from Rosebrough, Chathill, Alnwick, earned a top of £9,000 – their best price in 39 years selling at Kelso – for one from their Thrunton pen. Sired by Forkins Viagra and out of a ewe by the £10,000 Scrogtonhead Powerhouse, this one was knocked down to Jeff Aiken, for the Procters flock at Tatham Hall, Lancaster.
Matching that price, later in the sale, Steven Renwick, Glenrath, Peebles, sold to a top of £9,000 from his Craig Douglas consignment. His son of Haddo Whisky Galore, out of a ewe by Sportsmans Unbeatable, sold to A.E. Williams and Son, Folley Bank, Clun.
Also from the Craig Douglas pen was a shearling at £4,800, another by Haddo Whisky Galore, which sold to IHG Warden, Skelfhill, Hawick.
Making his best Kelso price, Iain Minto, Townhead, Dolphinton, sold to £8000 for his pen number one, a shearling son of the Kelso-bought Scrogton Vulcan, out of a ewe by a Bridgehouse sire. He went in a two-way split, to Prof Penny, Harehead, Cranshaws, Duns, and Neil Harvey, Blackadder Mains, Duns.
Making £7,000 was the best from Jonathan Watson, Bowsden Moor, the show champion in Ring 5, by Haymount Vava Voom. He sold up north to John Scott, Fearn Farm, Tain, Easter Ross.
Mr Watson also received £5,800 for a Brackenridge Strongbow-sired shearling, which went to the Loosebeare flock and Nicola Hartwright's Whitehart flock at Bringsty, Worcestershire.
Meanwhile, in the same ring, Paul Quick, Loosebeare, Crediton, Devon, sold to £6,500, to AE Bell and Son, Kirkton, Hawick. He is by the home-bred Loosebeare Voomer, out of a daughter of Loosebeare Romeo.
The Dunlop family's Elmscleugh pen from Innerwick, Dunbar, peaked at £6,000, for a son of the £8,000 Milnbank Wisconsin, out of a ewe by Tullagh Saracen, which was knocked down to Peter and Lynn Gray, Cowgrove, Galston.
Top price from Robert Laird's Cambwell lot from Biggar, was £5800 for a Cambwell Trademark son which sold to Will Case, for his Nab Point flock at Ulverston, Cumbria.
Making the same money was one from Neil Harvey's Blackadder pen, a Hartside Utopia son, which was knocked down to J.M. Carlile, Fowrass Farm, Penrith.
Best for Gordon and David Gray, Ettrick, Selkirk, was £4,800, which they got for a son of Ellen Valley Warlord, selling to M Barnett, Gilside Farm.
The Clark family's Garngour consignment topped at £4,500, for one by Mossvale Winston, which sold to Kenny Sutherland, Stainland and Sibmister Farms, Thurso.
Best in the lambs was £4,400, for one from Allan Campbell, Strawfrank, Carstairs, a son of the 7,500gn Ballynahone Yorkie, out of a ewe by Tima Valentino, which was knocked down to Russell and Gill Watkins' Millend flock in Herefordshire.
Robbie Wilson, North Dorlaithers, Turriff, sold a lamb at £4,000, to Danny Devlin, Quarryhill, Donegal. He is a Strathbogie Yes Sir son, out of a ewe by Strathbogie Untouchable.
The Beltex breed peaked at £3,200 for a shearling ram from the Buckle family, Buckles Farm, Barras, Kirkby. He is by the home-bred sire, Buckles Absolute, and out of a ewe by Broxty Supreme. Buyer was JM Hall, Scosthrop Farm, Skipton.
Dutch Texels also sold to £3,200, for one from P. Guiry and Son, Glanton Town Farm, Alnwick, to Messrs Jardine, Upper Hardland.
Best in the crosses was £1,800, for a Beltex cross shearling from Stuart Wood, Woolhillock, Skene, Westhill, which went to Glen Almond Farms, Perth.
Suffolks sold to a top of £4,800 for a ram lamb from Northern Irish breeder Gary Beacom's Lakeview flock.
By the 13,000gn Rookery Rodeo and out of a dam by the 26,000gn Cairness Cyclone, he sold to D. J. Harvey, Erwbryn, Powys, Wales. Mr Beacom also achieved £3,000 selling another ram lamb to R. and J. Neil, Stonebridge.
The second best price in the Suffolks was £4,000 for a shearling from E. A. and L. Jackson, Rugley Farm, Alnwick. By Drinkstone Dionysus, he sold to the Wight family at Carwood, Biggar.
Next best at £3,400 was a non-accredited shearling from the Warden family at Skelfhill, Hawick. By a 1,700gn Allanshaws sire, he sold to Kenny Sutherland, Stainland and Sibmister Farms, Thurso, Caithness.
The Wardens also achieved £2,000 selling another shearling, by the same sire, to Derryman in Devon.
Other leading prices included £2,500 for the champion ram lamb from the pre-sale show. Put forward by Northern Irish breeder Willie Tait, who runs the Burnview flock, he is by the 11,000 euros Shanagh Resolve and out of a ewe which had a successul show career as a gimmer last year. He sold to a new Irish breeder called James Alexander.
Aberdeenshire breeders Irene Fowlie, who runs the Essie flock, and Jimmy Douglas, who runs the Cairness flock, both sold to a top of £1,400.
Meanwhile, a top price of £1,700 was achieved in the Charollais ring.
The breed topper was a shearling from H. W. Sloan, Rigghead Farm, Collin, Dumfries.
By Banwy Pick of The Crop and out of a Parkgate Nelly, which previously stood champion at the Lesmahagow Show, he sold to N. Balcomb and Sons, Horsesbone Farm, Romney Marsh.
Mrs E. Wight, of Townfoot Farm, Biggar, sold two shearlings from her Midlock flock for £1,300 and £1,200. The buyer for both was Aberdeenshire farmers Harry and Lynwen Emslie of Kinknockie, Mintlaw, Peterhead.
Lastly, in the Bluefaced Leicester section the Wight family from Biggar achieved the top price in the with an entry from their Midlock flock.
The shearling named Bronco made £12,000 to Jack Kay, Hartside Farm, Lauder. This tup is by a Redgate sire which cost £34,000 two years ago and his dam is also the mother of Midlock Mustang which has bred sheep that have grossed at least £200,000.
The flock's success came as little surprise as Midlock secured the top price of £12,000 last year and one of their Bluefaced Leicesters made £13,500 in 2015.
Allan Wight left the ring and walked past pens crowded with shepherds and farmers all shaking his hand and offering congratulations on his outstanding day's trade.
The Midlock flocks are based near Crawford, Biggar where the Wights run 4,500 ewes including Suffolks, Texels, Bluefaced Leicesters, Charollais and 2,500 Blackfaces.
The £12,000 top price was followed by £10,000 for a shearling from T. Dick and Son, Hamildean, Peebles which was bought by Messrs Lauchry and Mills from Northern Ireland.
At £7,000 M. and C. Drummond, Cassington Farms, Maybole sold a shearling to Barry Nichols, Devon; at £5,000 G, McDonald, The Harrow, Stobo Home Farm sold to S. McClymont and Sons, Tinnis, Yarrow and W. Sharp and Son, Longcroft, Lauder sold to Auchingrey and Burnton; at £4,500 J. and W. Bell, Highfield, Carnwath sold to Guild, Ashmark and Nisbet, Orchardton; at £4,200 Jas Cunningham, Blueacres, Parkgatestone, Biggar sold to R McTurk, Barlaes and at £3,600 T. Dick and Son sold to Shott, Whitfield, Hexham.