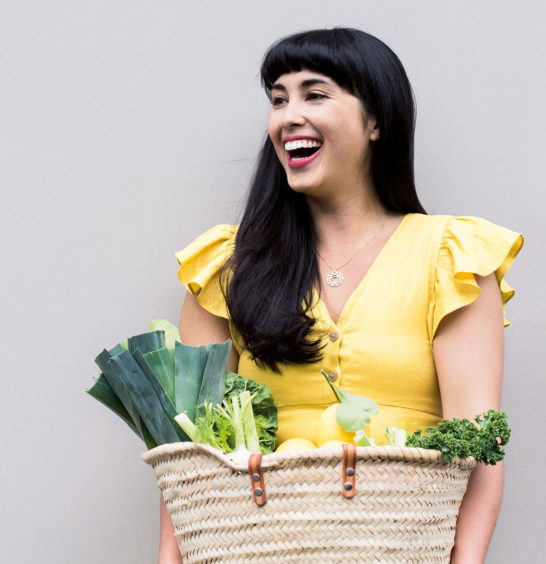 Melissa Hemsley talks about removing the pressure and guilt from cooking.
Melissa Hemsley is quite probably the reason your kitchen contains a spiralizer.
She and her elder sister Jasmine, caterers-turned-Vogue bloggers and cookbook writers Hemsley + Hemsley, pioneered the thing.
Now London-based Melissa is branching out alone, with her debut solo recipe collection, Eat Happy.
The crux of the book is to make cooking as simple and stress-free as possible. "What are people's main objections to cooking?" she considers. "It takes too long: OK, I can make it take 30 minutes – and with a lot of the recipes, you can do the work then go hang up the laundry or have a shower, then sit on the sofa and eat it when you're relaxed."
She's also tackling mountains of washing up ("There's only one pan!"), soggy leftovers for packed lunches, having to shop around ("I use store cupboard ingredients you can get in a corner shop") and getting more veg in "without putting on another pan to boil a bit of broccoli".
Ease aside, the book is underpinned by an acute awareness of food waste and its implications. "I grew up with an army dad and a Filipino-catholic mum; very, very thrifty and frugal, don't waste a single grain of rice, always be prepared for a war, that sort of mentality," Hemsley explains.
She reckons taking responsibility for wasting food is something we're more conscious of than ever. "Back in the day, if you were good about waste, you were quite angelic, now it's terrible to throw away food and, quite rightly, you feel awful doing it. On the positive side, you feel amazing using stuff up. It's really satisfying.
She's always looking for nifty ways to transform leftovers into dishes that are as "special" as their original incarnation. "Say you have leftover sweet potato wedges or roast squash, you might be like, 'Oh, this is quite boring', but fry them up with some butter and harissa spice and suddenly they're incredible," she buzzes. It's part of what makes Eat Happy a Melissa book, not a Hemsley + Hemsley book, as well as the fact Melissa's taste buds are firmly in charge.
"For instance, I haven't got a massive sweet tooth," she explains. "I LOVE a takeaway. I don't often feel great when I eat one; they don't quite hit the spot, so I have recipes for a chicken katsu curry, a pad Thai, a buckwheat pizza."
She doesn't agree with cutting out food groups and depriving yourself, either. "I'm not a big fan of extremes," she says. "I love a positive goal and things that make me feel happy – like, 'Clear that cupboard out', but I don't say, 'I'm going to change everything about myself'."
Instead of going on a crash diet, or bullying yourself into a month without alcohol or meat, she says, why not make an effort to fill up your freezer with home-cooked meals once a month instead? Use your ingredients in a different way, or buy less to begin with and meal-plan – "and then go spend that money you've saved on a dress – that's what I'd do!"
Here's three recipes from Eat Happy: 30-minute Feelgood Food by Melissa Hemsley for you to try.
Grilled Mackerel with Tamarind Ginger Greens
SERVES 4
"Tamarind is what makes the sauce for Asian dishes like Pad Thai taste so good, and this dish is inspired by my Filipino mum who loves tamarind and always fed it to me as a child," says Melissa. "Its tangy, sweet-sour flavour perfectly cuts through the oily mackerel, which you could swap with another type of fish fillet, or use whole fish instead. The ginger greens are lovely hot or warm, or eaten cold as a salad. You can swap in any green veg you have in the fridge."
1tsp coconut oil or ghee
8 mackerel fillets (total 700g)
Sea salt and black pepper
FOR THE FILIPINO-STYLE 
TAMARIND SAUCE
3tbsp tamarind paste
1tsp chilli flakes (or to taste)
1tbsp maple syrup
2tbsp tamari (or soy sauce will do)
Juice of 1 lime
FOR THE GREENS
1 and a half tbsp coconut oil or ghee
4 spring onions, sliced (green parts saved to garnish)
3 garlic cloves, finely chopped
3cm piece of ginger, finely chopped
1 head of broccoli (about 300g), cut into small florets
250g green beans, trimmed
250g sugar snap peas or mangetout, chopped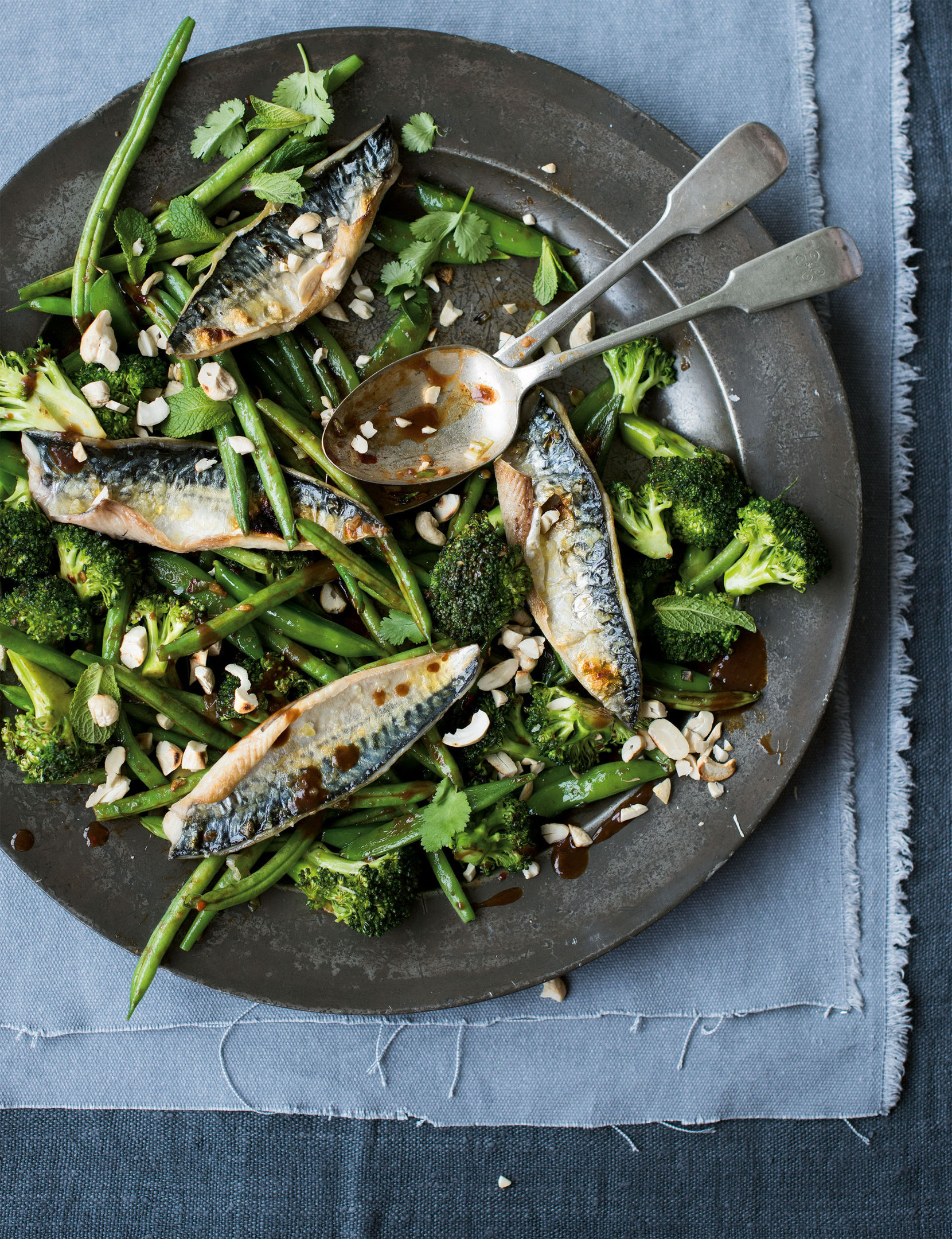 TO SERVE
1 large handful of mixed fresh herbs (such as coriander, basil or mint), finely chopped
1 large handful of cashews, toasted and roughly chopped
Preheat the grill to high. Add the oil to a baking tray and pop under the grill for a few minutes to melt.
Whisk the sauce ingredients in a bowl and set aside. Toast the nuts in a dry saucepan and then set aside.
For the greens, melt the one-and-a-half tablespoons of oil in the saucepan, add the white parts of the spring onions, garlic and ginger and fry over a medium heat for 30 seconds.
Tip in all the green vegetables and stir-fry for five minutes until just tender. Add a splash of water if the greens are getting too dry and sticking to the pan.
Meanwhile place the mackerel fillets on the greased baking tray, skin side up, season with salt and pepper then grill for four to five minutes until just cooked through.
When the greens are just tender, pour in the tamarind sauce and stir in. Increase the heat and simmer for about 30 seconds to heat through. Taste for seasoning, adding a little more tamarind if you'd like it to be saltier.
Serve the greens with the 
fish, scattered with the green parts of the spring onions and the fresh herbs and toasted nuts.
Spanish Chickpea and Almond Stew
SERVES 4
"Using store cupboard staples and spinach from the freezer, this Seville-inspired stew comes together in under 20 minutes and is a hit with everyone," promises Melissa. "You could swap the spinach for other greens, such as chopped chard, or add extra bits and bobs, such as a few tablespoons of capers, olives or chopped sun-dried tomatoes. I love this as a stew-like soup in a bowl, but you could make it thicker and serve with a side of quinoa."
3tbsp chopped or flaked almonds
1 and a half tbsp butter or ghee
1 large onion, finely chopped
1 large red or orange pepper, 
deseeded and chopped
3 garlic cloves, finely chopped
2tsp ground cumin
2tsp smoked paprika
Quarter tsp cayenne pepper
1 large handful of fresh parsley, stalks finely chopped and leaves roughly chopped
1tbsp tomato puree
2 x 400g tins of chopped tomatoes
2 x 400g tins of chickpeas, drained and rinsed
100ml stock or water (optional)
250g spinach
1tbsp lemon juice
Sea salt and black pepper
Extra-virgin olive oil, to serve
In a large, deep frying pan, toast the almonds over a medium heat for just under a minute until golden, then set aside. Melt the butter in the hot pan, add the onion and pepper and fry for six minutes until starting to soften.
Add the garlic, spices and parsley stalks and fry for one minute, stirring constantly to prevent them from burning, then add the tomato puree and cook for another 30 seconds.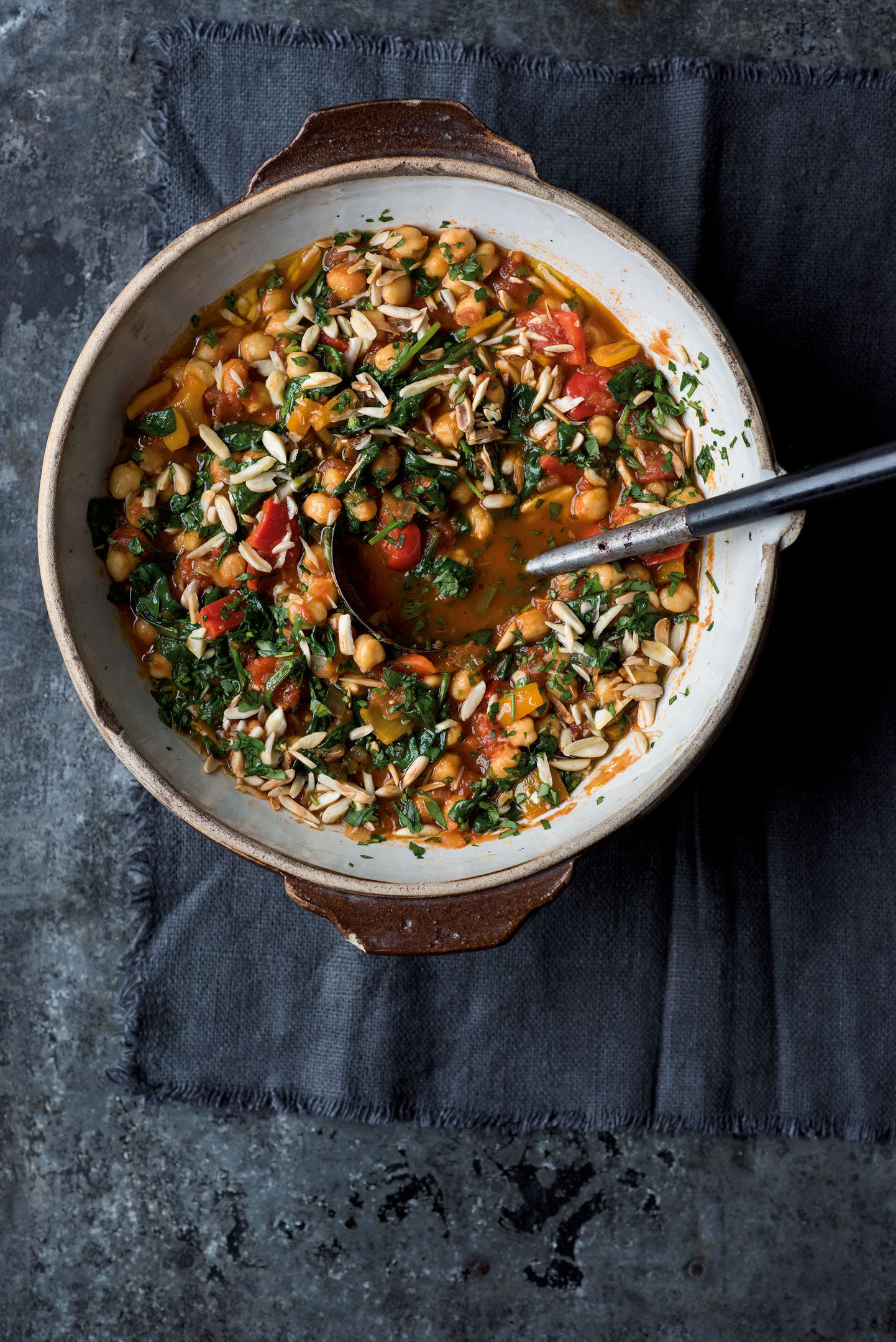 Tip the tinned tomatoes into the pan, turn up the heat to a medium simmer and cook for 15 minutes, uncovered, to thicken and reduce. Add the chickpeas and cook for another three minutes with a lid on. If you want the stew to be more soup-like, add the stock.
Turn up the heat, drop in the spinach and cook for one minute, covered with the lid, then add the lemon juice and season with salt and pepper.
Serve each bowl with a good drizzle of olive oil and with the parsley leaves and toasted almonds scattered over.
Little Chocolate Pots
SERVES 4
"These lovely little pots are not 
only rich and smooth, they use just
five ingredients and take only five 
minutes to make. They are perfect 
for preparing ahead of time as 
they need to set in the fridge, then all you need to do is pull them out at pudding time and grate over a little chocolate to serve," says Melissa. "You can use any type of milk here. Nut milk makes the mixture 'moussier' and lighter. Coconut milk makes it really rich and quite thick, but without tasting coconutty."
180ml any milk
140g dark (70-85%) chocolate, broken into squares
3tbsp maple syrup
1 egg
1tsp vanilla extract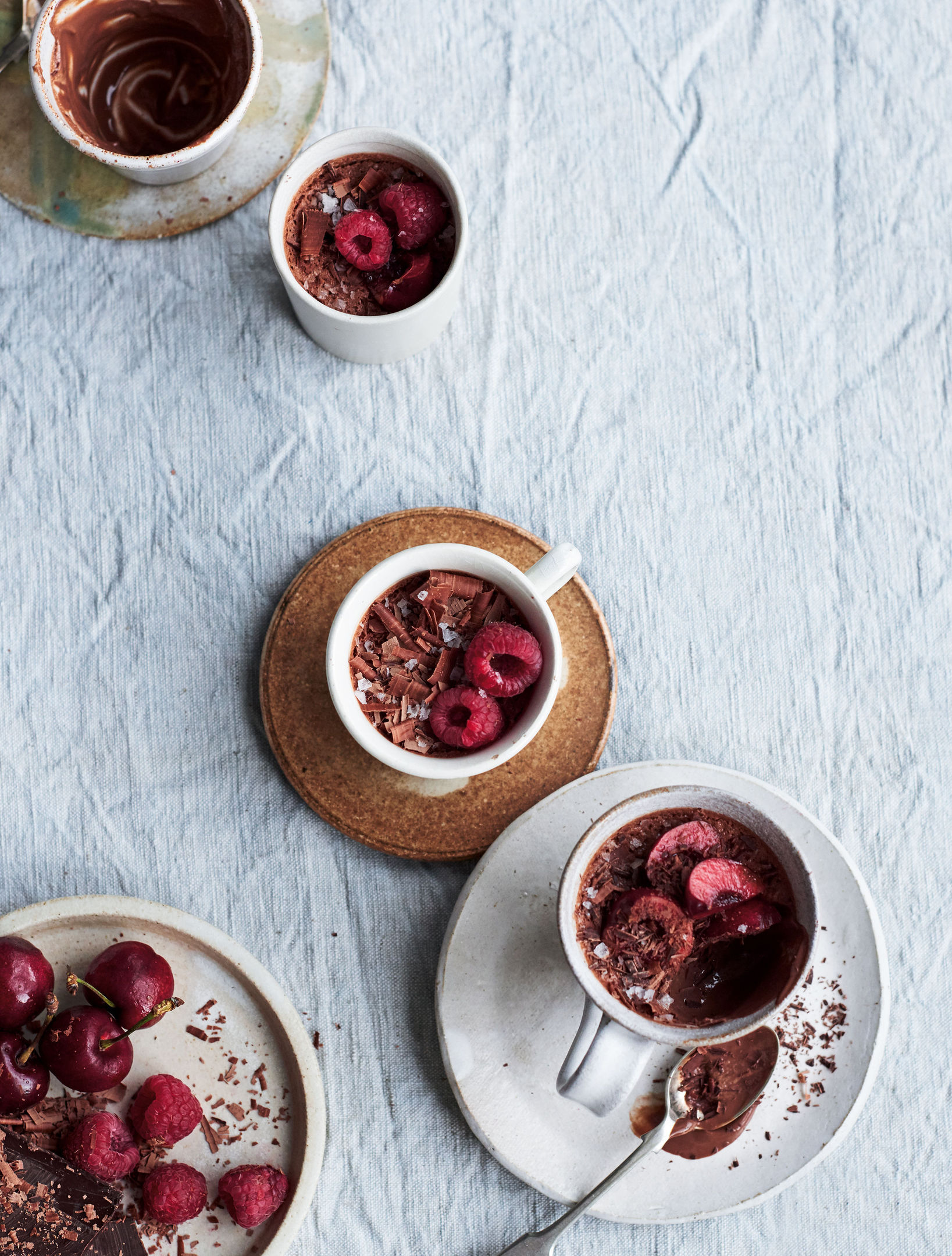 TO SERVE
Sea salt flakes
1 handful of fresh raspberries or cherries or a mixture
Gently heat the milk in a saucepan for about 45 seconds until hot all the way through.
Place 120g of the chocolate in a high-powered blender or food processor with the maple syrup, egg and vanilla extract.
Very carefully pour a quarter of the hot milk into the blender or food processor (or use a ladle, if you prefer) and blend until smooth, then repeat, adding a quarter of the milk at a time, until all the milk is combined and the mixture is silky smooth. (You need to add the hot milk slowly so that it doesn't scramble the egg.)
Pour into four small ramekins or glasses and leave in the fridge for a minimum of one-and-a-half hours, or one hour in the freezer, to set.
When you're ready to serve, grate over the remaining dark chocolate or top with a sprinkling of sea salt flakes or a few fresh raspberries or cherries.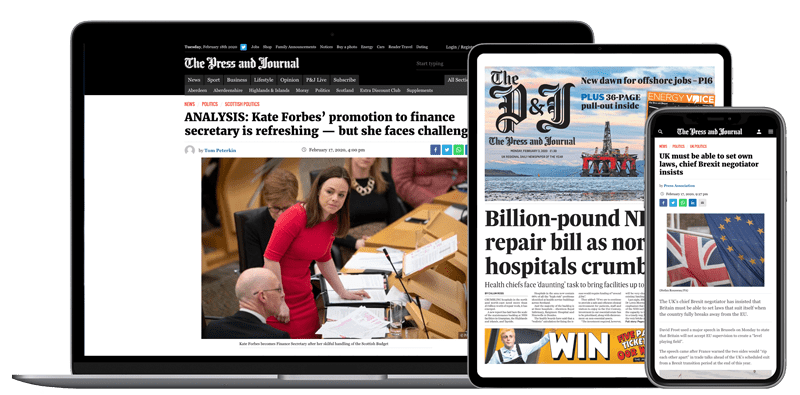 Help support quality local journalism … become a digital subscriber to The Press and Journal
For as little as £5.99 a month you can access all of our content, including Premium articles.
Subscribe