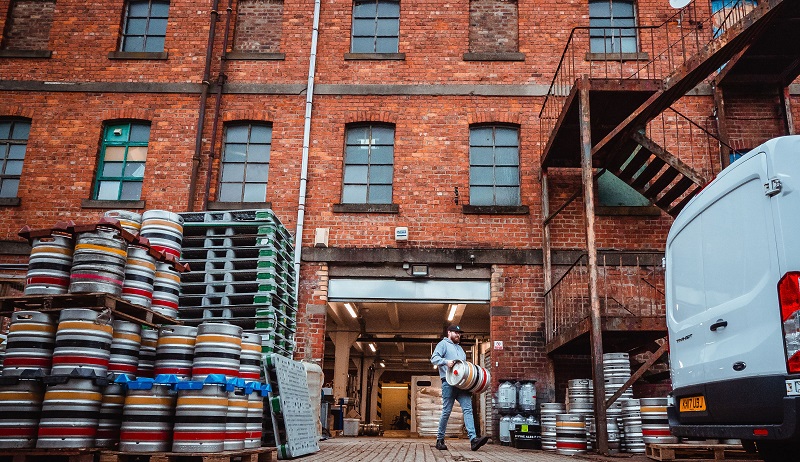 With most of the population confined to their homes, breweries across Scotland are facing the challenge of a lifetime in trying to turn a small part of their business – online sales – into the lifeline they so desperately need to weather the coronavirus crisis.
Having relied on wholesale purchases from specialist beer and drinks distribution companies as well as exports, it's the sudden growth in the domestic web-based market that will navigate these firms through this unprecedented time.
Dundee-based 71 Brewing acted fast to implement changes before the epidemic took hold in the UK, having gained invaluable insight from Italian breweries into what to expect.
Founder Duncan Alexander said: "Breweries we've worked with in Italy were giving us updates and we put plans in place as a result. When the pubs closed our wholesale and export business just fell of the edge of a cliff. Some staff have been put on furlough, some are working at home and it's only essential staff operating now. We're a very self-contained business so we have the ability to seal ourselves off."
Although shops selling alcohol are on the list of premises which are allowed to stay open during the lock-down, Duncan said it was in the interest of staff, customers and the brewery to not re-open their on-site off sales after closing when bars and restaurants were shut.
"It's strange days. One of the most difficult things has been that the landscape has changed almost on a daily basis," he said.
"It's trying to keep up with what we're allowed to, not allowed to and should be doing. The Government has changed the rules regarding sales. Our tap room was doing on and off, and we were doing deliveries. The on sales went, then the off sales, then they came back and we just decided not to reintroduce them. We don't want to be encouraging anyone to come out just now.
"We saw a jump online when the pubs closed and a lot of the specialist beer distributor's stopped then so everyone then started ordering direct with us. National delivery is still going through couriers so we have people packing and they are all following extreme hygiene regimes.
"We've also got a supermarket subscription service contract in place so we're quite lucky in that sense. There's a lot of people who will fall through the cracks.
"I think, when we come out of this, the landscape will look extremely different. Not all companies will survive this as a lot of people work on very tight margins or their business is entirely wholesale and that has totally disappeared, so a lot of people are going to suffer in the industry. If we can get through this I think we'll be one of the fortunate ones."
They brewery is also offering a 20% discount to local NHS staff via their app and website and offering space in their brewery to local food producers who are also delivering goods.
And the brewery is not alone when it comes to supporting the local community.
Aberdeen's Fierce Beer, in Dyce, is producing a limited edition small batch brew, Long Shift, for the NHS which will see all proceeds to go NHS charities and NHS Scotland.
Louise Grant, sales manager at Fierce Beer, said: "We're producing an NHS beer which will launch in the next couple of weeks and we'll have roughly around 3,500 cans. All the proceeds (after covering cost price) will go to NHS charities.
"We have 15% off for those self-isolating (code: SELFHYDRATING15) on our website and a 15% discount for those with a Blue Light card (emergency services such as the police and fire) which they can get through the Blue Light app. People still want a beer and we still have staff and suppliers to pay. No one's paying us and everyone's in the same boat. Anyone who has a Blue Light card will also get their discount on the NHS beer, too."
With the increase in online sales continuing to rocket as the nation's drinkers stock up, brewers and couriers are being challenged by the day.
Louise added: "Online has been really good and we're so grateful to all of our customers for their support. We sell across the UK and with people self-isolating it's been really busy. Since the start of March we've seen a spike in direct online sales.
"At the brewery we're not getting as many collections now which is good, but for those who are we've had a collection point set up with a sanitiser station at the quarantine collection point for a while. There are disposable gloves and our staff use them to prepare all orders so there's no cross contamination. We're also exercising social distancing and only have three people on site.
"We plan to launch our low alcohol beers in the coming weeks too, so we're away to start brewing those."
With export sales non-existent in the current climate, selling online has never been more vital.
Robert Lindsay, founder of Stonehaven-based brewery six°north, says there's no point in trying to export at this time.
"Export is dead. Everyone's in the same boat," said Robert.
"There's now clarity. We were reorganising our business nearly every day and then having to redesign it the next – that takes a lot of energy. At least now we can get on with what we need to get on with.
"We obviously had an online shop and we've had to adapt to it being our only part of our business. We really had to try and adapt to that for the brewery's survival and to provide a service to the local community as well.
"All of our venues have been closed since the Government announcement and the brewery remains open purely for delivery. We're not producing. Our brewery is now a warehouse and we're operating as an online sales business. We have a stockpile of product we would have been utilising over the next three months so we're just using that for now.
"On the staffing perspective, we have to do what's vital for the business to future-proof ourselves. The majority are off on furlough – they are being paid and retained throughout the process. We're doing the best we can for everyone.
Like many others, the core six°north team are working tirelessly to ensure their customers get their orders safely and are also offering a 20% discount on their website with the code 6DN20 and free delivery.
Robert added: "We were running a free delivery service for Aberdeen city and Stonehaven but we're extending it. We'll cover the north on Thursday which includes Ellon, Peterhead and Fraserburgh, on Fridays we'll do a west delivery for Westhill, Oldmeldrum, Banchory and that area, and then Saturday a south delivery for Laurencekirk, Montrose and possibly as far as Dundee. We have a 20% off code for customers to use, too.
"When you place your order online you can leave delivery instructions with it – so you can tell us where to leave it. If customers haven't done that the driver will knock on their door and return to the van, keeping the box in sight and will ensure you've collected it, give you a thumbs up and carry on. It's all contactless and we only have one person doing deliveries in the van. There's one person loading the product and one delivering.
"There's no denying we will have to go and look for business instructions and loans to keep us going. The online sales is just one part of the wall we're trying to build to keep ourselves going. This is just a small building block to rebuild for the future."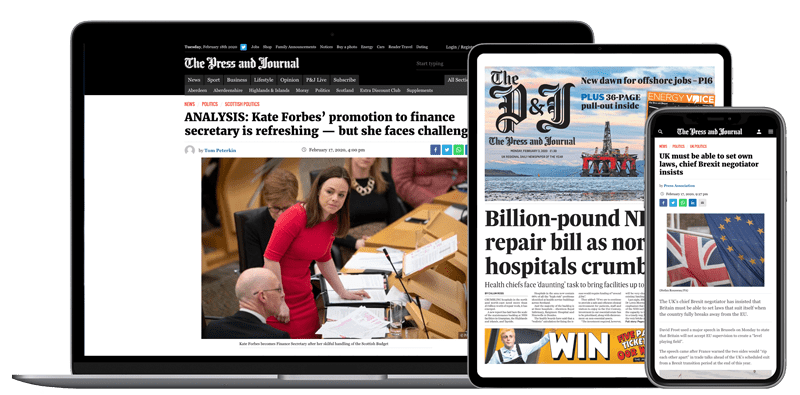 Help support quality local journalism … become a digital subscriber to The Press and Journal
For as little as £5.99 a month you can access all of our content, including Premium articles.
Subscribe