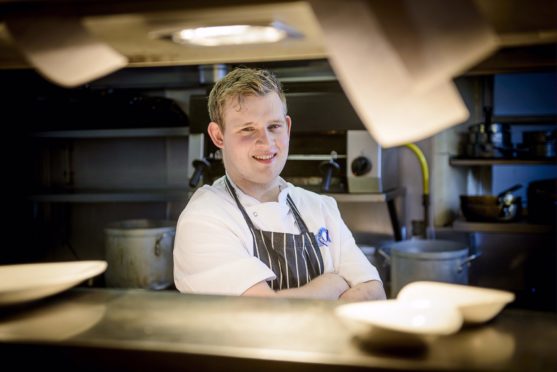 This week, Rebecca Shearer talks to Adam Newth of the Tayberry restaurant in Dundee about the meals that have made the biggest impact on his life and have helped to shape his career.
He may only be 29, but Adam Newth has already made his mark on Tayside's restaurant scene.
After opening one of Dundee's most sought-after restaurants just before his 24th birthday, he can safely call himself one of Scotland's champions of local produce, especially when it comes to seafood.
But his journey to success wasn't all plain sailing. Here he shares some of the memories he has from growing up in Arbroath, dining in one of Gordon Ramsay's London restaurants, to being the brains behind a dish constantly on the menu of one of the country's most popular chefs.
Childhood – cubes of cheese
Born in Dundee but raised in Arbroath, Adam didn't start off appreciating the seafood and local produce available in a coastal town.
"My mum and dad separated when I was quite young, so my mum brought us up as a single parent, with my granny. I think everyone's got these romantic ideas of their mums and grannies being great cooks, but the pair of mine were both terrible!
"To be honest, I was quite fussy as a kid as well. I didn't really eat much and just lived off cubes of cheese and corned beef. That's what my mum says is all she needed to buy for me when I was younger.
"Then when I was about five I got into turkey twizzlers – chicken nuggets that you bang in the oven. You'd think that because I grew up in a seaside town I'd eat lots of fish but nope – it was turkey twizzlers.
"But, although my mum was a terrible cook, she was actually quite a good baker. She wasn't Mary Berry or anything like that but, I think partly to keep me and my brother occupied, we were forever making crispy cakes and fairy cakes.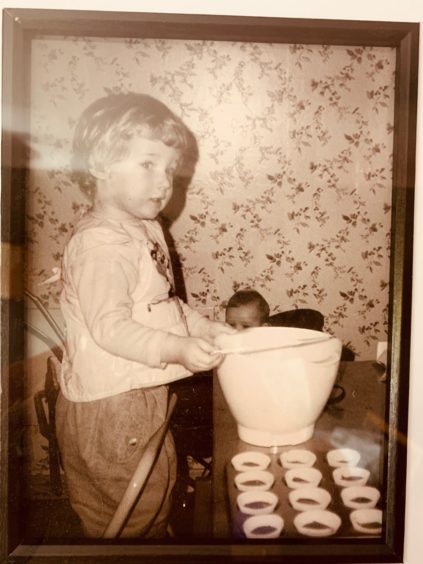 "My mum also used to make a lot of those things you get at kids parties that are basically a marshmallow dipped in chocolate with a Smartie on the top. Anything that could provide about 30 minutes of entertainment to keep me and my brother occupied, my mum would have us make! We were a bit of a riot at that age."
Early teens – beef with foie grais
Despite not deciding to be a chef until much later in life, Adam says that cooking "fell into his lap" when he was in his teens following a job he had at the local chip shop, which then led to him dining in one of Gordon Ramsay's restaurants in London.
"I got into cooking almost by accident. I didn't really have a plan to become a chef as such as I was quite good at music and art. But cooking sort of fell into my lap. I was always keen to work and have always been a grafter. I was about 13 when I got my first job and started working in the local chip shop, peeling all the tatties and turning them into chips.
"I'd also be putting the fish in the breadcrumbs and I'd do all the dishes. There was a restaurant attached to it so they had a guy who would make all the other food, like macaroni and lasagne. A lot of it used to get reheated in the microwave. But this guy just didn't show up for work one day so they asked if I could step in.
"I'm always happy to help so I said I would do it and so that night I went in and gave them a hand and I quite enjoyed it. I think that's where it started. I was really lucky as my girlfriend at the time's dad was Paul Whitecross and was the executive chef at The Carnoustie Hotel at the time and then moved on to a bigger job in Edinburgh.
"I was really friendly with the family and went on a trip with them to London. When we were down there they took me to a Michelin-star restaurant, Gordon Ramsay's Maze, and it was completely alien to me. I'd only just started eating mince and tatties and now I was trying Gordon Ramsay's tasting menu.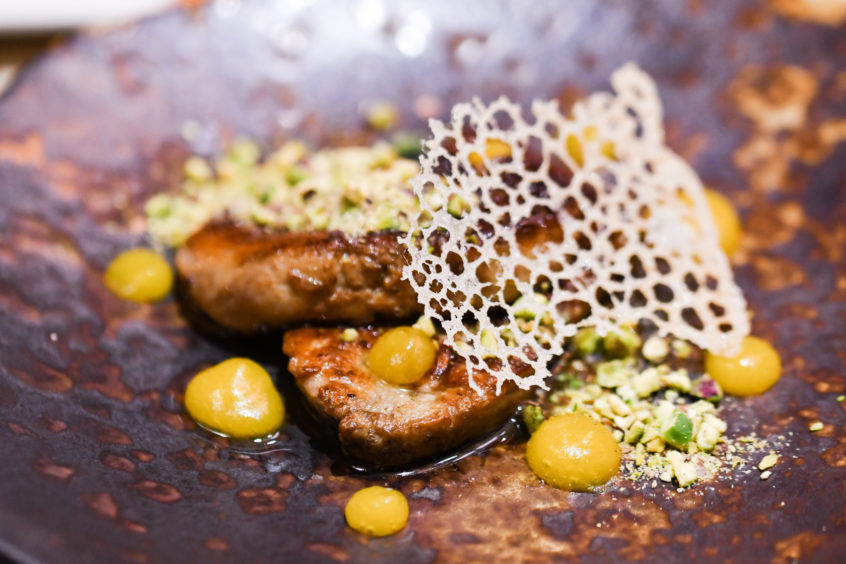 "I had a beef dish with a bit of foie gras on the top and this was totally different. The foie gras was just a burst of flavour in my mouth and was just one of many amazing things we tasted that day.
"The restaurant at the time was being run by Jason Atherton and it was one of the first places in the UK to come up with a tapas-style menu, so this was in the early 2000s and it was new back then, though a lot of places now do tapas style menus and dishes. So we had ordered about 15 dishes to share and try but the one that stands out the most to me was the beef one. I didn't know what the foie gras on top was so put the whole thing in my mouth and it was just a burst of flavour.
"Then, all of a sudden, this magical thing happened where I was like 'wow this is a totally new thing for me'. From there I became interested in it and so Paul Whitecross said to me 'why don't you come and work at my restaurant for a day and see what you think?'.
"So I went up there for the day and was just really excited to have a day off school and spend it in the kitchen. I loved the thrill, the rush, the excitement – all these new things I'd never really experienced before. It was all really cool and exciting for me so that's where it started."
Late teens – duck leg stovies
Adam then went on to study cooking at college, before embarking on an apprenticeship with Paul Whitecross in his late teens.
"Paul said to me to go and do a year at college and that as soon as I come out of college he would give me an apprenticeship. So I was really lucky that I had a way into the industry straight away, and into a very high level.
"At college that's where I met Garry Watson who is the chef at Gordon's Restaurant in Inverkeilor. Going through college was a lot of fun. I was in Garry's class, which ran like a restaurant for the night service, but I learned a lot in his classes. We became friends then and have been ever since – he's helped me out getting other jobs and has always been there for me when I've needed any advice.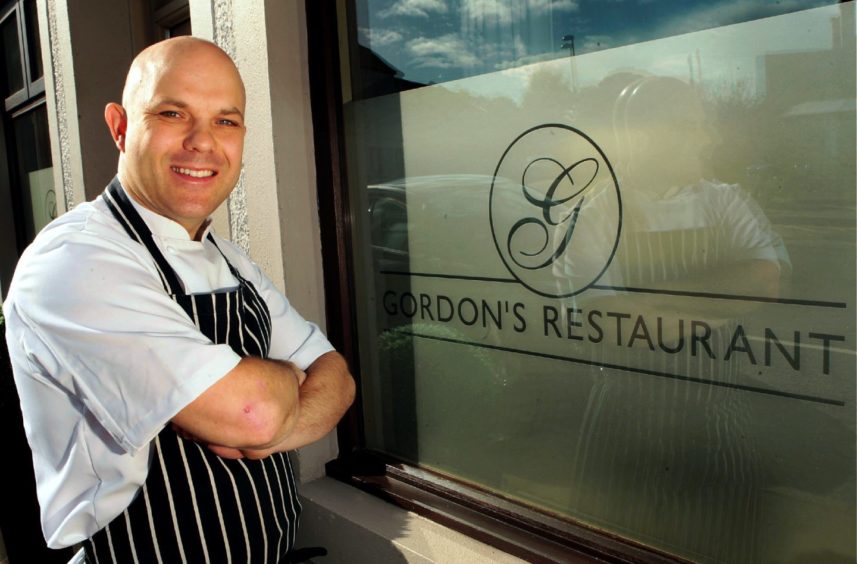 "There was one time in particular though where Garry taught me how to make pasta from scratch. It was tagliatelle and you're supposed to lay it out on a rail or hang it up on some string piece-by-piece, but I didn't know that and Garry hadn't thought to mention it. So I just threw it all on in a big clump and it cooked in a big clump as well. Garry came over to me and went 'oh my god it's a pasta disaster!'.
"Then when I first started my apprenticeship in Edinburgh with Paul Whitecross at the Circus Wine Bar and Grill, I'd made another mistake. I'd forgotten about these duck legs in the oven, I hadn't burnt them but they were well over-cooked – almost like crispy duck. I had to come clean to Paul about it but he was always really good with that kind of thing and never really kicked off. He'd talk you through what had gone wrong and why but will always help you overcome it.
"He showed me that I could still make something of it. So from there, the duck leg stovies were born and they put it on the menu as a special. Basically we got all the duck legs that had gone crispy, mixed them with some crushed potato and some of the gravy that had come off the duck legs and we served them with a soft fried egg. Then we made a red wine jus and whisked a little bit of HP Sauce into it that would go around it.
"Every restaurant Paul has gone to work in, he seems to have put these duck stovies on the menu! I've had it on the menu at the Tayberry as well. It's a cracker though, it's an absolutely great dish!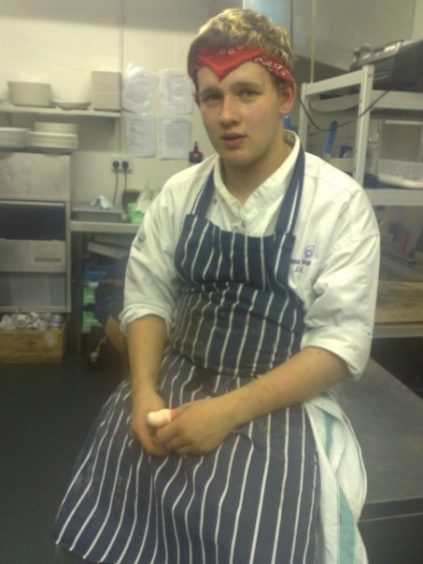 "From there my career has just grown arms and legs. I used to work at the Seafood Ristorante in St Andrews and that's where I won one of my first competitions. I was 18 at my first competition and the first dish I ever competed with was an open lasagne of smoked haddock and lobster, with asparagus and peas. I didn't win but it was the first time my creativity was showcased."
20s – a beef dish from Daniel's restaurant NYC
"I also remember when I opened the Tayberry, when I was 23, and the first dish that went out from there, which was a pig's cheek that was rolled in hazelnuts with celariac and apple.
"The best meal I ever had was earlier in my 20s, though. It was my wife and I's first wedding anniversary and we thought we'd do a big holiday. So we went on a transatlantic cruise from Spain to New York City. We had a few days in New York once we got there before coming back home again.
"New York is home to so many amazing restaurants and a hero of mine, I've got all of his books, is chef Daniel Boulud. He has a restaurant in New York called Daniel, which has three Michelin stars and is utterly amazing. We had dinner there one night and it was one of the most amazing experiences I've ever had.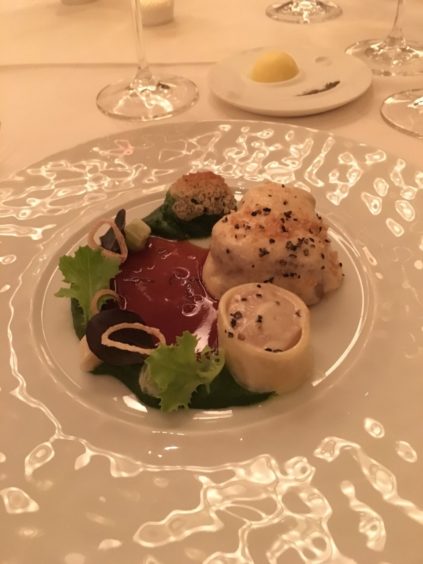 "I don't know how to describe it but the food from start to finish was unreal. It was classical and not like one of these restaurants where you go in and there are lotions and potions coming off a plate. It was just classic French cuisine but at the highest standard.
"I had a dish containing bone marrow and blue cheese crust. I remember reading it on the menu and thinking, 'that's going to be damn good' and then actually tucking into it and going 'yeah, I was right!'.
"I always try to champion Scottish produce and we had gone all the way to New York to see there was a Scottish grouse on the menu."
Now – seafood
"In lockdown the Tayberry has turned into a takeaway. I recently took part in Seafood Scotland's Supper Club and taught some people how to make a really easy and healthy seafood dish at home. It's one of the dishes we have on the menu at the Tayberry and just shows that takeaways don't have to be unhealthy, as people seemed to believe before lockdown.
"I also think it's a really nice summery dish to make for when it's sunny in Costa-Del-Dee."
---
Hake with chorizo and Mediterranean piperade
(Serves 2) 

Ingredients
2 x 170g hake fillets
150g of cooked tinned chickpeas
1 red pepper, diced
1 yellow pepper, diced
50g black olives
2 tsp smoked paprika
1 tsp fennel seeds
1 tsp cumin seeds
50g capers
150g sundried tomatoes in oil
1 clove garlic
50g walnuts
1 lemon
8 slices of chorizo
Splash of white wine
Chopped parsley
50g green beans, pre blanched
Method
Preheat your oven to 180°C.
In a food processor, blitz the garlic, sundried tomatoes and walnuts together then leave to the side.
Season the hake fillet with a little salt and pepper and place on a sheet of greaseproof paper on a baking tray.
Place two to three slices of chorizo and a thin slice of lemon on top of each fillet.
Cook in the oven for six to eight minutes.
Meanwhile, on the hob, add a little oil to a large frying pan on a low heat. then add the cumin and fennel seeds. Once the seeds start to crackle add the paprika.
Add the peppers then cook for two to three minutes.
Once the peppers are soft, add a splash of white wine. Cook for a further minute.
Add the olives and chickpeas to the pan and warm through. Mix the tomato pesto in and remove from the heat.
Place the tomato pesto mix in the middle of a plate, with the hake fillet on top.
My Memories in Meals: Inspiring Chef of The Year embarked on culinary career out of 'necessity' after eating mum's home cooking
My Memories in Meals: Fuelled by salty porridge, chef was chosen by Nigel Slater for greater things