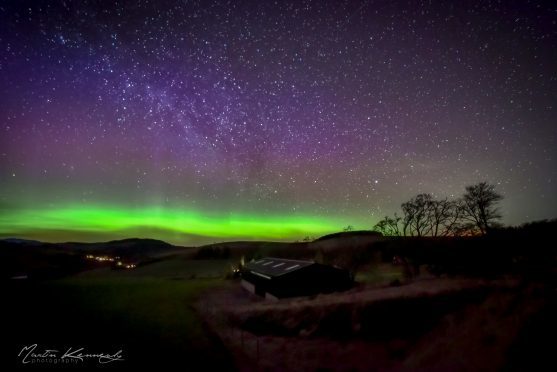 A breathtaking image has captured stars glistening vividly, while the bright lights of the Aurora Borealis illuminate the Aberdeenshire sky.
The spectacular shot of the Northern Lights was captured at Lumphanan on Monday night as clear skies provided a treat for Aurora hunters.
Geophysicist and keen photographer, Martin Kennedy, took and edited the sensational picture after driving north from his home in Durris.
In the company of a carful of pals, 26-year-old Mr Kennedy headed along the A980 on the way to Alford to get the clearest view possible.
When he arrived at a valley in Lumphanan 40 minutes later, he was greeted by clear skies as the natural lights shone down on a farm building and cars travelling on the main road on the backdrop of the hills.
Mr Kennedy said: "I've been following the lights for a while. I keep my eye on the forecast for the lights and I've had quite a few successes now.
"I was driving up a stretch of road on the way towards Alford trying to get the best view, and then we got to spot where we were looking down a valley.
"The clouds were clear. It must have been about 10.30pm or 11pm. I normally look to see what the air pollution is like and choose a particular place to try.
"This time, we just drove though until we got a good view. Sometimes that is the best way. I normally go on my own, but this time I took a few friends. They had never seen them before, so that was nice."
Mr Kennedy regards the image as one of his favourites and spoke about the extraordinary lengths he went to, as the prelude to capturing it.
He added: "It's one of my best shots. I had another good one a couple of weeks ago at Cairn O'Mount.
"I did climb up one of the mountains in the Cairngorms once just to get as high as I could. It didn't work out though.
"I must have driven about an hour and a half and then done the walk.
"If there are clear skies, get out there."