Until fairly recently I had been unaware of the Novar Estate which sits on the outskirts of Alness in Easter Ross.
That's because it's a privately owned estate and, while it offers visitors the chance to experience life on the beautiful estate via some of its sports offerings, weddings, or holiday homes, generally speaking it's pretty private and exclusive.
But on Sunday afternoon, there's a not-to-be-missed chance to visit the estate's wonderful gardens as they will be open to the public between 2.30pm-5pm on Sunday May 26.
If you're lucky you'll bump into the charming estate owner, Ronald Munro Ferguson, who was on hand during my recent visit there, when he took the time out to show myself, and other guests, around the walled garden.
Once described as a "barren and treeless place", this mini oasis has been under the stewardship of the same family for more than 300 years.
Among the highlights of any visit here is a trip to the water garden.
"This garden was created by my father Arthur who was a very keen gardener and keen on water so made the ponds around 1965," said Ronald.
"In my own time I built some of the walls and my wife and I, along with gardener Michael Innes, are responsible for much of the planting. We put in lovely paths through the flower beds which makes for a lovely waterside walk.
"There are quite a few specimen trees here but my favourite is the magnolia, which has enormous pink flowers.
"Our aim is to create a year-round garden," said Ronald, who was born in Kirkcaldy, brought up in the Highlands and spent some of his early working years in Texas and London.
The estate also has a big walled garden where they grow vegetables and herbs for the estate, while Ronald's son has planted hundreds of apple trees and will soon be producing cider on the estate.
"From the front of the house there are some wonderful, stretching views towards a loch my father built, and towards the Cromarty Firth and Black Isle," said Ronald.
"We have a large herd of Fallow Deer, box hedging and a Capability Brown-style lawn which could probably do with a few more trees."
The estate gardens are bursting with colour, and dotted throughout there's an interesting selection of statues, artwork and busts.
"One of the busts if of my great-great aunt by marriage who started the Red Cross in Australia and is quite an interesting lady, while another, which my mother found in a rubbish tip, turned out to be the bust of the chap who founded Guy's Hospital in London."
A second walled garden features a reflective pond with a lovely statue by local artist Leonie Gibbs.
"We think that at some point, the pond would have been filled with carp as it's about eight feet deep at one end," said Ronald.
From the gardens, there are wonderful views of the iconic landmark The Fyrish Monument to be appreciated.
"The monument was built on the orders of a relative, Sir Hector Munro, who had served in India as a general," explained Ronald.
"It is a replica of the gates of a south-eastern city in India once called Megapatan, a port in Madras which General Munro took for the British in 1781.
"My father made a path that runs up the shoulder of the hill during the Queen's jubilee year and it has become really popular, with thousands of peopling going there.
"The monument was built by tenants who couldn't pay their rents so this was a way of employing them, so in one way he was regarded as something of a hero, but as he was also caught up in the controversial Clearances he's also regarded as a baddie."
A fascinating garden to visit, full of beautiful trees, plants, flowers and artwork, the Novar Estate Gardens are open on Sunday May 26.
Entry costs £6 per person and children aged under 12 go free of charge.
All funds will be donated to the charity, Lucky2BHere.
Other attractions include tea and coffee, face-painting and a plant stall available at an additional cost.
Dogs (except assistance dogs) are not permitted in the gardens.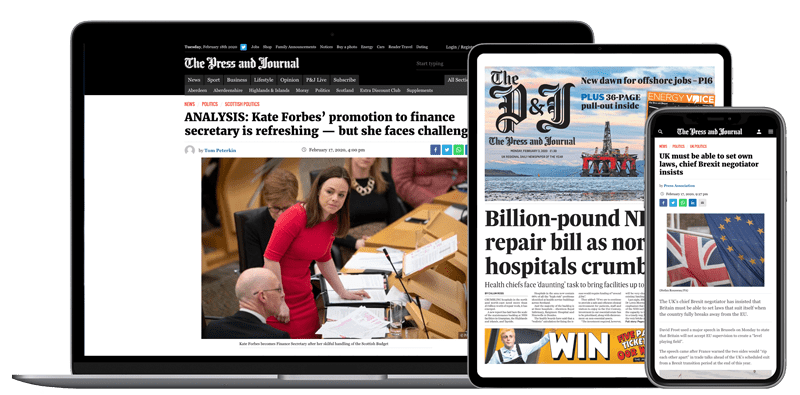 Help support quality local journalism … become a digital subscriber to The Press and Journal
For as little as £5.99 a month you can access all of our content, including Premium articles.
Subscribe