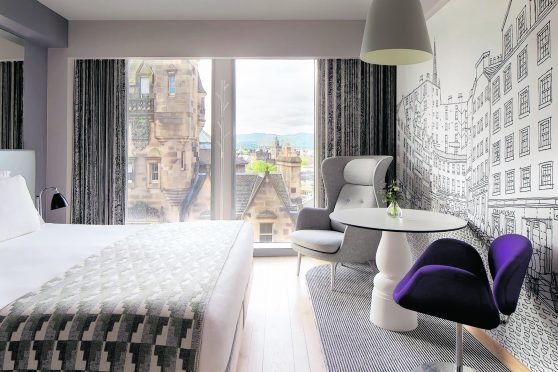 Amy Laughinghouse visits Edinburgh's newly refurbished G&V Hotel – the only five-star hotel on the capital's Royal Mile
Forget tartan carpets, tobacco-stained wainscoting and paintings of shaggy Highland coos. The gloriously refurbished G&V Royal Mile Hotel Edinburgh is a decidedly Scottish hotel, but not in the style you might expect.
Since taking over from the Missoni Hotel in 2014, the Quorvus Collection's G&V has embarked on a multi-million-pound renovation, gradually revealing re-envisioned rooms and public spaces that were finally fully completed last November. Calling upon the talents of a cadre of Scottish artists, the hotel has created a sleek cocoon of contemporary chic, located just down the hill from Edinburgh Castle. Stepping through the G&V's glass doors, I glance to my right, where there's a wee coffee shop and florist, manned by – yes, okay, a man in a kilt. But this is the young, hunky sort who looks like he's been plucked from the pages of an Abercrombie & Fitch catalogue or recruited from a bagpipe-playing Scottish boy band.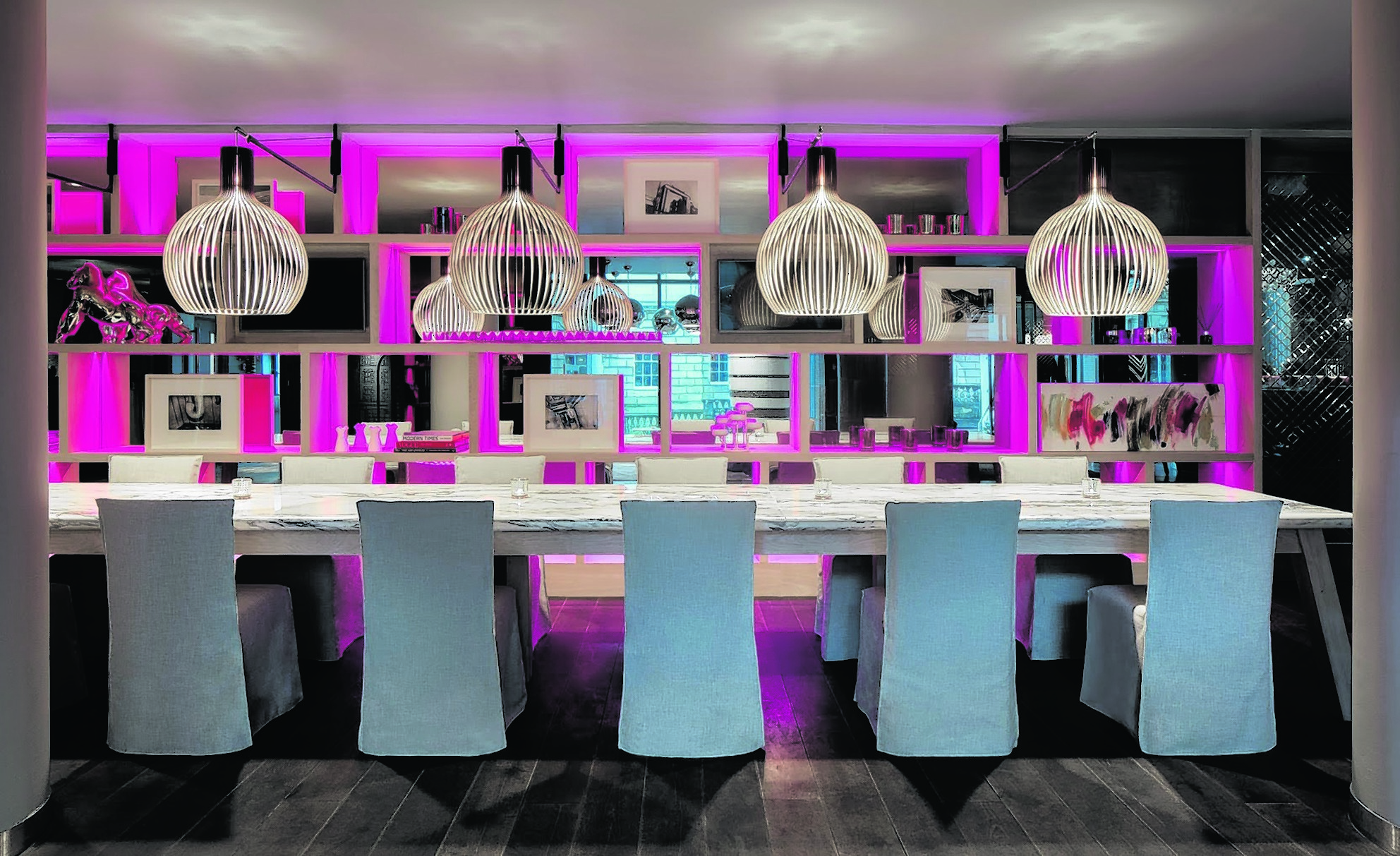 To the left, an eye-level slit of a fireplace, dispensing with anything as old-fashioned as a mantelpiece, is set in a mirror-like black wall that reflects a fleet of silver orb light fixtures, which emit a warm glow over swivelling bucket chairs. Beyond lies the reception area, where a black-and-white line drawing of Edinburgh by Jim Hamilton, of Graven Images, serves as a backdrop.
"There's 12th-century Edinburgh outside, and modern Edinburgh inside," says general manager Martin Scott. "People want modern luxury. They don't want rickety carpets."
The chief focal point of this alluring lobby/lounge is a long marble table, kitted out with electrical sockets and USB ports where you can work and feel sociable in the company of others without actually cutting your umbilical cord to the internet. A cubbyhole partition, illuminated by neon and filled with artsy books, framed photographs and sculptures, separates the lobby from the bustling new Epicurean bar, which shakes up its cocktail menu with rainbow-hued concoctions inspired by the Scottish Colourists' art movement of the 1920s and 30s. (Fear not, whisky purists, as you're well-catered for with a selection of single malts, as well).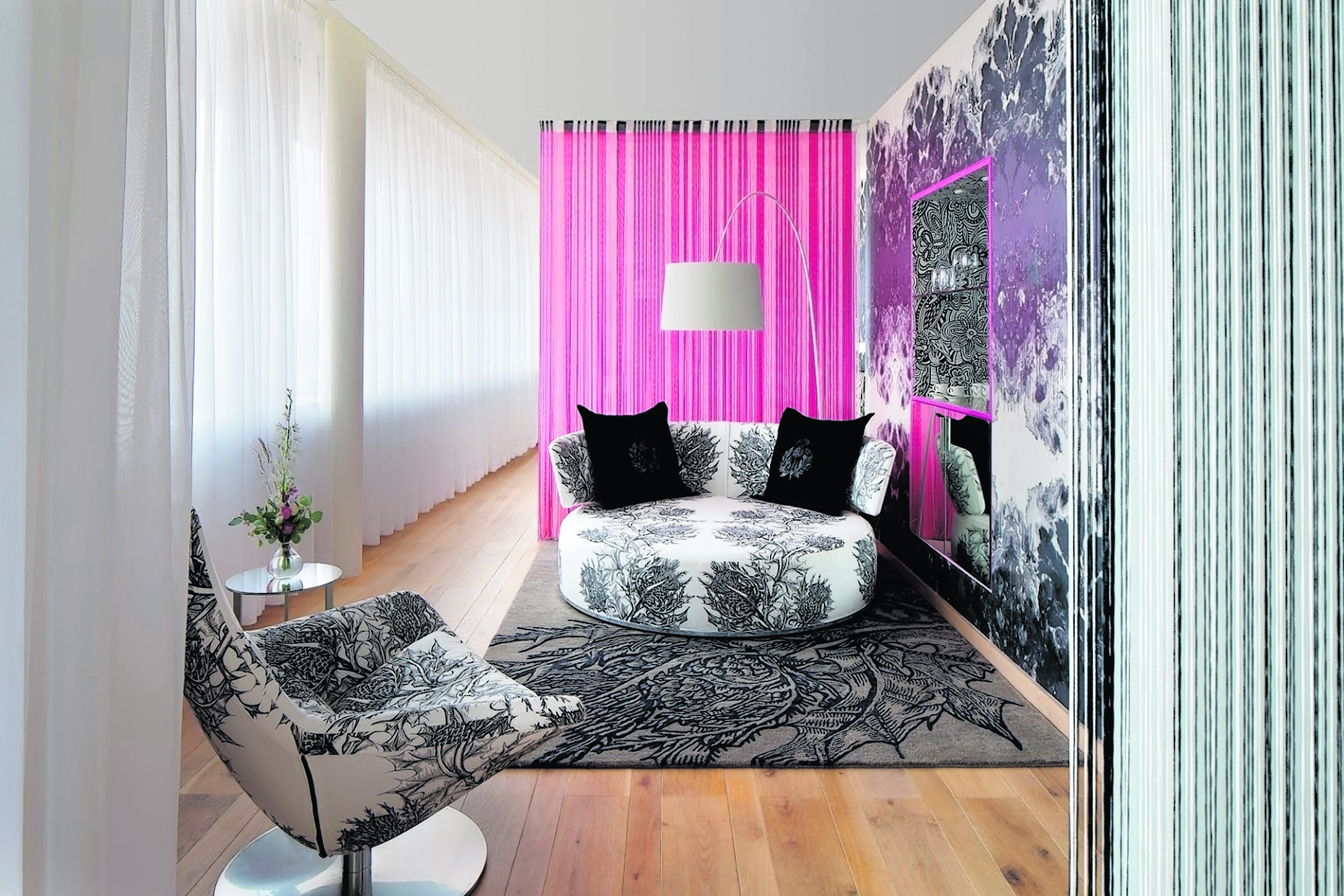 The G&V's 136 rooms are all kitted out with an iPod connection, high-speed internet access, coffee and tea-making necessities, a rain-head shower and Arran Aromatics toiletries. The most coveted accommodations are the nine suites, upon which individual Scottish artists have placed their own distinctive stamp.
Fashion designer Judy R Clark incorporates vintage details such as velvet chairs, well-polished antiques and richly patterned fabrics in her suites, while her twin sister, painter Christine Clark, has created an airy, clean-lined "Rooftop Rest" reached by a "secret" stone staircase.
The Timorous Beasties Suite, from the Glasgow studio of Alistair McAuley and Paul Simmons, is swathed in ethereal thistle prints, and textile guru Hatti Pattison's "Garden Paradise" offers up riotous florals. I'm partial to my own suite, Arthur's Seat, which features fabulous fifth-floor skyline views over the city, a retractable television/movie screen, round sofa and a mural of a local street scene – although I do keep misplacing the closet, which is camouflaged by Jim Hamilton's drawing of the University of Edinburgh's New College.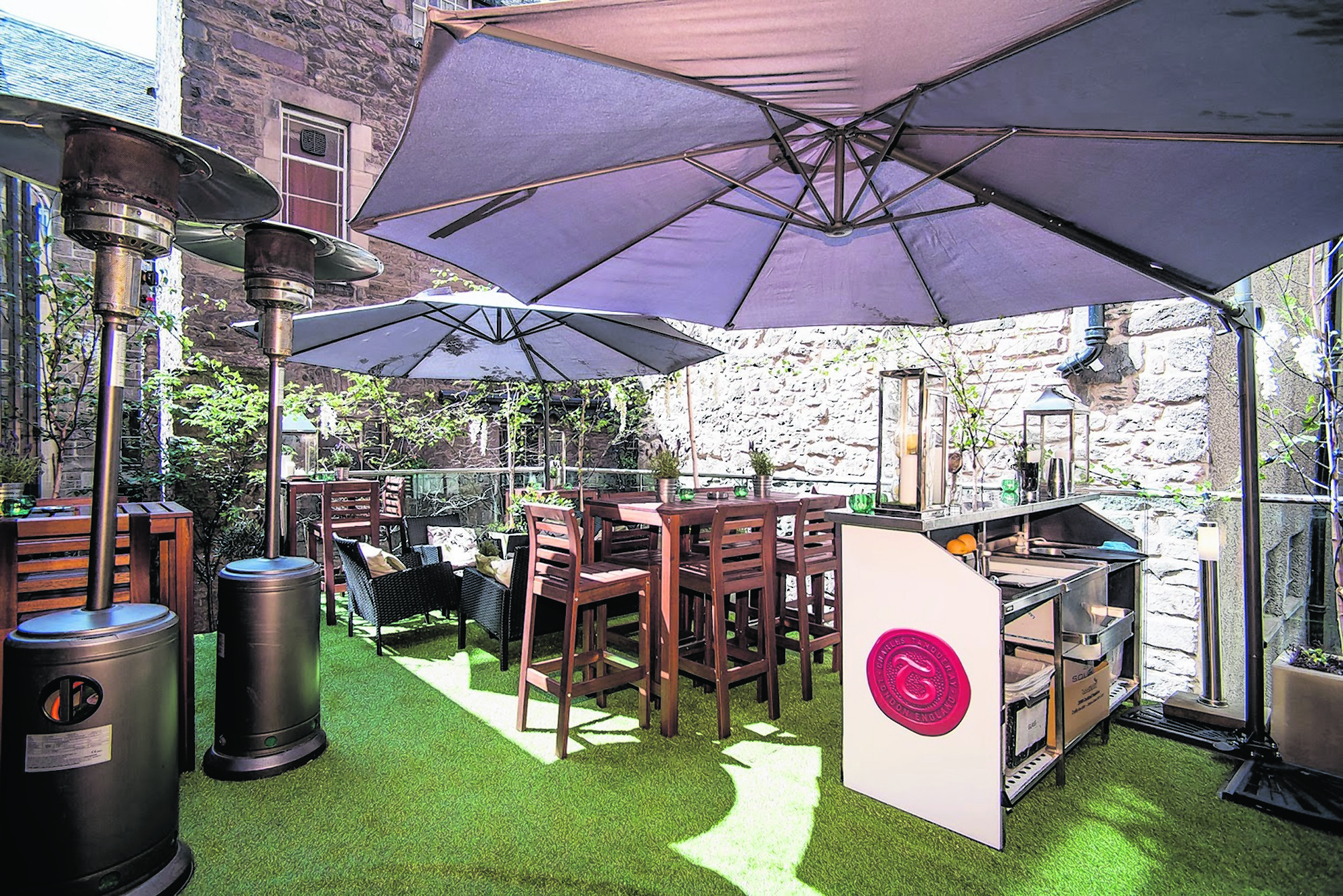 An outdoor drinks terrace and the G&V's main restaurant, Cucina, is located on the first floor. Here, Timorous Beasties have made their mark with reams of mind-blowing wallpaper resembling Jackson Pollock's paint-splattered version of a Rorschach test, evoking a menagerie of amorphous animals worthy of The Island of Dr Moreau. Is that… a chicken? A butterfly? A beetle? Or a deer with a nosebleed? After a few glasses of strong, fruity red wine – the perfect accompaniment to chef Mattia Camorani's sophisticated Italian fare – I've conjured almost every critter but pink elephants cavorting on Cucina's walls.
As breakfast is served in the same room, you can also reflect upon these nebulous shapes in the sober light of day – perhaps behind a pair of dark sunglasses, if you indulged a bit too ambitiously in Epicurean's cocktails the night before. In addition to hot cooked dishes such as a full Scottish breakfast, guests can graze on a buffet groaning beneath a sea of smoked fish, fruit, pastries, massive hunks of cheese that could halt a train – never mind the blood coursing through your veins – and a slab of honeycomb, dripping gooey golden nectar harvested from the bee hives which were installed on the hotel's roof last September.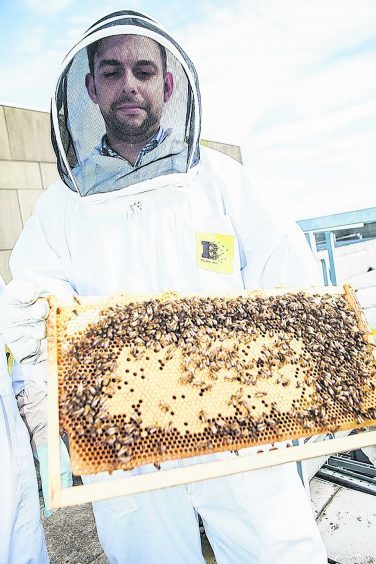 At the G&V, you can even adopt a bee, as I discover upon returning to my room one night, where I find a little jar of G&V honey and a note
congratulating me on bee-coming a mama. Admittedly, I'm not exactly sure how I adopted a bee; I don't recall any rigorous interview process or discussions regarding my commitment to its further education. I quickly
decide he'll remain boarded at the rooftop Hogwarts Hive (as I've dubbed it, anyway), although I'm still unsure whether I should send Buzz jun an annual birthday card or if it falls upon me to enlighten him about the birds and the, er, bees, as it were.
Apiaries are, of course, the hippest new hotel accessory, but the general manager insists that the G&V isn't simply hopping on the bee hive bandwagon. "We're on a genuine eco-mission," Scott maintains. In addition to the apiary, the hotel lobby accommodates a groovy, glowing Evogro
hydroponic machine, where herbs and flowers are grown for fresh
cocktail garnishes. A small spa also offers treatments using Ila's "wild-
harvested" plants and minerals and Ishga products comprised of Hebridean water and Scottish seaweed extracts.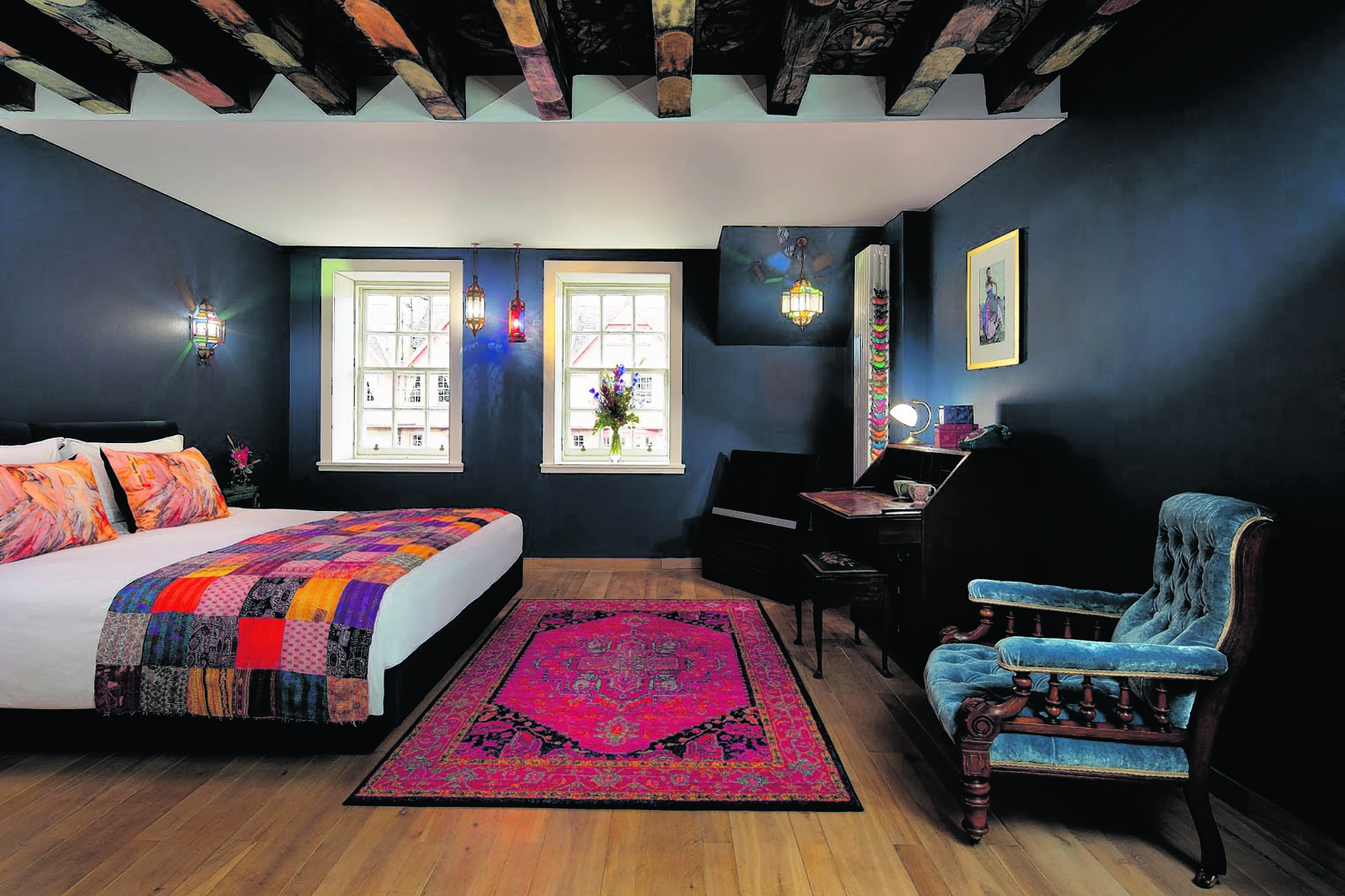 The only real drawback to staying here? With so many decadent indulgences to enjoy within the G&V, it's almost too tempting to eschew the city attractions that lie just beyond its doors.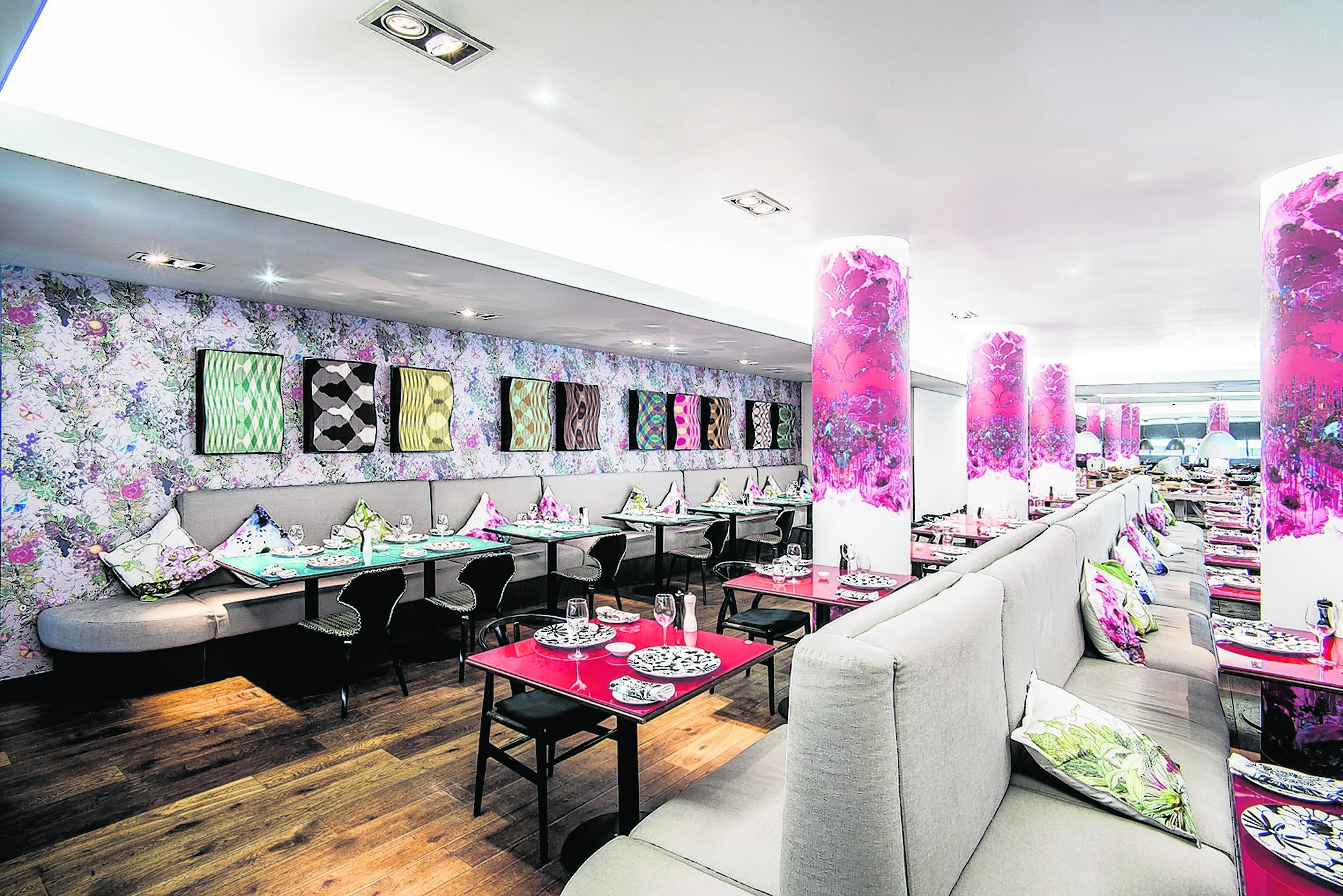 THE HOLIDAY
Getting there: book a first-class seat on Virgin Trains, and your holiday begins from the moment you board the train. Amenities include extended leg room and extra seat width, free Wi-Fi, plug points at every window, and weekday menus featuring locally-sourced British fare. www.virgintrains.co.uk
Where to stay: nightly rates at G&V Royal Mile Hotel Edinburgh, located on George IV Bridge between the Royal Mile and Victoria Street, start from £209 per night inclusive of breakfast. To make a reservation or for further information contact +44 (0)131 2206666; info@gandvhotel.com; www.quorvuscollection.com/gandv-hotel-edinburgh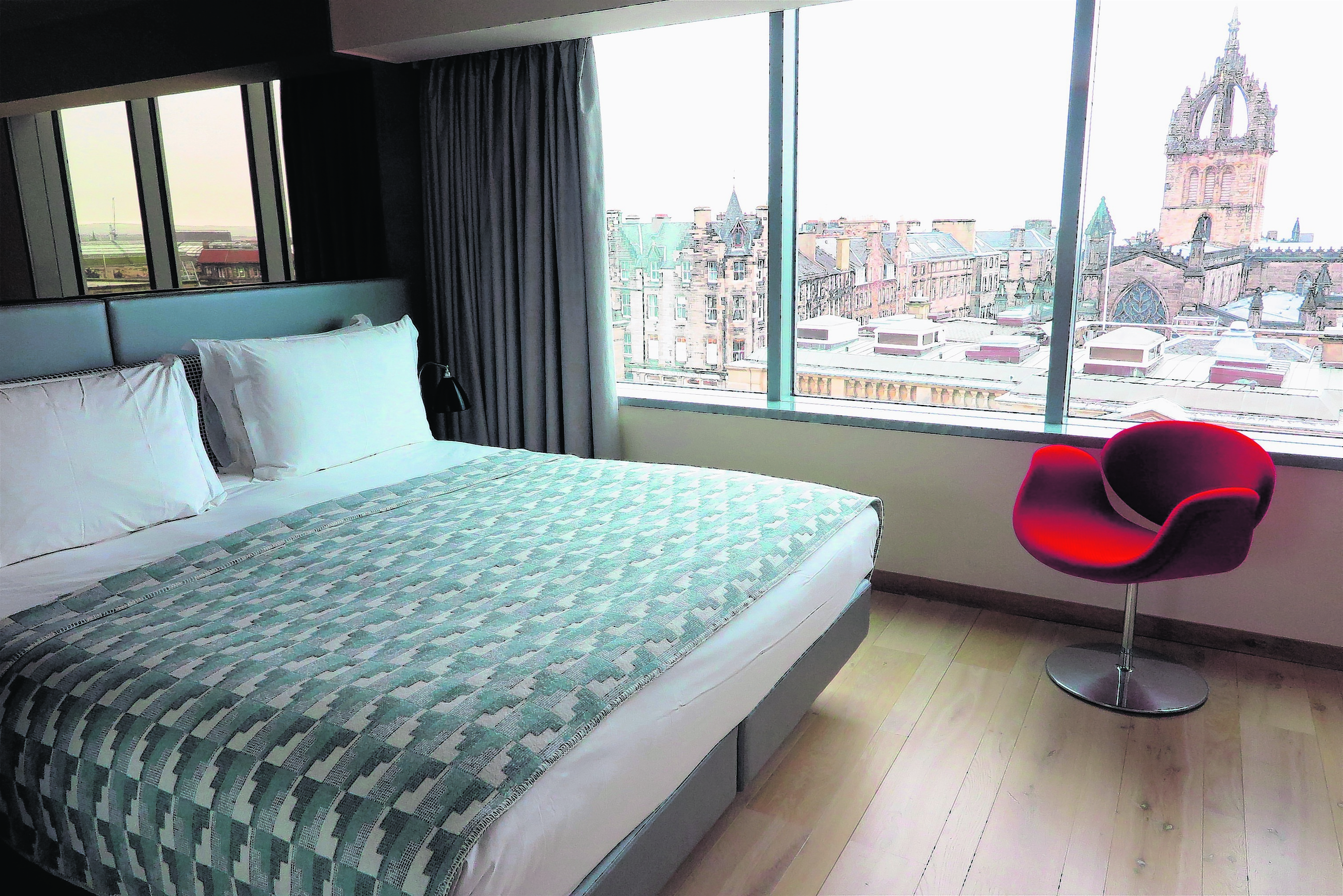 Where to dine: my favourite recent discovery is the Educated Flea, a casual, compact little restaurant serving two-course lunches for £12 and two-course pre-theatre meals for £15. Eclectic selections include homemade venison haggis with chicken liver pate, Katsu fried chicken with sesame rice, pistachio and feta dip with corn chips, and mussels in miso and coconut sauce.
Where to shop: Victoria Street, which merges with Bow Street near the Grassmarket, is lined with terrifically diverse boutiques and is just around the corner from the G&V. You'll find classic tweeds and cosy knitwear at Walker Slater, www.walkerslater.com; gifts, jewellery and homewares from UK-based artists at the Red Door Gallery, www.edinburghart.com; natural handmade soya candles at the Isle of Skye Candle Company, www.skyecandles.co.uk; and oddities like a miniature T-Rex model, a vintage WWI airplane propeller, early 20th-century military binoculars, and even a tiny tin of Clotted Cream Fudge with a recipe for a deep fried Mars bar ("Scotland's Gift Tae Aw Nations") at Museum Context, www.contextinteriors.co.uk
Take a tour: Andy Plews, sporting a Blue Badge, a kilt, and a sly wit, will regale you with entertaining tales as he accompanies you through the streets and sinuous alleyways of Edinburgh. www.plewstours.co.uk