A map highlighting locations in the north used in the new film version of a classic yarn has been produced to coincide with the movie's release today.
Whisky Galore – based on the 1947 novel by Compton Mackenzie and starring Gregor Fisher, Eddie Izzard and Sean Biggerstaff – can be seen in Scotland first before it goes out to the rest of the UK later this month.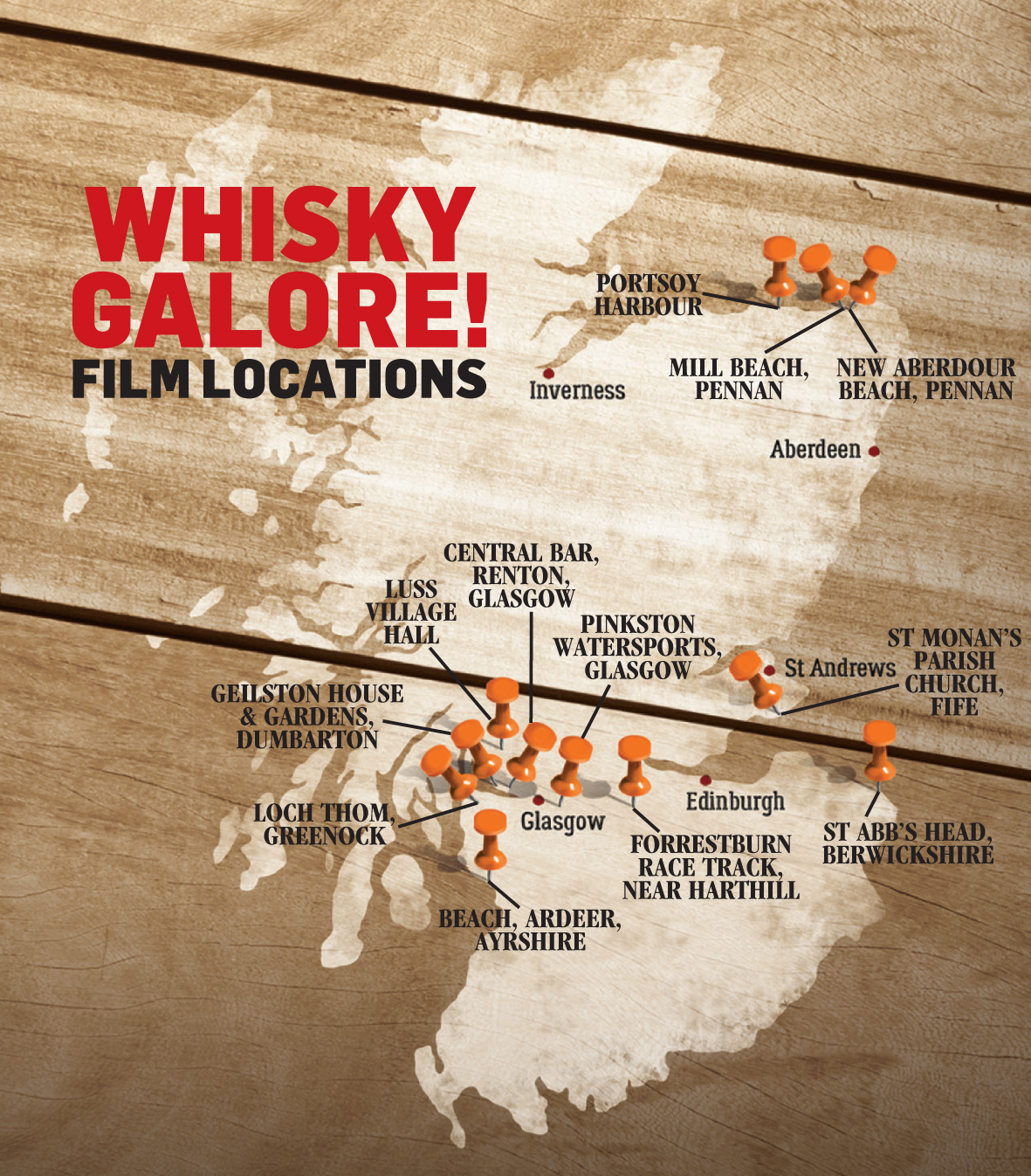 The first film of the popular story, based on the real-life sinking of the SS Politician off the coast of Eriskay in 1941 when enterprising locals seized thousands of bottles of whisky, was directed by Alexander Mackendrick in 1949. It was shot almost entirely on location in the Outer Hebrides, with Barra standing in for the fictional islands of Great Todday and Little Todday.
But the new version, directed by Gillies MacKinnon, makes use of outstanding locations throughout Scotland.
And VisitScotland has produced a map which shines a spotlight on the principal ones including three in Aberdeenshire.
The organisation worked closely with Whisky Galore's distributors, Arrow Films, while producing the map which features the villages of Portsoy and Pennan as well as Mill Beach. Other locations include St Abb's Head in the Scottish Borders, the Central Bar in Glasgow, Luss Village Hall and St Monan's Parish Church in Fife.
Actor, Gregor Fisher, who plays the postmaster Macroon in the film, said: "I've been in this business for 40 years and I can honestly say this was one of the nicest, if not the nicest, job I've ever had. We were welcomed with open arms in Portsoy to the point that, when I expressed an interest in buying some lobster, four were delivered to my door the next day, free of charge. I couldn't believe it. Half the community is in the film. It was a joy."
Jenni Steele, Film and Creative Industries Manager at VisitScotland, added: "Since the novel was published, Whisky Galore has been raising laughs for 70 years. The new film shows off Scotland at its dazzling best and our handy map will allow visitors to explore the locations used."
But while locations in Lochaber are not used in the film, one of the area's inhabitants most certainly is.
Well-known Ardnamurchan musician, Fergie MacDonald, can be seen playing in the wedding scene filmed in Portsoy.
Mr MacDonald, 80, who lives in Acharacle, said: "I've never been in a cinema blockbuster before and it was hard work. But I'm very proud that a Lochaber guy of my age is in a film like this."
The map can be downloaded at www.visitscotland.com/films