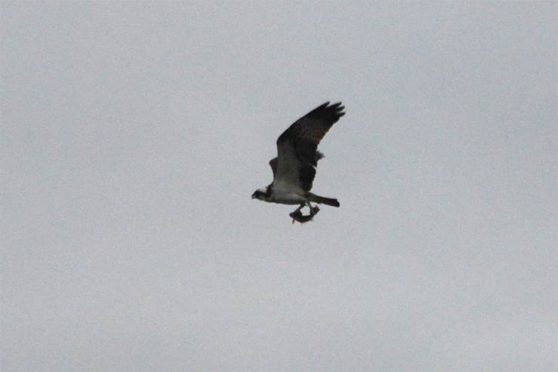 These striking photos show a rare glimpse of a lucky osprey catching a bite to eat from the River Don in Aberdeen.
Images of the magnificent bird on its hunting mission were captured by amateur wildlife photographer Bert Timmermans.
The 42-year-old Aberdeen University lecturer, who is originally from Belgium, watched in amazement as the bird swooped down and plucked its snack out of the water.
Bridge of Don resident Mr Timmermans said: "It was my wife Saskia who first saw it.
"She loves birds and volunteers with the RSPB and the Aberdeen City Council countryside ranger service.
"Ever since we moved to Donmouth Road earlier this year, she has had binoculars ready by the window so when she said 'I think that's an osprey' I ran outside with the camera.
"I followed it towards the sea and thought I'd lost it, but it didn't manage a catch as the gulls on the sand bank were not having it.
"So it turned back up the river and I followed it up to about the height of the Donmouth Local Nature Reserve bird hide and snapped pics while it was catching a fish, which unequivocally confirmed it as an osprey as only they hold their fish like that, in line with their body.
"I have been living in the north-east for the past four years and I have never seen any photos of ospreys on the Don.
"They are very elusive birds and you have to be very lucky to see them."
Ospreys, nicknamed fish hawks, died out in Scotland in 1916 but have begun breeding again in recent years after being reintroduced.
Ian Francis, conservation manager for RSPB Scotland said: "Ospreys are quite frequently spotted on the lower Dee around Garthdee and further up the Don near Dyce and Kintore and regularly seen further north on the Ythan.
"However, it is relatively uncommon to see them at Donmouth."
Mr Francis also appealed to people to get in touch if they spot the birds, especially if they are carrying fish some distance.
He added: "That's because at this time of year ospreys will be feeding chicks in their nests and we are keen to work out where they are nesting in Aberdeenshire and Moray to keep an eye on how they are doing.
"Although ospreys are one of Scotland's largest and most characteristic breeding birds, they can be very secretive and their nests are often difficult to find.
"So we are sure there are local nests that we don't know about."