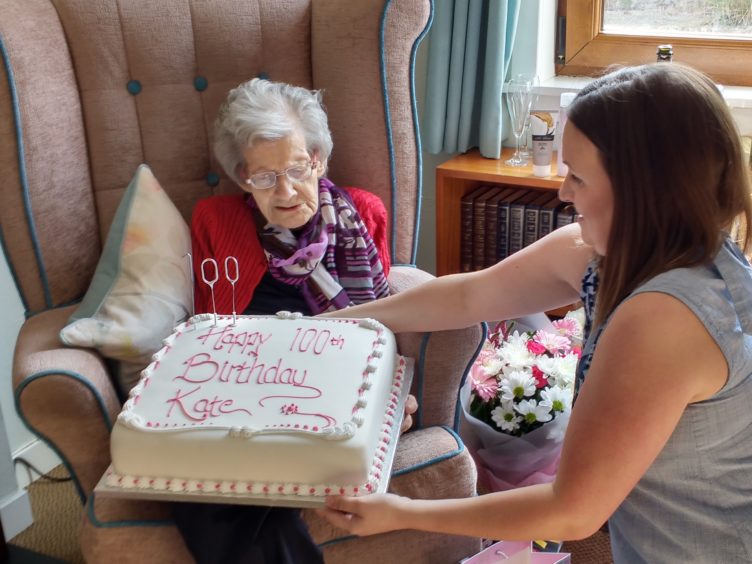 A farming woman who has lived for most of her life in Grange has celebrated her 100th birthday.
Kate Ingram worked on her family's farm in the village just outside Keith ever since returning home from helping out in the war effort during World War Two.
An avid carer of animals and prone to reject modern technology, Miss Ingram was a tough lady whose outdoors career was a big factor in her being able to live to 100.
Miss Ingram graduated from Aberdeen University in 1940 and used her science degree to good use by working down in London testing materials during the war, before moving onto Leeds and Manchester.
She returned back to Grange following her father's death in 1943 to help out her mother and brother on the farm and stayed there up until her 90s.
Although Miss Ingram never married, she has a large number of nieces and nephews, with a few of them helping to celebrate her birthday at her current home in Glenisla Care Home, Keith.
Niece Alison Smith spoke about how how much Kate doted on her family and her "toughness."
She said: "The farm Kate lived on was a very sociable place where she always had lots of things to look after, like poultry and beasties of all kinds.
"She has 12 nieces and nephews and about six of us were there on Wednesday to help her celebrate and it was a very happy occasion.
"She had quite a tough life as she had very little to do with modernisation, she didn't have any hot water in the house until after 2000 but that is what made her tough and I think it's helped keep her going all this time.
"That and the fact she inherited good genes as two of her aunts also lived to 100 as well."
Miss Ingram is also a loyal supporter of Grange Church and was visited on her birthday by one of the former ministers there.
She was also thrilled to receive a telegraph from the Queen and enjoyed a day of happy stories and company.