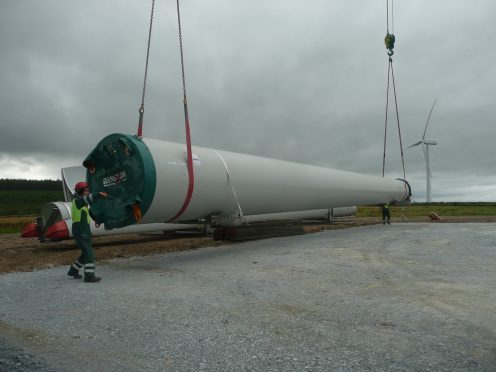 A community owned wind turbine is to be built near a north-east town thanks to a £2million funding package from Clydesdale Bank.
Work has now begun on the Greenmyres Community Project which will bring a 500kw Enercon wind turbine to a farm situated around four miles south-east of Huntly.
The project is being run by the Huntly and District Development Trust (HDDT) and has also been supported with £500,000 from Social Investment Scotland and the Scottish Government's CARES Scheme.
Residents of the town will be given the chance to purchase shares in the project early next year.
Richard Hammock, chairman of Greenmyres Renewable Energy which is run by HDDT, said: "The Greenmyres Community Wind Project has been in process for more than five years now, and it's fantastic to see construction underway on the farmland the trust recently acquired for community use.
"The turbine will be a valuable resource for creating clean, green energy, which the local area will benefit from economically, as we look to reinvest profits to good use within the region.
"The Clydesdale Bank and its project finance offering have played a key role in enabling us to undertake this community project.
"The team at the bank have been knowledgeable, helpful and efficient, and we would like to extend our appreciation to them for all their help in getting to this stage."
Adam Heslop, senior director for Clydesdale Bank's renewables, team spoke of the importance of renewable energy.
He said: "The Greenmyres Community Wind Project will bring substantial benefits to Huntly and the surrounding area.
"It marks one of a number of avenues HDDT (Huntly and District Development Trust) is pursuing to help improve the area's prospects and Clydesdale Bank is proud to play a role in supporting them.
"Renewable energy is an important sector for us and we're delighted to be able to use our knowledge of the market to provide specialist funding and support for projects such as this one.
"We continue to welcome opportunities from similar organisations and projects to provide project finance solutions to help them achieve their aims."