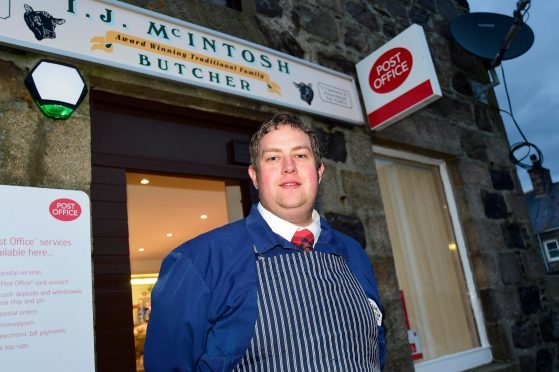 A north-east butcher has launched a bid to bring his community its first public-access defibrillator.
Gavin McIntosh, who runs a shop in Rosehearty, wants to raise more than £1,500 to buy the machine and train volunteers to help save lives across Aberdeenshire.
He was inspired to start the campaign after reading about other towns and villages providing the equipment in public spaces.
Money left after buying the machine would be used to get locals trained through the Sandpiper Trust, which provides emergency care in rural communities throughout Scotland.
He said: "I think it's a good thing to put these life-saving machines into communities.
"There's not one in Rosehearty at the moment and I've been very well supported so far with businesses and groups getting behind the idea.
"We need £1,500 to buy the defibrillator, but we're hoping to get more than that to help with Sandpiper Trust training and getting volunteers.
"Anyone who can help can just come into the shop."
Mr McIntosh has already volunteered to learn how to use the machine.
He added: "It's quite important we have one of these, really.
"Rosehearty is a large village and we can't always rely on an ambulance getting here fast. Every minute really does count when someone has a cardiac arrest."
Communities across the north-east have been proactive in securing their own public access defibrillators to help save lives.
In Macduff and Banff, golfers rallied together to fund a machine for their communities to use in emergencies.
And in Boddam, businessmen Ewan Robertson and Graeme Boyne, who run Boddam's Park Garage, bolted a defibrillator to the outside of their building.
Donations to purchase Rosehearty a defirbillator can be made at McIntosh Butchers, 1 Ward Road.