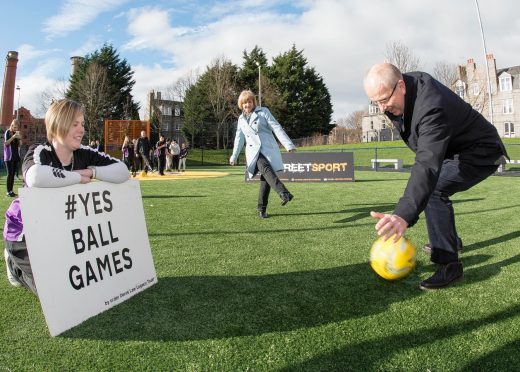 The opening of Scotland's inaugural Cruyff Court in Aberdeen has been hailed as a development which can improve the health of people in the city.
The dilapidated Catherine Street facility has undergone a huge transformation into an all-weather activity area.
The refurbishment work was done by the Denis Law Legacy Trust, the Johan Cruyff Foundation and Aberdeen City Council, with a combined £200,000 being spent on the initiative, which will be known as the Cruyff Court Denis Law.
The late Dutch football legend, Johan Cruyff, came up with the idea of the eponymous courts as a means of providing safe play areas for children and young people in urban areas to encourage fitness and well-being.
Aberdeen City Council leader, Jenny Laing, believes the amenity will be great for the Granite City and can also improve the health of Aberdonians.
She said: "It will be a wonderful asset to the city. And to be allowing people to take part in sport and physical activity is important because it is about the future well-being of our population.
"If you get people started in physical activity at the very beginning, they tend to continue with it throughout their lives and that improves health and wellbeing in the long term."
Graham Thom, chairman of the Denis Law Legacy Trust, which oversees the Streetsport activities throughout Aberdeen, is looking forward to the advantages access to the new facility will give the legacy trust and Streetsport scheme.
He added: "I'm very excited about the benefits of this facility.
"Until now, the Streetsport project has always been a mobile-type service to children in the city of Aberdeen and going out every evening and engaging young people in sport.
"To have a permanent site where we can plan and organise things in is great, and all the activities will be free."
Cllr Laing was also pleased that Aberdeen is the first place in Scotland to have a Cruyff Court, and she hinted that more could be built in the city in the future.
She added: "I'm always proud when we can deliver new things for the people of Aberdeen.
"We would hope to roll this out in other places as well and we look forward to working with our partners in the future."