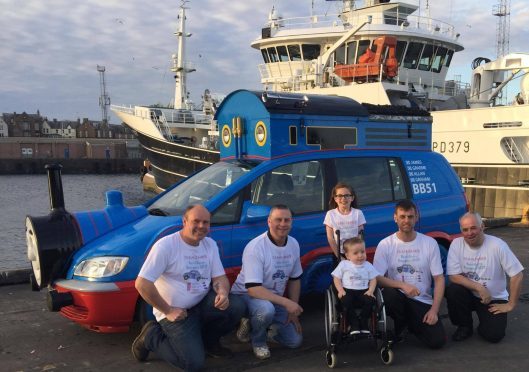 A Peterhead toddler who has inspired friends and family to undertake a 2,000 charity race has met team and their unique vehicle – a Thomas the Tank Engine car.
Peterhead quartet James Ritchie, Graeme Smith, Graham Cowie and Allan Taylor designed the machine to enter the annual Benidorm Banger event to raise money for Spina Bifida Hyrdrocephalus Scotland.
Thomas is a favourite of Mr Ritchie's two-year-old son – also called James – who suffers from spina bifida. The Bloo Toon Loons team will begin their adventure on May 1.
James's mum Emma said: "I am so very proud of the four guys for the time and effort they have put into making Thomas look like this. They have cut no corners while doing it and they've really thought of everything.
"We as a family hope they really enjoy the experience and make memories that will last forever."
Mr Smith added: "The smiles on James's face and all the other little kids' faces that come to see it has made the last six months' hard building work all the more worthwhile."
Last night a spokeswoman for SBH Scotland said the organisation is "in awe" of the efforts to build the car.
She said: "We are eternally grateful to the Ritchie friends and family for their continued support of our charity which relies on donations to continue its extensive range of specialist support across Scotland.
"Every penny raised by the Bloo Toon Loons will go into providing our Aberdeen support group and continuing our home and hospital support which is a vital lifeline for those affected by these lifelong, complex disabilities in the north of Scotland."
SBH Scotland supports families and carers affected by the conditions. Their helpline is: 03455 211 300