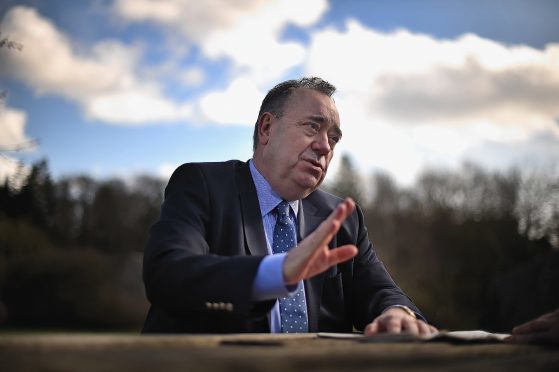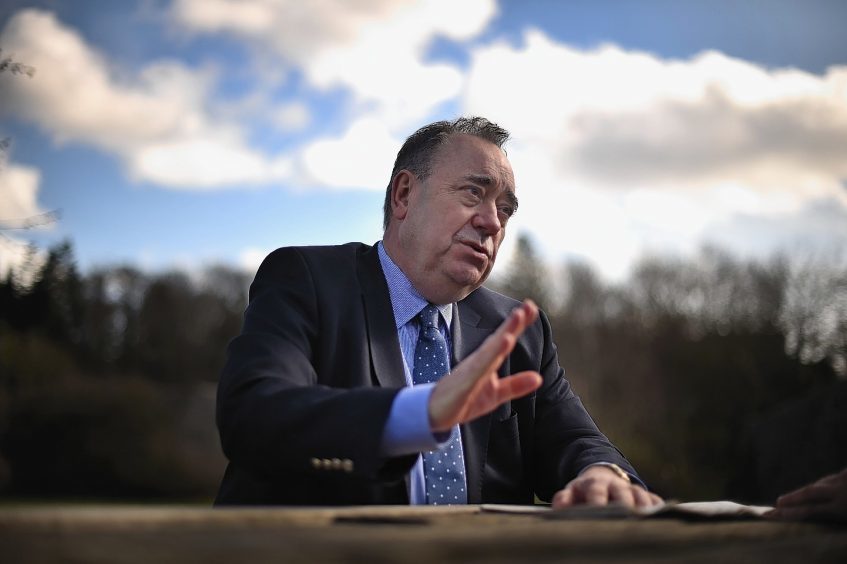 The former first minister has come out fighting as the nominations closed for the upcoming general election amid rumours his north-east seat may be at risk.
Alex Salmond has announced his intention to stand for selection in the Gordon ward following the snap return to the polls.
And he rubbished claims he may lose his place in Westminster to the Tories.
Mr Salmond is due to stand against Conservative Colin Clark, who he last night branded the "£25,000 man".
The moniker comes after an Elgin independent councillor, Sandy Cooper, stood down following just five days in the job and it was revealed Moray taxpayers could be faced with a hefty bill to elect a replacement.
Mr Clark has said it is his intention to quit his role as an Aberdeenshire councillor if he is successful in beating the SNP in June – sparking another £25,000 by election.
Now, following a wave of surprises across Aberdeenshire – where the Conservatives gained seats in both Peterhead and Fraserburgh – Mr Salmond said the electorate faces a straight choice between a party he claims will sell fishing out or the group which will fight to protect it.
But Mr Clark said his comments were an example of "staggering hypocrisy" after Mr Salmond himself held a dual role of MP and MSP on two occasions.
Mr Salmond said: "In every election you have to work for your vote and I am extremely critical of the Tories and their boasting that – at the start of an election campaign – they're going to win the seat.
"There has been a counter-reaction to that sort of arrogance, but the Tories have thought they were going to knock me over in every election since 1987 and they haven't managed it yet."
In some early projections, based on the number of first preferences votes for each party at the council election, Gordon is set to be won by the Conservatives.
The bookies favourite, however, remains Mr Salmond.
He added: "There's already been a reaction against their boasting in the last week and folk in the north-east of Scotland, when they hear that sort of stuff, tend to bring people down with a bump – and I think that is what's going to happen to Ruth Davidson and Colin Clark.
"He's just been elected as a councillor.
"He'll be the most expensive candidate in history and I think, if you look at the wave of anger being directed at the gentleman from Elgin, Mr Clark's in the exact same position.
"Either he sticks to his pledge to stand down and cost the taxpayer money if he was elected, or alternatively he tries to do two jobs having told people he was only going to concentrate on one.
"I think he's in an impossible position and he'll find it very difficult to maintain it. I think the simpler thing would be to not place him in that position and not vote for him."
Elsewhere in the north-east, the SNP's Eilidh Whiteford will go against the Conservative's David Duguid.
On Wednesday, Mr Duguid was joined by party leader Ruth Davidson to tour Peterhead's fish market ahead of a pledge to get the best deal out of Brexit for local fishermen.
Mr Salmond is confident that his colleague has a track record of defending Scottish fishing.
"The track record of the Tory party is they sold out Scottish fishing when we went into the European Union and their civil servants described Scottish fishing as expendable.
"If they're allowed to their own devices, they'll sell out Scottish fishing on the way out of the European Union. It is why coastal communities will trust the party with the track record of defending Scottish fishing and the member of parliament who has done that is Eilidh Whiteford.
"We're well up for this battle. We'll fight for every vote and we're ready for the fray."
Last night Mr Clark, Scottish Conservative candidate for Gordon, said: ""Just four days ago, Mr Salmond was in the P&J shrugging off the challenge posed by the Scottish Conservatives.
"Indeed, in the 2015 general election, I finished in third place in Gordon, more than 20,000 votes behind the former First Minister.
"Now, he appears rattled and is lashing out. He clearly thinks I can win.
"I think this is a sign that the Scottish Conservative message to oppose another independence referendum is hitting home in the north-east more than Mr Salmond would like to admit.
"People in this area will also be well aware that Mr Salmond held the dual role of MSP and MP not just once, or twice – but over three separate periods. Even by his standards, this tirade shows a staggering level of hypocrisy."