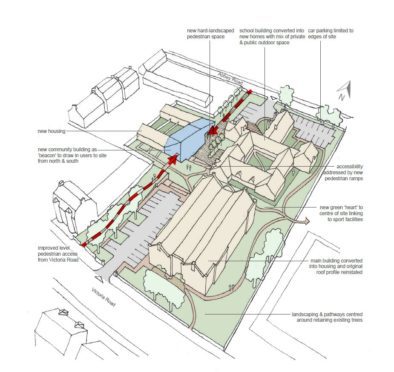 Residents battling to retain a Victorian Aberdeen primary school are pleading for three more months to develop their ambitious plans.
The long-running saga of the Victoria Road school will rumble on at the full council meeting on Monday, with a report recommending that members vote to market the site for private development.
But the 49-member Torry Development Trust has been formed who have brought forward their own scheme for redeveloping the building as housing and community facilities.
And last night the group won backing from Aberdeen South Conservative MP Ross Thomson.
The former school was a political battlefield last year with plans by Barratts to demolish the historic school eventually rejected.
The current report recommends putting it on the market with the provision any development must retain as much granite as possible.
Last night Mr Thomson said: "I don't see why there should be such urgency to market the site when it has been vacant for ten years.
"I think if these plans are developed they could become a great community asset."
Trust chairman David Fryer said: "All we are asking for is three more months then the council can see our proposals in full.
"We have some fantastic backers for the project now and I would hope that councillors see the value in giving us a little more time."
SNP Torry and Ferryhill councillor Catrionia MacKenzie said:  "I'm delighted that Ross Thomson has now come on board to support the trust and their work.
"It means that the only two people who represent the area and who haven't committed their support are councillors Donnelly and Allan. Either one would be able to ensure the project gets the time it needs to progress.
"Moving towards selling the site at this time would be an insult to the volunteers at the development trust and a kick in the teeth for the local community."
Conservative council co-leader Douglas Lumsden said the "door had not closed" to the trust and he welcomed their submissions.
He added: "As for disagreeing with Ross, unlike the SNP we are not ruled from central office with an iron fist and can make our own choices."