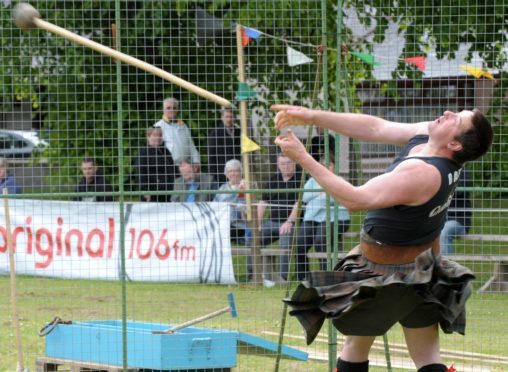 Braemar heavies of the past back the Duke of Rothesay Highland Games Pavilion, writes Stephen Walsh.
Many of Bruce Aitken's greatest achievements as a heavy competitor took place on the Braemar field.
Although he retired a decade ago, the 47-year-old is still part of the local Highland Games scene and now helps to judge the heavy events.
And for the veteran hammer thrower there is no better location for the new pavilion than next to the gathering arena.
He said: Braemar really is the pinnacle of the heavy events and it's got a different atmosphere to it and is definitely the correct place for this.
"It really is the heart of the games and this will become a must-visit destination for anyone who is interested in the Highland Games.
"I think lots of people will come to the pavilion when the gathering isn't on. It will give them something to relate to.
"And if someone is keen to become involved this will also give them more information and point them in the right direction." Mr Aitken added: "The games are an old tradition and obviously everything changes, but I think there's something special about these events.
"Everyone is there in their kilts and their socks and there are the dancers in their traditional outfits. It really is a special occasion.
"It's good to keep the tradition alive. It's our history and it's something to be treasured.
Competing at the games has been something of a family affair for Mr Aitken as both his father and brother competed and his niece has appeared as a Highland dancer at many of the events.
"My dad was a thrower, my late brother was a thrower and now my niece is a dancer," he said.
"It's a big occasion for us as a family and we're not the only ones.
"There are lots of families like this in Braemar and around the area. It's a special place for a lot of people."