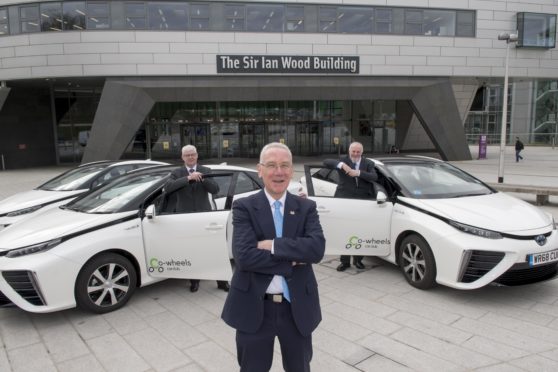 Aberdeen council's car club will has expanded to include two environmentally hydrogen cars.
The Toyota Mirai models will join the Co-wheels Car Club fleet in the city and will be available for club members to hire through the online booking system.
The two new additions will be stationed at Gallowgate Car Park and East Craibstone Street from Monday.
Aberdeen has two hydrogen refuelling stations, at Kittybrewster and Cove, to support the growing fleet of cars, buses, and commercial vehicles operating in the city as part of the innovative programme.
Operational delivery vice-convener Philip Bell said: "The latest additions to the fleet is another positive step forward for hydrogen in the city and demonstrates the commitment to embrace a clean, green and sustainable technology."
Co-wheels car club Scotland Manager Tony Archer said: "This deployment represents the first public hire Toyota Mirai in the UK and is a milestone that has been long awaited by many of our Aberdeen members eager to try out hydrogen cars."
Co-wheels will also be adding a third new Toyota Mirai to its growing fleet of hydrogen vehicles in Aberdeen with a car entering service at the Robert Gordons University for staff to use.
Vicki Nairn, vice principal for corporate operations at RGU, said:  "The university is fully committed to reducing its carbon footprint and this development represents our ongoing work to implement appropriate environmental programmes to deliver a truly sustainable campus – as well as driving down the cost of business travel within the city."