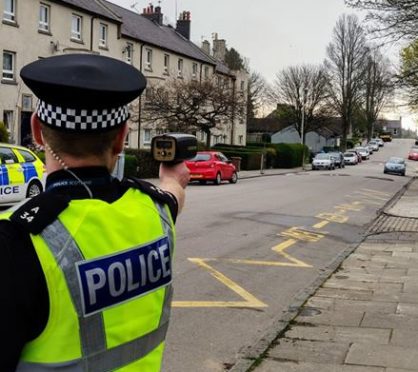 Police have carried out patrols to clamp down on speeding and dangerous driving in parts of Aberdeen which have been plagued by problems.
Officers conducted the operation around Kittybrewster yesterday morning, performing speed checks on passing vehicles and stopping motorists to "educate" them where necessary.
The operation focused on May Baird Avenue, near Royal Cornhill Hospital, and Sunnybank Road outside Sunnybank School.
Police Constable Louis Jullien was one of the leaders of the operation, and spoke to local lollipop man James Lyon to find out the extent of the problem.
The officer said: "A number of vehicles were stopped and drivers given suitable advice regarding their speed, while some advice was also issued in relation to minor vehicle defects.
"I'm pleased to say that no offences were identified on this occasion however I hope that operations like this serve as a warning to motorists that if you choose to use our roads dangerously, then you won't get away with it."
He added: "Tackling irresponsible driving behaviour is daily business for your local community policing team, however I hope high-visible operations like this remind drivers of the need to take care.
"Above all, motorists need to take responsibility for their own driving behaviour and particularly when they are travelling near schools.
"We hope to carry out similar operations in the future and will deal robustly with those who offend."