Long-awaited Union Terrace Garden project will start within months – but boasts new price-tag
By
Jon Hebditch
April 26, 2019, 9:14 am
Updated: April 26, 2019, 6:29 pm
Council leaders have hailed a "day of celebration" after finally hiring a firm to carry out the multi-million-pound revamp of Aberdeen's Union Terrace Gardens.
Work will begin in summer after the local authority unveiled Balfour Beatty as the contractor for the overhaul of the sunken Victorian park.
It is hoped city residents and visitors alike will be able to enjoy the rejuvenated green space in 2021.
The designs, drafted by London Olympic Park designers LDA, include a new walkway from Union Street and lift access from Union Terrace.
There will be cafes and bars in the disused archways and re-instatement of the 'grand staircase' as a new route into the gardens from Rosemount Viaduct.
There would also be new safety measures incorporated along Union Bridge, with promises that this work will be completed first.
REVEALED: Transformation of Union Terrace Gardens set to start this summer
Amidst the celebration yesterday, it did emerge that the project also has a new price-tag.
In 2016, the project was costed at about £17 million but a council spokesman has confirmed the new cost negotiated is £25.7 million.
Council co-leader Jenny Laing said she could not guarantee costs would rise further but believes the work will breathe new life into the "green lung" of the city.
She said: "You can see from projects across Scotland that when you go to the market costs and timescales can rise.
"The city is moving forward as one and making history as we go."
The project has been at the heart of a political battle in the city since 2010 at least.
Following a public referendum narrowly backing Sir Ian Wood's City Gardens project, the incoming Labour administration in 2012 promised its own own revamp.
At the recent budget meeting, opposition parties called on the administration to abandon that scheme and instead put in cheaper safety measures on Union Bridge.
But council co-leader, Councillor Douglas Lumsden, said yesterday: "This is a moment for celebration right across Aberdeen. Generations to come can share in the rewards."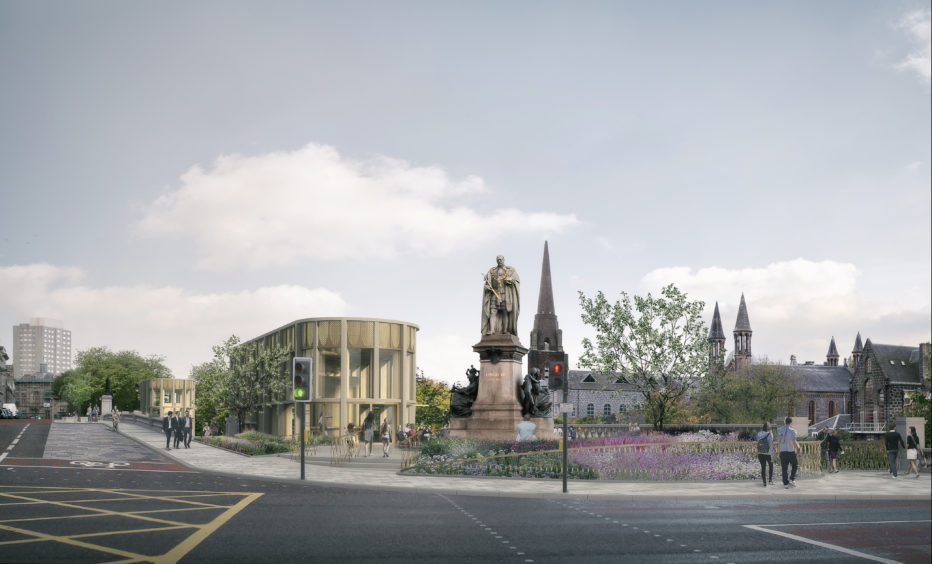 And council culture spokeswoman Marie Boulton added: "For well over 100 years Union Terrace Gardens has served as Aberdeen's green heart and this council is proud to be enriching that legacy."
SNP group leader Stephen Flynn, however, has still to be convinced and as council leaders gathered at the gardens he said the project was "a complete shambles".
"I am sure the people of Aberdeen will be at a total loss as to how the administration can justify spending almost £26 million on Union Terrace Gardens when they are continuing to make severe cuts to services across the city," he said.
"Project costs have soared by at least £9 million since 2016 and it is now certain that the gardens will be delivered two years late. What a complete shambles."
Liberal Democrat group leader Ian Yuill meanwhile added: "The Liberal Democrats believe spending over £25 million on this scheme cannot be justified at a time when the council's debt is growing ever-higher and council services are under threat."