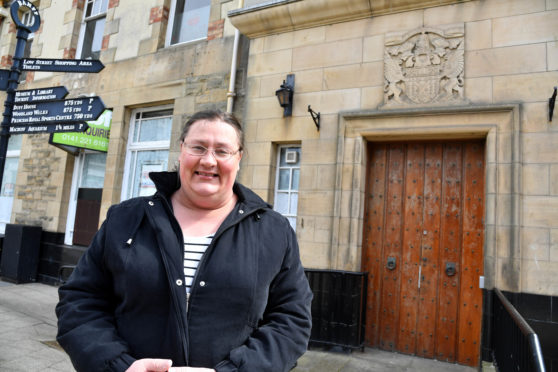 It was said to be the death of the high street as banks closed down across the north-east but now a former Banff branch will find a new lease of life as a centre for tourism.
Despite campaigns to save rural bank branches from being axed, several closed in 2017 and 2018, including the town's Royal Bank of Scotland (RBS).
Campaigners feared the vacant properties would have a damaging effect on town retail prospects.
But now it is hoped the Banff branch will have a bright future after it is reborn as the Banff Tourist Hub.
Michelle Cameron, co-founder of the project, is coming to the end of her travel and tourism course at the North East Scotland College.
Throughout her studies, Ms Cameron has focused on projects in the Banff area, carrying out surveys, driving initiatives and looking at how to boost tourism and better promote the area.
She said: "I understand the reason that the VisitScotland office closed a few years ago but it has had a detrimental impact on the area.
"We fell reopening a tourist office is important as at present there's nowhere for visitors, local, national or international, to speak to someone who can advise them on what to do in the area or personalise a trip for them to suit what they enjoy.
"It's having a person with that knowledge that has the potential to improve tourism drastically.
"Banff and the surrounding area have so much to offer and we need to show that off."
Ms Cameron became involved with the project to set up a Banff Tourist Hub a year ago, taking on the role of director in the short-term as the plans got of the ground.
But with the lease for the B-listed building agreed this weekend she was delighted to step forward to unveil the plans.
The aim is to establish partnerships within the community once the centre is functional.
Ms Cameron said: "The building is so central it would have been a crying shame if it was repurposed into something that would take away from its history.
"Our plan is to keep the external changes to a minimum, with the exception of putting up signage.
"Inside we're going to move the more modern counters to places that suit them.
"The old counter is part of the character of the building so we're going to polish it up and keep it to show what it once was like. We're looking for a wooden wheeled clerks chair to perfect its look."
The three safes in the building will also be retained to add to the character and history of the centre.
As the space is so large, Ms Cameron is also hoping other social enterprises can share it, making it a hive of Banff activity.
All tourist centre work will be voluntary and those interested in participating or donating to support the project should email michelle@tns.scot to find out more.