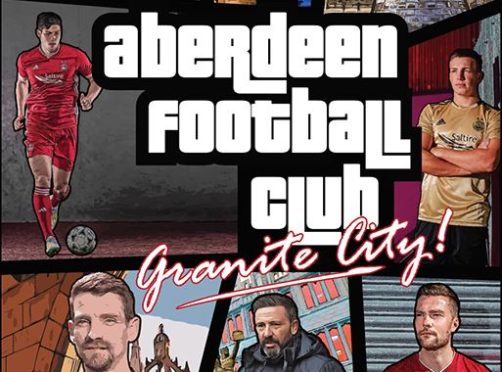 Aberdeen's match day programme is something of which Tommy Vercetti would approve.
The cover of the Dons' programme for their Europa League tie against Finnish side RoPS Rovaniemi has been posted online with a computer gaming inspired theme.
The design recreates the iconic Grand Theft Auto: Vice City poster featuring the Europa League trophy as Castlegate's Mercat Cross and manager Derek McInnes outside Marischal College.
Supporting this season's gold and black away strip is midfielder Lewis Ferguson and new signing Craig Bryson also makes an appearance.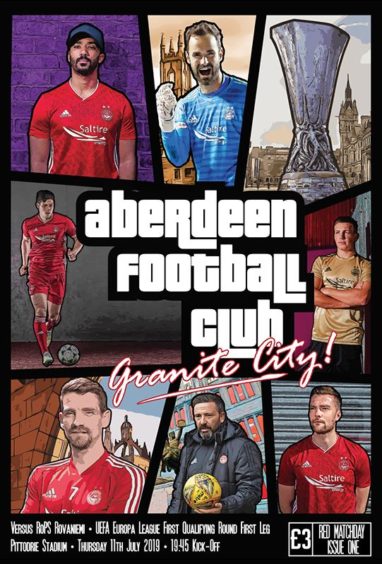 Mark Elrick, who designed the cover, said he was overwhelmed by the response.
He added: "It's been phenomenal. I've been blown away by such a good reception to the cover. I'm very lucky the design has gone down so well with the fans. It's great."
This is Mr Elrick's third year producing the match day programmes for the Dons.
He said: "I try and alternate themes to engage with the fans. This time round I wanted to explore popular cultures.
"I've seen a few match day programmes based on bands and movie posters but never a computer game – that was my inspiration for this cover."
Grand Theft Auto: Vice City
Grand Theft Auto or GTA as it's widely known is an action-adventure video game series published by Edinburgh-based Rockstar Games.
The sixth title in the series was released in October 2002 for the PlayStation 2 and soon became an icon in the gaming world.
The game follows Tommy Vercetti after his release from prison in the fictional city of Vice City, based on Miami.
After he is caught up in an ambushed drug deal, Vercetti seeks out those responsible while seizing power from other criminal organisations in the city.