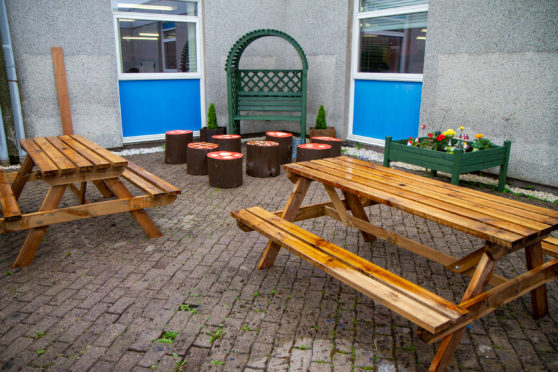 The playground at a north-east school has undergone a £1,230 revamp to ensure that youngsters can make use of what was previously an unloved and overgrown space.
The outdoor area at Dales Park School in Peterhead has been transformed after a charity contributed the cash for the overhaul.
The work has been carried out by people attached to the town's branch of the Aberdeen Foyer charity – which seeks to help participants become more employable by finding useful tasks for them to carry out in the community.
Before the project began, the section of the school was run down with weeds sprouting in the planters and the space left bare.
To spruce it up, a learning area was created for the children – complete with toadstool seats, an arbour, picnic benches and a decorative fairy garden.
Development coach for the charity, Rob Campbell, said: "When we were first approached about the project, we realised there was a huge amount of work to be done in the area.
"But with a team effort and a positive attitude, the guys absolutely nailed it.
"We are very proud of everything that has been achieved.
"It's all down to the dedication and commitment of the team, and the end result speaks for itself."
The Reach project is aimed at getting people back into work, further education or training by providing the opportunity for them to gain first aid, food hygiene and other qualifications.
The renovation of Dales Park School was just one part of a 12-week project, and the next session will begin in August.
After finishing the work, members handed over a spare £588 which had been raised during a recent bingo night to put towards further enhancements in the playground.
The course is open to anyone aged from 16 to 65, who is stable in their recovery from challenges related to their physical health, mental wellbeing or addiction struggles.
People interested in getting involved or who know of someone who could benefit from being part of it, should contact Mr Campbell by emailing rob.campbell@aberdeenfoyer.com for more information.