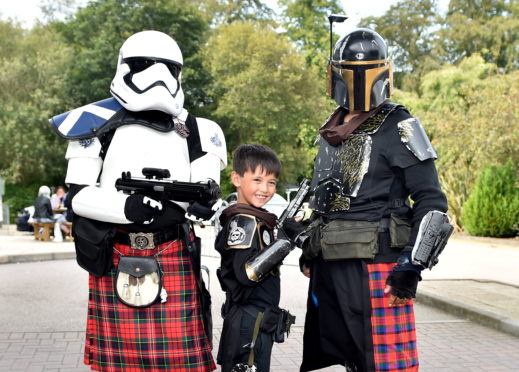 Thousands of comic fans from across the north-east turned out for the annual Granite City Comic Con at the weekend.
Organisers welcomed thousands of fans through their door, who were donned in their finest superhero and super villain costumes.
Held this year at the DoubleTree by Hilton, the event celebrated its fifth year of drawing thousands in their favourite superhero costumes.
Guests were treated to a question and answer panel with renowned comic artist Ian Kennedy on the main stage.
He was joined by comic artist and writer Emma Vieceli with comedian Des O'Gorman hosting the first of a two-part panel.
Cosplay enthusiasts were able to learn knitted cosplay yarn crafting with Knitted Wonder Woman.
Visual effects supervisor Dan Snape also took part in a panel at the event.
He has worked on a number of blockbuster movies including being the visual effects supervisor on Avengers Endgame and Infinity War.
Mr Snape has also worked on films such as Harry Potter and the Order of the Phoenix, The Dark Knight and Skyfall.
North East Stage Combat offered visitors the chance to try on some armour and learn several on-screen fighting moves.
Last year, more than 3,000 fans turned out at Pittodrie Stadium and more than 80 small businesses from the Aberdeen area and as far south as the Isle of White.
It welcomed major names in the industry such as Star Wars actor Sandeep Mohan – who played a First Order Trooper in The Force Awakens and Rogue One – and prop maker and set decorator Bill Hargreaves, who worked on The Empire Strikes Back.
Organiser Colin Penny said the team had been focused this year on bringing back the original format for GCCC which included more workshops, talks from creators, props and interactions.
A statement on the group's website said: "Massive thank you from TeamGCCC to everyone who made Granite City Comic Con 2019 a great day.
"Big shout out to the volunteers again, these guys sure work hard."