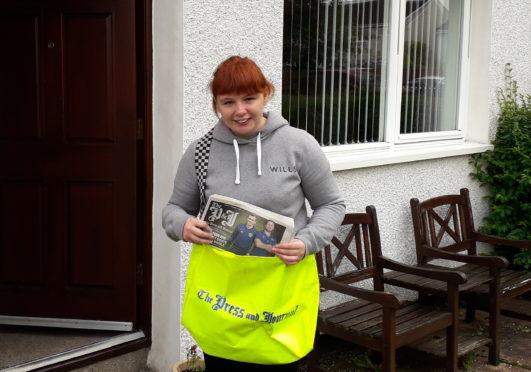 Paper boys and girls across the north and north-east are being recognised as part of an annual celebration of their work.
The awards give Press and Journal and Evening Express readers the chance to say a big thank-you to those delivering their newspapers who go that extra mile – whether that's always having a smile and a friendly word to say, or simply providing a consistent service.
Readers are being urged to make nominations in one of four categories: deliverer of the year, shining star, care in the community or retail deliverer of the year.
After nominations have been submitted, there will be three finalists selected for each category.
June Sutherland last night revealed how proud she was when her children Chloe, 16, and Ross, 19, won in 2017 and 2016 respectively.
They won the most dedicated category for Inverness and Moray.
Mrs Sutherland urged people to get involved with the awards to give the youngsters – who are out first thing in the morning come wind, rain or snow – a boost.
She said: "Chloe and Ross have had the paper route in the area for the best part of nine years.
"Ross started off delivering the paper and now Chloe's got it.
"When they won I was absolutely delighted and happy for them both. It's nice for them to be acknowledged for the hard work they do.
"They wanted to start earning their own money and this was the best way to do it.
"It's also a good way for them to learn responsibility.
"Every when it's snowing or raining, Chloe still manages to get all her papers delivered – which takes the better part of half an hour.
"Since we have had the paper route for so long, I have been thinking who will be taking over after Chloe."
Chloe, a pupil at Inverness Royal Academy, admitted she would love to be in the running for an award again.
She added: "I'm hoping I can get something this year since it's quite hard work.
"It's quite nice to be nominated."
When all the nominations have been counted, the finalists will be invited to an awards ceremony at Marischal Square, Aberdeen, on November 3.