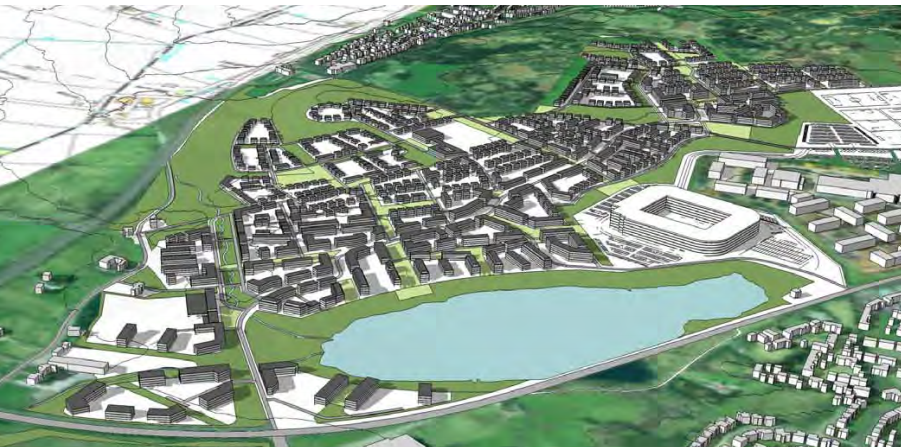 A month-long consultation will be launched on a potential 1,000 home expansion of an Aberdeen community.
The city's planning committee met yesterday to discuss a refreshed, long-term vision for the Loirston area, with a blueprint remaining in place to build 1,057 homes a site next to Loirston Loch.
Along with the homes, the proposals include 11 hectares of employment land, a new primary school, shops and the potential for jettys along the edge of the water.
Due to a quirk in the planning system, a community football stadium remains part of the overall scheme – though that may change.
It was initially included as part of the 2017 local development plan (LDP), before Aberdeen Football Club unveiled their Kingsford stadium plan.
The original plan also requires a Gypsy/traveller site within the Loirston area.
Yesterday councillors scrutinised the massive scheme and were told the site has the potential to be a "significant gateway" to Aberdeen and offers a "fantastic opportunity" for a new neighbourhood.
A report to members read: "The proximity to the city centre and key employment areas creates the potential for a unique and attractive mixed-use waterside development.
"Stakeholders and other interested parties have had the opportunity to comment on the development of the Loirston site at many stages of the planning and design processes over the past decade.
"There is no direct cost to the council for approval to proceed to public consultation."
Rosemount and Midstocket councillor Bill Cormie queried why the stadium was still in the plan – and if it could be removed now the Dons had plans for a new home.
Officers told him that it was "a quirk of the planning system" but that the stadium site could be removed at the new LDP review.
Hazlehead, Queens Cross and Countesswells councillor Martin Greig praised the environmental aspects of the design.
Torry and Ferryhill councillor Alan Donnelly, meanwhile, questioned how relevant some of the plans would prove with "massive cultural changes" underway across the country.
He said: "There are huge changes everywhere at the moment.
"People are using buses less and less, fewer people are driving and the use of online shopping is hurting the high street."
Following debate, members unanimously approved putting the scheme out to consultation.
All city residents can take part and forms will be available at local libraries and on the council's website.
Local planning events will also be held in the coming weeks and will be advertised.
Committee convener Marie Boulton said: "This is a major proposal as part of the development framework.
"I would urge anyone interested to take part in the consultation."
The outcome of the consultation will be reported back to the planning committee within the next six months.
Early stages of work could start by the end of the year and there is permission to continue construction until 2026.