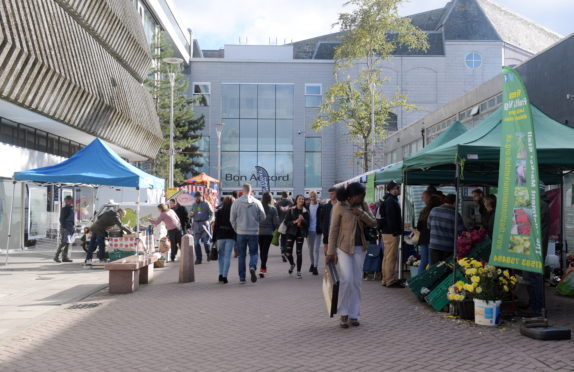 Organisers have cancelled a series of street markets designed to increase footfall around Aberdeen city centre.
The Greater George Street Traders Association launched the markets last summer in the hopes that they would lure shoppers away from Union Street and into businesses there.
But the events never quite enjoyed the success of those held elsewhere in the city and organisers have decided to axe those scheduled for next month and November after "disappointing" results.
General manager of Finnies the jewellers and chairman of the association, Stuart Milne, issued a statement on social media saying it "felt wise not to proceed" with the planned markets.
Mr Milne said: "The markets which were set to take place in October and November have now been closed indefinitely."
But he said many still believe in the aim of "promoting and creating vibrancy in the George Street area".
He added: "The pedestrianised area outside the northern entrance of the Bon Accord centre provides a perfect area for promotional activities and we need to create the ideal formula to capture imaginations and promote the area."
The markets were funded by Aberdeen Inspired and the city council,
A spokeswoman for Aberdeen Inspired said: "It is disappointing to see the cancellation of the George Street Market after valiant efforts by local businesses and organisers to make a success of the initiative.
"Aberdeen Inspired will continue to work closely with levy payers in the area on any viable options in the future."
The Greater George Street Traders Association was established in 2016 to encourage footfall along what used to be Aberdeen's second major shopping street.