Aberdeenshire Council has vowed to carry out urgent repairs after a grieving mother discovered her son's grave was sinking – just five weeks after his burial.
Wilma Haggart went to Grange Cemetery in Peterhead on Sunday to visit her son's grave when she found the lair had sunk, swallowing vases full of flowers.
Her 35-year-old son Gavin died in August, and Mrs Haggart said it had caused her "great distress".
The council last night said it was "not uncommon" for Grange Cemetery lairs to sink due to the base of red clay in the area, but vowed to take "immediate action" to rectify it.
Mrs Haggart, whose husband is also buried in the lair, said: "I went to visit and there had been heavy rain, it wasn't excessive, but the whole top of the grave had sunk right in.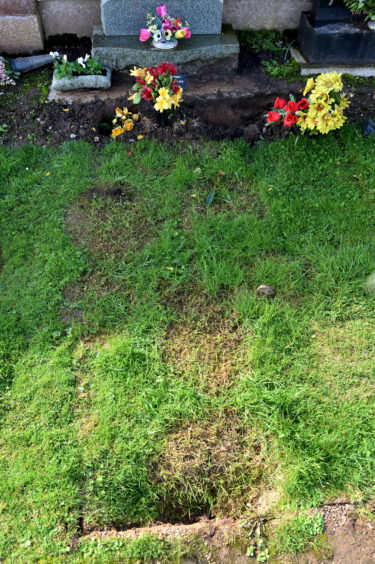 "I initially thought the two black cemetery vases there had been stolen and it took me a moment to realise they had actually sunk into the hole.
"I couldn't get one of them out as the hole was about 18 inches deep.
"I stood at the bottom of the grave and it started sinking too.
"I know there has to be settlement and rain, but others were more recent and weren't like that. It's distressing to go up to your son's grave and find that."
The cost of his burial was more than £1,200.
"I understand it should sink a little but to have a gaping hole and see a sink hole at the bottom was awful," Mrs Haggart added.
"It wasn't cheap and you expect a better service than seeing it cave in."
A spokeswoman from the council stressed it was "not uncommon" for this to happen and that lairs are inspected regularly with remedial action when required.
She said: "Grange Cemetery in Peterhead has, as its base, a layer of red clay, which when excavated and then backfilled for a burial can leave larger pockets of air than you would find with the more usual layer of soil or sand.
"This will lead to 'sinking' as the earth and clay settles.
"In this instance the heavy rain will have played a role in speeding up the process and we will take immediate action to rectify the situation."