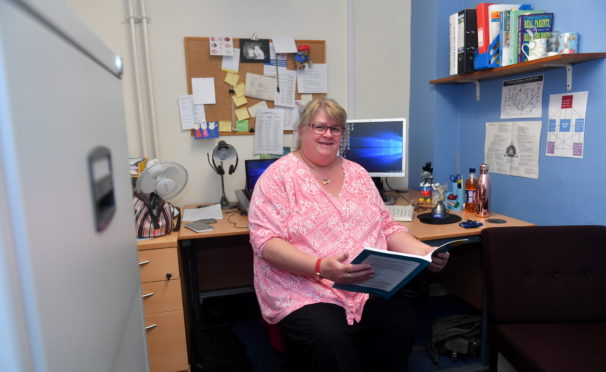 The woman responsible for providing families for hundreds of north-east children has said she is "hopeful" despite the challenges facing adoption in Scotland.
St Andrew's Children Society, based in Aberdeen, raised concerns on Monday about new figures which showed the number of applications to adopt children fell by 16% last year.
In the north-east, a large part of this was attributed to new pressures on households finances by the oil downturn.
But Aberdeenshire Council is already seeing an improving picture and, as part of Adoption Week Scotland, is making a concerted effort to ensure all members of communities, including single people and same-sex couples, know they have the right to apply to adopt.
Morven Campbell, adoption team manager at Aberdeenshire Council, said she was "hopeful" the drive would benefit children in years to come.
She said: "Unfortunately LGBT people still face some disapproval in the community – especially gay men who are looking to adopt.
"We don't believe that should be the case all. As long as children have a safe and secure upbringing that is all that matters.
"We want to encourage people from all walks of life: single people, married people, civil partnerships – everyone has the right to be assessed for adoption."
The Adoption Team hosted their first LGBT information event on Monday and were "delighted" by the response from attendees.
It is #AdoptionWeekScotland! Did you know our dedicated adoption team can support you throughout your journey and offer lifelong adoption support?https://t.co/PDxQQu50PP
adoption@aberdeenshire.gov.uk 01467 532800

News: https://t.co/FvYO7eZjVi #AdoptAbshire #AWS19 pic.twitter.com/rQtDd3tmL3

— AberdeenshireCouncil (@Aberdeenshire) November 18, 2019
The adoption service in Aberdeenshire – as well as Aberdeen – was hit hard by the oil downturn as wages dropped and job uncertainty rose.
The issues caused by the reduction in the affluence of the region have been compounded by increasing drug and mental health pressures in the north-east, which have given rise to more children needing homes.
Ms Campbell, originally from Moray, said: "Historically Aberdeenshire never had problems in recruiting.
"But then with the oil downturn we really did notice the change.
"The numbers were really low this time last year. I was worried we didn't have enough families
"But luckily that's picked up now and things are far more encouraging."
The team supports people before, during and years into the adoption process, and maintain links with birth parents where possible through schemes like the "letter box system" where correspondence is exchanged.
Ms Campbell added: "The majority of children we work with have faced some sort of trauma, so it truly is great to see them settle in a safe home.
"We recently had a young girl suffer a lot of disruption and change in her life, none of which was her fault.
Aberdeenshire Council's adoption service has been praised by inspectors following a review.https://t.co/g2QonXtl6P pic.twitter.com/h7O8j4qH60

— The Press & Journal (@pressjournal) November 15, 2019
"Her adopted family were amazing. They were able to think outside the box and accept her.
"She's a different child now – and far more outgoing."
She added: "To adopt, you don't have to be perfect.
"You don't have to be rich and you don't have to be married. You simply need to be resilient and compassionate.
"It can be a challenging process, but we're here to support in any way we can."
Head of Children's Services at Aberdeenshire Council, Leigh Jolly, added: "We are looking for families who can offer our children and young people family life full of love, nurture and patience, and who can help them to build resilience.
"We want people to know you don't have to be rich, or already have family, or even be in a relationship. What's important is you're in a position to offer a stable, understanding, loving and nurturing environment.
"Working directly with the council means you'll only ever have to work with one dedicated, experienced team."