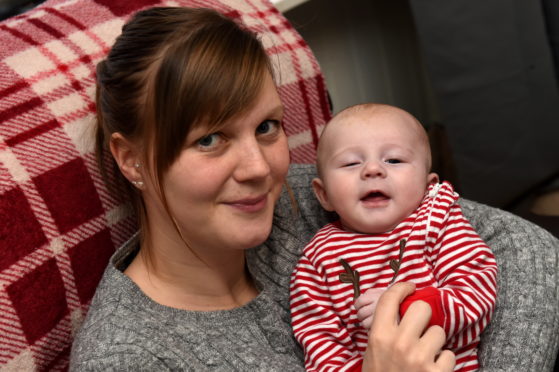 A thankful mum has heaped praise on charity helimed paramedics, whose quick actions helped her baby son return home in time for his first Christmas after he was mauled by one of the family's dogs.
Morven Davidson turned her back on her two-month-old son for only "a matter of seconds", but it was enough time for him to suffer potentially fatal injuries.
The dog leapt onto James' pushchair and inflicted unthinkable injuries, damaging his airway, puncturing an artery and nearly removing his ear from his head.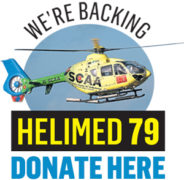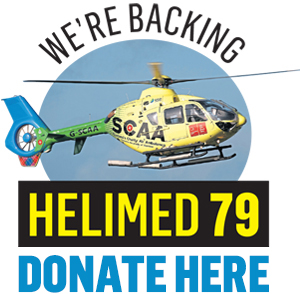 Within the hour, however, Scotland's Charity Air Ambulance had airlifted son James and his mother to Aberdeen Royal Infirmary for treatment at the major trauma centre.
And, smiling with his mother at their home, James has since made an incredible recovery from the incident.
Mrs Davidson said: "It was so instantly reassuring having the air ambulance team here to help him.
"They are absolute life-savers. It is as simple as that. Without them, rural communities would be scuppered.
"It would have been horrendous sitting with James in the back of the ambulance going to Aberdeen.
"He was slipping in and out of consciousness and we don't know how the extra time needed to get to treatment would have left him.
"And with part of his ear being severed from his head, doctors might not have been able to save it."
Mrs Davidson, 27, works as a shepherd in Invermark in Glen Esk, while 28-year-old husband Derek is a gamekeeper on another nearby estate.
By road, the journey to ARI would have taken more than an hour. By air, the SCAA team had James there in 15 minutes.
The first-time mother said: "While my back was turned, one of the terriers jumped on top of the pram and attacked James.
"His ear was torn and the dog had punctured his airway and damaged an artery.
"I just felt dread and didn't know what I was going to find when I looked into the pram.
"It would only have been the matter of a few seconds but it was almost fatal."
The family – including husband Derek, 28, – has now enjoyed a first Christmas as home together.
And Mrs Davidson promised her son will be a "very spoiled little boy" as numerous get-togethers are planned with doting relatives over the festive period.
SCAA lead paramedic John Pritchard who was one of those who attended said: "We hand over the patient to the doctors and sometimes we don't get to hear what happens thereafter.
"It is great to hear the wee one got home for his first Christmas with his family."
James spent nine days in hospital, undergoing plastic surgery and other procedures by ear, nose and throat specialist surgeons.
Within an hour of arriving at ARI, James was in theatre and his mother said it was only then she could relax, knowing he was in the "best of hands".
Days later, when the chance of infection has dissipated, she breathed a sigh of relief knowing he was out of the woods.
It was Patterdale terrier Rascal, one of the families' 10 dogs, that had turned on the baby boy after a walk around the estate.
The dog, nearly five-years-old, has since been put down.
Mrs Robinson said she wanted to use her experience to ensure no other family had to go through similar trauma.
She said: "You might trust your animal 100% but it can take only a split second for it all to go horribly wrong.
"We would never leave our son alone with a dog but we were there and the child was wrapped up in his pram and it still happened.
"Rascal had never been aggressive, so it shows even the nicest of dogs can make a mistake."
---
Scotland's Charity Air Ambulance has made a huge impact since 2013, saving lives and preventing suffering. 
That is why the P&J campaigned successfully for SCAA's second helicopter to be based in our region. 
The countdown is now on for the aircraft – call sign Helimed 79 – to start flying missions from Aberdeen Airport. 
But this is an emergency service that relies entirely on donations. 
Each call-out costs about £2,500 and SCAA needs P&J readers to help hit its £6million target and get things off to a successful start. 
So please do anything you can to raise those funds and show that We're Backing Helimed 79. 
---
Ways to donate to SCAA
Website: www.scaa.org.uk/donate
Text: Text 'SCAA' and the amount to 70085
Phone: 03001231111
Cheques: Made payable to 'SCAA' or 'Scotland's Charity Air Ambulance' and sent to: Scotland's Charity Air Ambulance (SCAA), The Control Tower, Perth Airport, Scone, PH2 6PL