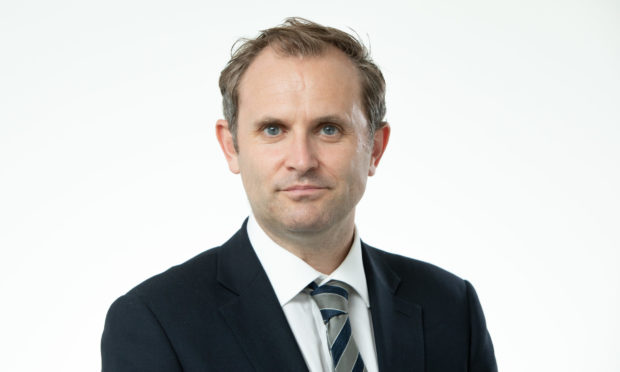 A clinic in Aberdeen is to become the first place in Scotland to legally prescribe medical cannabis.
Sapphire Medical Clinics says its new unit in the city will provide products "for all conditions acknowledged to benefit from the treatment".
Medical cannabis was made legal across the UK in November 2018 but only when used to treat a handful of specific medical conditions.
The clinic will require a referral from a GP, prompting health bosses to raise fears that the process will result in doctors using valuable time to funnel patients into private healthcare, where they will receive treatments not available or recognised by the NHS.
NHS Grampian has described the development as "concerning".
Sapphire Medical Clinics, which also has a facility on London's Harley Street, says it is in "advanced stages" of securing the necessary registration required to open in Aberdeen.
Managing director Dr Mikael Sodergren said: "Patients in Scotland will now have access to world-class experts in managing their condition, who also have expertise in medical cannabis.
"Medical cannabis is an exciting and rapidly developing field of medicine that could transform the lives of patients living with certain conditions.
"But prescription numbers have been low, held down by patients who are often in significant pain or with physical disabilities being unable to travel the long distances to clinics.
"This in turn has meant building the clinical evidence on patients in the UK has also been slow."
It is estimated 1.4 million people across the UK take cannabis to ease symptoms of illness, with the "overwhelming majority" doing so via illegal channels.
Sapphire medical director Michael Platt "Many of them will be deeply troubled by having to do so.
"Sapphire operates to the highest standards of clinical governance so patients can be confident that any prescription of medical cannabis will be done as part of a rigorous and safe process.
"By opening the clinic in Aberdeen we will be giving patients a legal, safe and medically sound route to access what they need."
An NHS Grampian spokeswoman said: "It is concerning that this private clinic operates on the mechanism of GP referrals given the treatments used in the clinic would not be available nor recognised by the NHS.
"There is the risk of significant GP time being utilised to provide clients access to this private healthcare.
"There is clear NHS Grampian guidance for prescribing following a private consultation.
"Any patient using private healthcare should be under no presumption that any medicines prescribed could or should be continued on the NHS.
"This would only occur where it is appropriate and available for NHS usage."
The UK is 'lagging behind'
The use of medical cannabis in Scotland is highly restricted, with just three products available for GPs to prescribe.
Each can only be offered to patients under strict circumstances surrounding rare types of epilepsy, multiple sclerosis and nausea related to chemotherapy.
But doctors have been discouraged from offering one of these, Sativex, by the Scottish Medicines Consortium.
The introduction of medical cannabis in the UK followed a change in the law in 2018.
Then Home Secretary Sajid Javid said the move was sparked by the emergence of "heartbreaking cases" involving sick children relying on medicinal cannabis.
Growing numbers of patients here have been able to obtain the appropriate licence and doctor referral for the products, often shipping these from the Netherlands where the drug is decriminalised for personal use.
But many others do so illegally, with packages of the Class B drug regularly seized by Border Force officials on their way into the country.
In addition, some turn to off-the-shelf products which claim to be medical cannabis, such as oil containing CBD – the non-psychoactive component of the plant.
But NHS bosses have said there are no guarantees these can offer any health benefits.
Medical cannabis campaigners have said the UK is "lagging behind" other countries in terms of embracing the plant.
A growing number of others have begun allowing it for medicinal purposes or decriminalising it altogether.
In recent years cannabis has been decriminalised in Israel, South African and Georgia, and legalised in Canada and parts of Australia.
Peter Reynolds, who heads up the cannabis law reform campaign group Clear, said: "I think it is fantastic that Scotland will get some access to cannabis as medicine.
"I have been involved in this campaign for 40 years and there has been tremendous progress.
"There is a lot of anger that the only way most people can access it is through private clinics, but it's no surprise that new developments in medicine tend to happen in the private sector first."