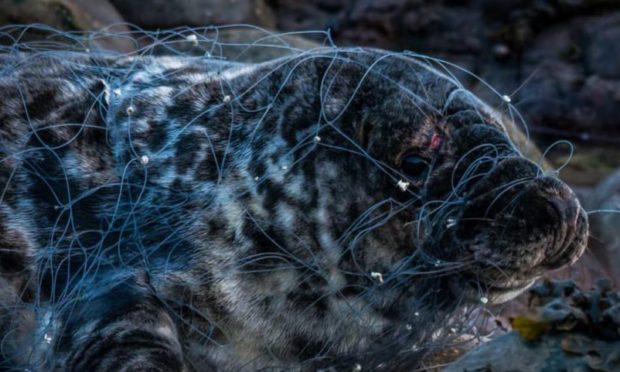 A seal pup was found completely snared by a fishing net in Aberdeenshire.
British Divers Marine Life Rescue said the five-month-old grey seal had a lucky escape after its volunteers managed to free it.
The group added that it had had many reports of entangled seals recently.
The seal pup was found at Catterline, Stonehaven, completely entangled in monofilament netting.
Colin McFadyen, NE Scotland Regional Co-ordinator for BDMLR, said rescuers had to work in the dark with torches after a wildlife photographer came across the stricken pup.
"I have never seen a seal so fully covered in netting to that extent. It was almost like it was fully gift wrapped like a wrapped-up Christmas tree," he said.
"We suspect it was a male and unfortunately these entanglements usually involve young ones.
"It would not have survived another tide. We got to it just in time.
"It had wounds to its body and the net was putting pressure on its eyes. I would not have been surprised if one of the eyes had burst in a few hours.
"Both our Tayside and Aberdeenshire medics attended and assessed the seal which was in good body condition.
"Fortunately, there were no major injuries to this seal pup from the monofilament netting and the seal was successfully disentangled then released.
"This could have been a very different story with a completely different outcome as the muzzle and flippers were completely wrapped in netting and the tide was incoming."