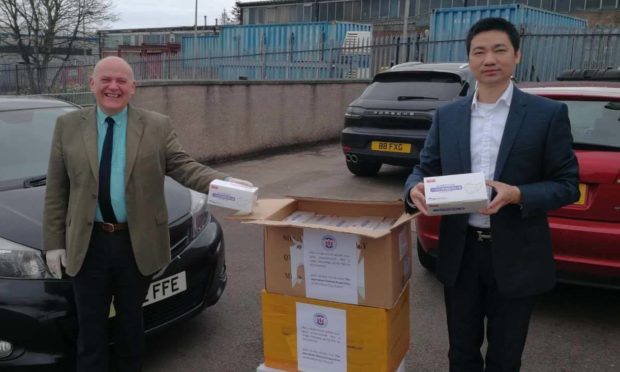 More than 4,000 protective face masks have been donated to the city of Aberdeen by the local Chinese association.
The donation comes as work continues to source sufficient supplies of PPE for key workers across the country.
The Aberdeen Chinese Association gifted the 4,500 masks to the city, having source the masks for China.
Fundraisers brought the supplies over from the Fujian province to help keep Aberdeen's key workers in stock.
Members of the association sponsored boxes being brought across – with work being done to bring more across for north-east key workers.
Lord Provost Barney Crockett received the crates of the vital protective kit on behalf of the city.
Mr Crockett said: "They have been sent masks from China and have a large surplus so they wanted to donate them to health and care workers.
"There were 4,500 so it will be a massive help to us and it comes from our links to that part of China."
The boxes were adorned with an uplifting message for Aberdonians: "Not a single harsh winter goes unweathered. Not a single following spring fails to be flowered."
Accepting the gift while maintaining the strict social distancing guidance, Mr Crockett met Wengang Lui, president of the UK Aberdeen Chinese Association.
Mr Lui said: "It is an honour to join in with the community spirit efforts of the people in Aberdeen."
The two also issued a joint statement, urging people to work together, support each other and find new ways to stay connected, saying those steps would ensure "we will succeed together".
Earlier in the year, the lord provost wrote to the mayor of Wuhan – the epicentre of the pandemic – to offer supportive words and advice.
Mr Crockett told Zhou Xianwang of Aberdeen's own victory over health stigma after an outbreak of typhoid fever in the 1960s, caused by infected corned beef.
The masks donated to Aberdeen are understood to have come from the Hubei province, of which Wuhan is the capital city.