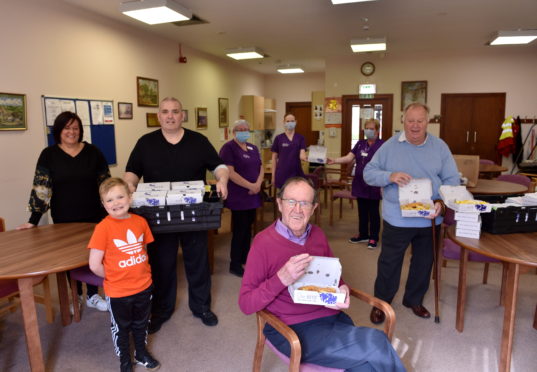 Residents at an Aberdeen sheltered housing complex have enjoyed free fish and chips after a donation from a kind-hearted local business.
Kevin Carr, of the Fish 'N' Hook, donated nearly 50 suppers to the elderly living in the Short Loanings sheltered housing to give them taste of normality during lockdown.
The new owner of the fish restaurant in Rosemount Place, formerly Mr Chips, only opened for business in January, about five weeks before restrictions were put in place.
But with the help of local councillor Bill Cormie, he arranged to give something back to the community which has already taken to his new venture.
Mr Carr said: "At the end of the day I have to look after the residents of Rosemount at times like this, hopefully they appreciate that.
"There is a sense of community in Rosemount and I just wanted to be part of it.
"I planned to do it when we got back to normality but since lockdown has prolonged I just thought I'd do it now."
This is his second act of kindness during the coronavirus crisis having already delivered scores of suppers to the A&E department at Aberdeen Royal Infirmary, to the "ecstasy" of staff there.
The chef of 35 years has opened especially to fulfil both delivery runs but is currently trading on Thursday, Friday and Saturdays during the lockdown.
Mr Cormie said residents had been looking forward to last night's delivery all week.
"There's a 102-year-old lady here who really enjoys her fish suppers and others in their 90s.
"They all think it's absolutely tremendous as obviously they have been in lockdown for much longer than everyone else.
"They are waving to their grandchildren through the window and reduced to speaking to their families on the phone.
"They have all been looking forward to it and are so grateful to Kevin for his kindness to the Rosemount golden oldies."