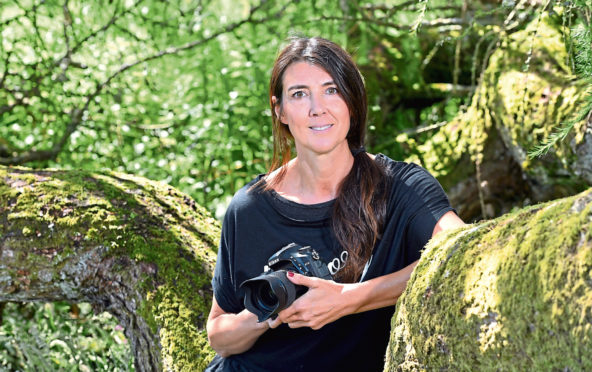 The Burgess of Aberdeen sounds like a rather grand title, but she'd prefer it if you call her Susan.
Mum-of-two Susan Renee was inducted earlier this year, after she was nominated for her extensive charity work.
The title of Burgess is only admitted to those on the strength of their character, professional reputation and involvement in the civic life of Aberdeen. Previously a historic role, a Burgess now acts as an ambassador in promoting the city.
Susan, a photographer based in Kingswells, is no stranger to titles – after becoming Aberdeenshire's youngest head teacher, aged 29. Now nearing 50 and having left the world of teaching behind, Susan is still in shock as to her new role.
"I was honestly so surprised to be nominated, it's a tremendous honour of course," she said.
"I have been lucky enough to volunteer for lots of different local charities, such as Friends of Anchor's Courage on the Catwalk event and for the Russell Anderson Foundation."
Having decided to turn her passion for photography into a career, Susan's diary is looking a little different this year.
From virtual newborn photoshoots to rescheduling weddings, she has embraced a different way of doing things.
"The role of Burgess means I'd normally be attending meetings and events, but that hasn't happened," she said.
"When I look back at my life, it has been a funny old time.
"I remember leaving school and I had no idea what I wanted to do.
"Peterhead Academy didn't offer subjects like photography, and I wasn't sure what I wanted to do with the rest of my life.
"Some of my friends were going on to be teachers, although that wasn't a lifelong dream of mine.
"I decided to give it a go anyway, and headed to Aberdeen University.
"It suited me really well and it turned out that I loved it. I had found my vocation."
Susan went on to be appointed the youngest head teacher in Aberdeenshire, at 29 years old.
"I'm going to be 50 next year, but in those days it was pretty much unheard of to be a head teacher at 29," she said.
"I was at a primary school between Ellon and Mintlaw called Ardallie – and, of course, there was talk that I had only been there five minutes.
"I started off as acting head, and I was actually nine months pregnant when I was given the position full-time.
"I went for the interview, and gave birth to my first son two weeks later.
"I was back in school by the following term."
It was during maternity leave that Susan discovered her love for photography.
"You couldn't take a picture on a mobile phone back then," said Susan.
"If you wanted an off-the-cuff picture, you needed to know how to work a camera. In those days, cameras had film.
"In taking pictures of my child, I discovered art again.
"Some folk like to go off on spa weekends. I signed up for a course about the art of pictures, it was a photography weekend.
"I can remember so vividly, it was a lightbulb moment. There I was, this head teacher of this wee school, enjoying something completely different."
Susan continued to teach for six years, before becoming an education network manager.
"It happened because my school was going through an inspection – shortly after my dad passed away," she said.
"It was obviously pretty stressful, but the school came out with one of the best inspections Aberdeenshire had ever had.
"After becoming an education network manager, I decided to take up a new role as an inspector myself."
Susan had never lost her love of photography though, and found herself juggling two busy careers.
"It all came about because a colleague asked me if I'd photograph her daughter's wedding," she said.
"She knew I took pictures.
"I had carried the bags for a few wedding photographers, but I still thought to myself, 'oh jeepers'.
"She was marrying an Aberdeen footballer, and I was worried I had bitten off more than I could chew. But I took the plunge and from that moment on, everyone was asking me to be their photographer.
"I was line managing head teachers and shooting 30 weddings a year."
Susan moved from Peterhead to Aberdeen seven years ago with her two sons, after becoming a single parent.
She decided to take her photography business full-time, and now has a studio at her home in Kingswells.
"I was in education for 23 years, and some folk thought I was mad to leave," said Susan.
"But I have no regrets, I've been very lucky to have two careers, and now I get to see my family.
"I missed sports day a lot in my previous jobs, so my boys were my driving force.
"Covid obviously changed how I operated as a photographer, but it has been life-changing for an entire generation.
"I still feel very blessed."