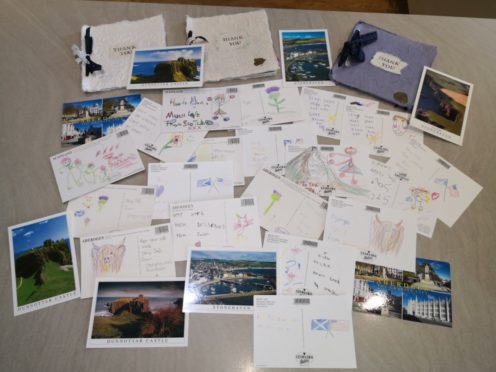 The burgeoning friendship between a north-east town and its American "twin" managed to thrive throughout the summer in spite of the pandemic.
In June, the people of Athens, Alabama sent food parcels to be distributed to care homes in twin town Stonehaven.
Residents of Clashfarquhar House, Mowatt Court, Edenholme and Haven Court were the beneficiaries.
Now the people of Stonehaven have responded.
Stonehaven Twinning Group chairman Phil Mills-Bishop said: "Firstly, the residents of the care homes wrote messages and did paintings which were collated into a 'thank you' book.
"Secondly, local schoolkids filled postcards with messages and drawings.
"And thirdly, as Scotland's national flower, we thought it would be a good idea for us to send some thistles for them to grow over there.
"However, the bureaucracy was daunting and it was only when the Mayor of Athens, Ronnie Marks, intervened that we were able to obtain an import permit to allow us to send them.
"They've been planted in the civic gardens in Alabama.
"Covid permitting, we'll have a delegation from Alabama coming over next August for a gathering, and also to attend the Aboyne Games."