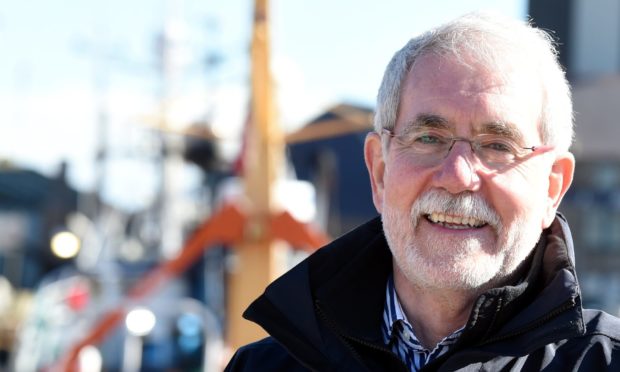 The former chief executive of the Scottish Fishermen's Federation Bertie Armstrong said he was "absolutely thrilled" to learn he would be made an OBE for services to the industry.
The 69-year-old retired from the role, made all the more high profile during Brexit negotiations around fishing rights, in October after 14 years at the helm.
Mr Armstrong, of Kingseat, Aberdeenshire, hailed his former colleagues last night, as he reflected on his award.
He said: "Most of these things – unless you're really outstanding in your field – are more to do with the team you work with, and that is definitely the case for me.
"I'm pleased this OBE recognises the input the Scottish fishing industry made to the grand debate coming to a head soon, establishing the UK as an independent coastal nation.
"It's so important to Scotland, with 60% of UK fishing is done from Scotland – particularly the north-east and the northern isles.
"It is wonderful for the team and I'm thrilled they have been recognised.
"Being awarded the medal will be the bit to really bring this all home, and I would be delighted to participate in that – however that works just now."
In his retirement, Mr Armstrong has taken on a role with Aberdeen Harbour Board – something which evidently brings him delight as he explains it means he can "keep his maritime connection well and truly alive".
Enjoying more free time, he has taken up golf – or "impersonating a golfer until I get on the course" – and cycling.
Having joined the federation after a 30-year career in the Royal Navy, the interest initially was spurred by an interest in air diving.
His career path could perhaps have led him to the top of the north-east's other major industry, as he toyed with the idea of moving to Aberdeen to take work as diver in the – then emerging – North Sea oil industry.
Instead, Mr Armstrong spent 15 years as working as a clearance diver with the Navy working to disable mines.
By the end of his naval career, he had served as Flag Officer Scotland, Operations Officer and finally Queen's Harbour Master at Faslane naval base.
"I thoroughly enjoyed every minute of my naval career and was then delighted to secure the leadership of the Scottish Fishermen's Federation in 2005 to keep going in the maritime world," he said.
"I've been involved in the sea for my entire professional life one way or the other."