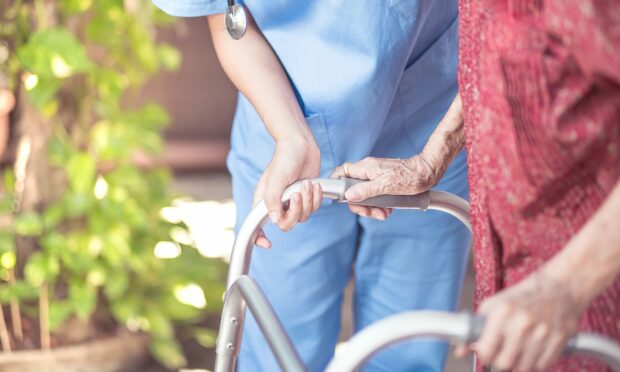 An Aberdeen carer has been banned from working in the industry after he struck a "vulnerable and non-verbal" man in the face.
Stephen Dow was working as a support worker at Voluntary Service Aberdeen (VSA) when he was reported to have hit a service user with the back of his hand.
Investigators heard Mr Dow was strapping the man – known only as AA – into a harness in a vehicle for a walk with his father on May 25, 2019, when the incident happened.
Scottish Socials Services Council (SSSC) found Mr Dow guilty of causing "physical abuse" to AA after hearing evidence from a colleague, who was with him on the day of the incident.
The witness told the panel AA was "spitting and Mr Dow was telling him to stop" when he held his hand over the man's mouth for a few seconds and then "swiped" him.
A second colleague, who was informed of the incident later on, said the witness was "shaken and ashen-faced" while describing what had happened.
Conduct 'not appropriate for a social care professional'
A SSSC report has said Mr Dow "did not admit any of the facts alleged, refuted the allegations, and made clear that he did not admit any wrongdoing".
Investigators acknowledged that there have been no concerns over Mr Dow's behaviour during his two and a half years of employment at VSA, however, they found that the allegation that Dow had struck the man was proven.
Although his conduct was found to be not "premeditated", the panel said it "involved the physical abuse of a vulnerable user", which was a "significant abuse of trust".
The report added: "The conduct involving AA was very serious and there had not been sufficient remediation and insight shown by you to satisfy the panel that the conduct would not be repeated.
"The panel also considered that there was a public interest in making a finding in the circumstances with a view to upholding standards in the profession, confidence in the profession and the SSSC as regulator."
Service users' safety and wellbeing remain VSA's highest priority
Following Mr Dow's removal, VSA chief executive Kenneth Simpson said the safety and wellbeing of the charity's residents and service users remains their priority.
The charity provides over two million hours of care and support for more than 21,000 people in the region every year.
Mr Simpson added: "As soon as we became aware of these serious allegations, we took immediate action, which included following our adult protection and safeguarding procedures.
"As part of these procedures we notified police, social work and regulatory bodies including SSSC and the Care Inspectorate. The individual was dismissed following an internal investigation back in 2019.
"The protection and welfare of the vulnerable people we care for remains our utmost priority."