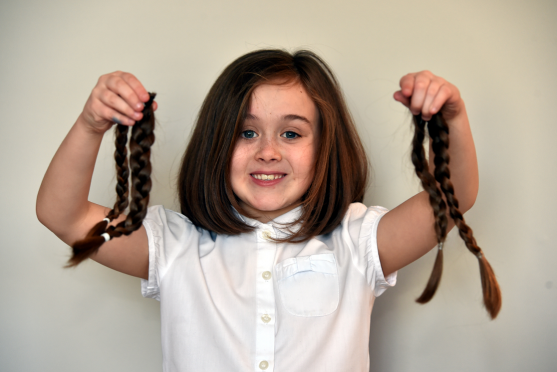 A little girl from Aberdeenshire has adopted the message "Hair today, gone tomorrow", to help children battling cancer.
After having 10 inches of hair chopped off, seven-year-old Niamh Yeoman from Tipperty raised £2,500 for the Little Princess Trust.
The latter organisation, which provides real wigs to boys and girls who have lost their hair through cancer treatment, will now be able to create around eight wigs from her efforts.
Niamh's mum, Margaret Yeoman, helped her set up a Just Giving page and both have been astonished after exceeding their £250 target ten times over in just three weeks.
Mrs Yeoman, 43, said: "Niamh's hair was getting very long, so we decided it was going to get cut, and after hearing about the Little Princess Trust and their work, we thought we could do something to help.
"When she was having her hair cut, she was definitely nervous, but after raising so much money on the Just Giving page, there was no backing out.
"On the page, I originally set a target of £350, but decided that was too high, so I put it down to £250.
"But that was raised within a day which was unbelievable – it just kept on going and now we've raised about £2,500 which is totally overwhelming.
"We've done things for charity before, but nothing on this scale, and we didn't expect to make anything near this much for charity.
"We read that the wigs cost around £350, so we think she's been able to donate six wigs through the money raised plus an extra two with her hair.
"I would now absolutely recommend doing this.
"If you're thinking of having your hair cut, this is a really easy thing to get involved with and help children who have cancer or other illnesses."
Niamh said: "I was a bit sad at first and it was a shock, but I've got used to it and my friends like it.
"Maybe one or two of my friends with long enough hair will consider doing it now too. Most of my teachers also donated money.
"I'd do it again because my hair grows really fast!"