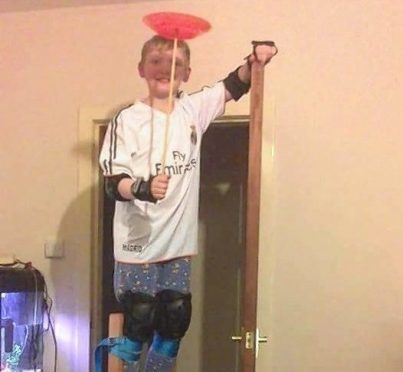 A Fraserburgh teen is preparing to make a two-mile stilt walk to raise money for a north-east youth group.
Adam Massie will set off from his hometown's beach on Friday evening before walking past Tesco superstore, the war memorial and through the town centre.
The 13-year-old, who was diagnosed with epilepsy last year, wants to help fund performing arts and youth group Modo so they can run workshops in the town.
Last night Adam's mum Fiona said: "It's happening on Friday at 5pm. He can do three miles but we don't want to push him too much.
"He just wants to raise pennies to get Modo funded back through here again. He's been practicing with them, Modo have taught him a lot."
She said the group has "worked wonders" with her son since his diagnosis and that they help keep youngsters occupied in Fraserburgh.
She added: "He just wants to get the club back to get kids off the street. We've not set a fundraising target, he wants to get as much as he can.
"I've been round with sponsorship forms and he's going around on his stilts."
To donate and support the Fraserburgh Academy pupil, contact Modo's office in Peterhead on 01779 600020.